Laptop Speakers Not Working: Here's How to Fix This
Laptops may not come with the loudest speakers but those that are geared towards gaming and/or multimedia playback generally have a set of built-in speakers. These speakers will work out of the box i.e., the second you install an OS. They'll even work when your motherboard needs to send signal tones. In order to get the best use out of them though, you do still need a driver. If you've identified your laptop speakers not working and the hardware isn't damaged, it should be easy to get them working again.
Laptop Sound Not Working?
Before you try one of the listed fixes, make sure;
The volume for the app you're using to play audio is not set to zero.
The volume for the app is not set to zero in the volume mixer.
The correct audio device has been selected to play audio.
You haven't accidentally left your headphones connected to the audio jack.
6 POSSIBLE FIXES: Laptop speakers not working
If your speakers were working and suddenly stopped, there are a few things that you can try to get them working again. If you've just bought a new laptop and the speakers haven't worked once, it's a good idea to take it back and have it looked at in case something is actually wrong with the hardware. That's not to say that speakers cannot be damaged with use overtime but normally when they stop working, it's a software problem.
1. Check audio devices
Virtual audio devices and audio drivers that have been installed, uninstalled, or updated can sometimes end up disabling an audio device. An audio device is still 'installed' on your system but it's been turned off via software which is why it doesn't work.
Open the Control panel.
Go to Hardware and Sound.
Click Sound.
Go to the Playback tab and check if your speakers are listed.
If the speakers are not listed, right-click in the empty area and select 'Show disabled devices' and 'Show Disconnected Devices'.
Your speakers will be visible. Right-click them and select Enable Device from the context menu.
Restart the system.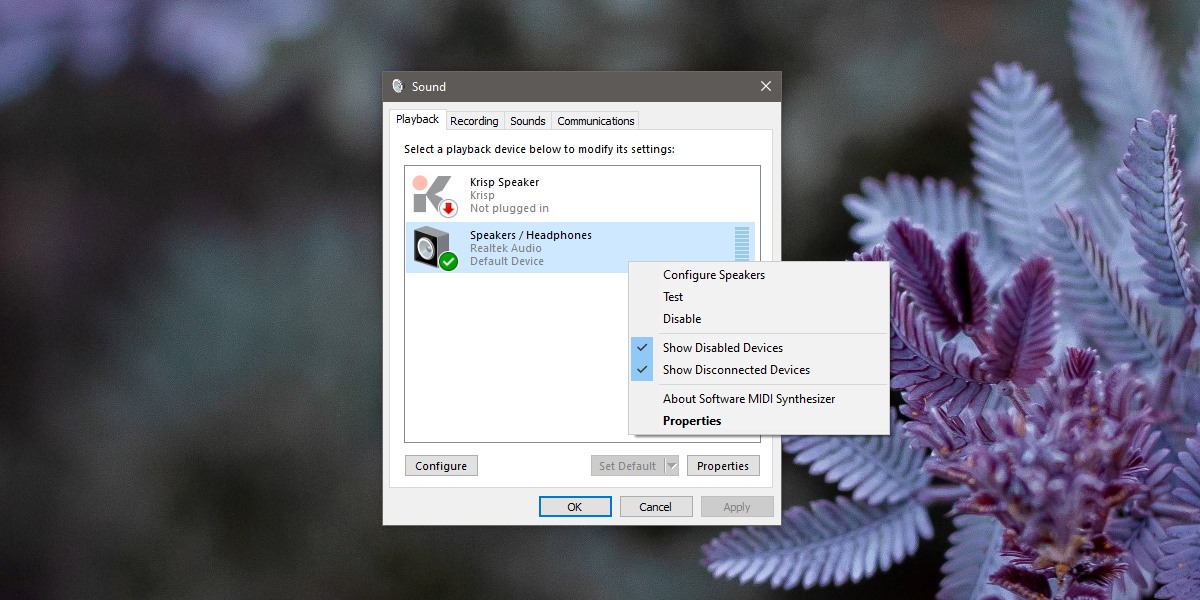 2. Update audio drivers
It's possible the audio drivers have been uninstalled, or they need an update.
Open Device Manager.
Expand Sound, video, and game controllers.
Look for Realtek Audio, and/or Intel Audio, right-click it, and select Update driver. Install any driver updates that are found.
If Realtek audio is missing, look for a generic audio device or click the scan for hardware changed button and then repeat steps 1-3.
Restart the system.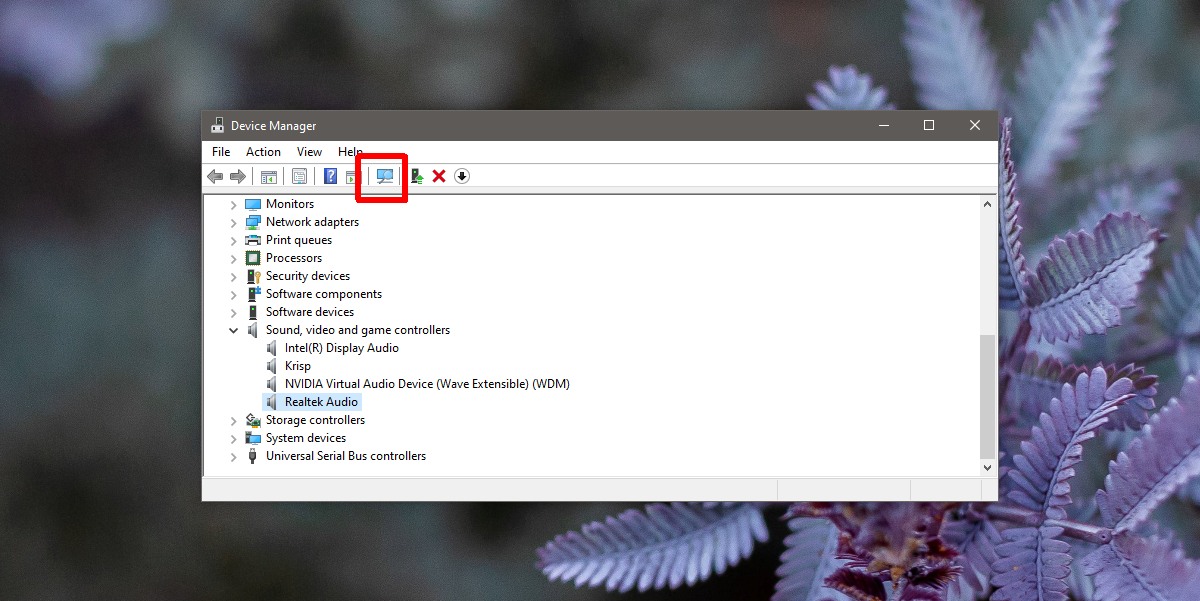 3. Reinstall audio device/drivers
Open Device Manager.
Expand Sound, video, and game controllers.
Right-click Realtek audio (or Intel Audio), and select Uninstall Device from the context menu.
Accept any on-screen prompts/warnings that you see and uninstall the driver.
Restart the system.
When you return to the desktop, the audio drivers will be installed again automatically.
If they aren't, download the drivers from the official website of the manufacturer for your laptop and install them.
4. Check proprietary audio apps
Laptop manufacturers tend to install all sorts of apps that help manage the hardware better. An audio manager is often one of the apps that are installed and the settings in an audio manager app may take precedence over the system settings, or it may lock the settings.
Check your system for an audio manager app. If you're not sure what to look for, Google what audio manager your laptop's manufacturer installs.
Open the app and check the volume level for the speakers.
Go through the settings and make sure nothing is enabled that would prevent the speakers from working. Turn off any unnecessary enhancements, and restart the system.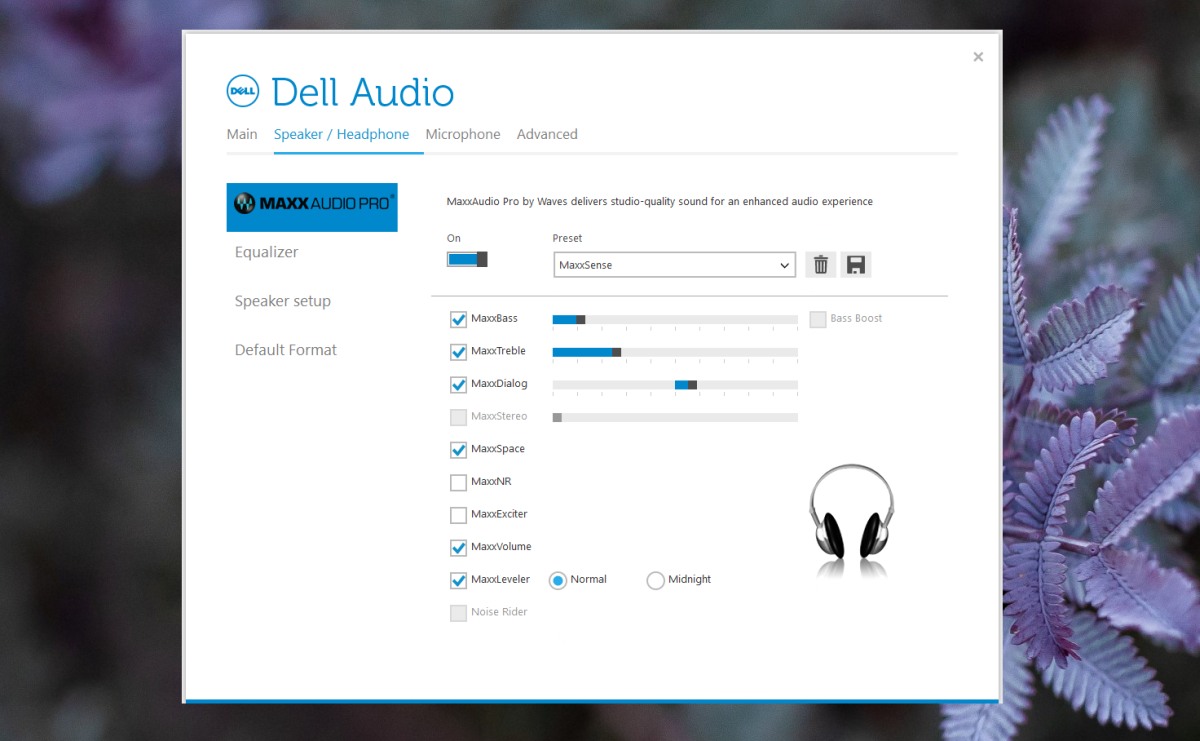 5. Enable device from registry
It's possible the device has been disabled from the registry.
Tap the Win+R keyboard shortcut to open the run box.
In the run box, enter 'regedit'.
Navigate to the following key.
HKEY_LOCAL_MACHINE\SOFTWARE\Microsoft\Windows\CurrentVersion\MMDevices\Audio\Render
You will see quite a few keys under the Render key. Expand each one, one-by-one. Under each key will be another key called Properties.
Look through each of the values under each Properties key and check which one has a value with the name of your speakers or audio device.
Once you find which key has a value with the name of your speakers, return to its parent key and select it.
Look for the DeviceState value, and double-click it.
Enter 1. Click OK.
Restart your system.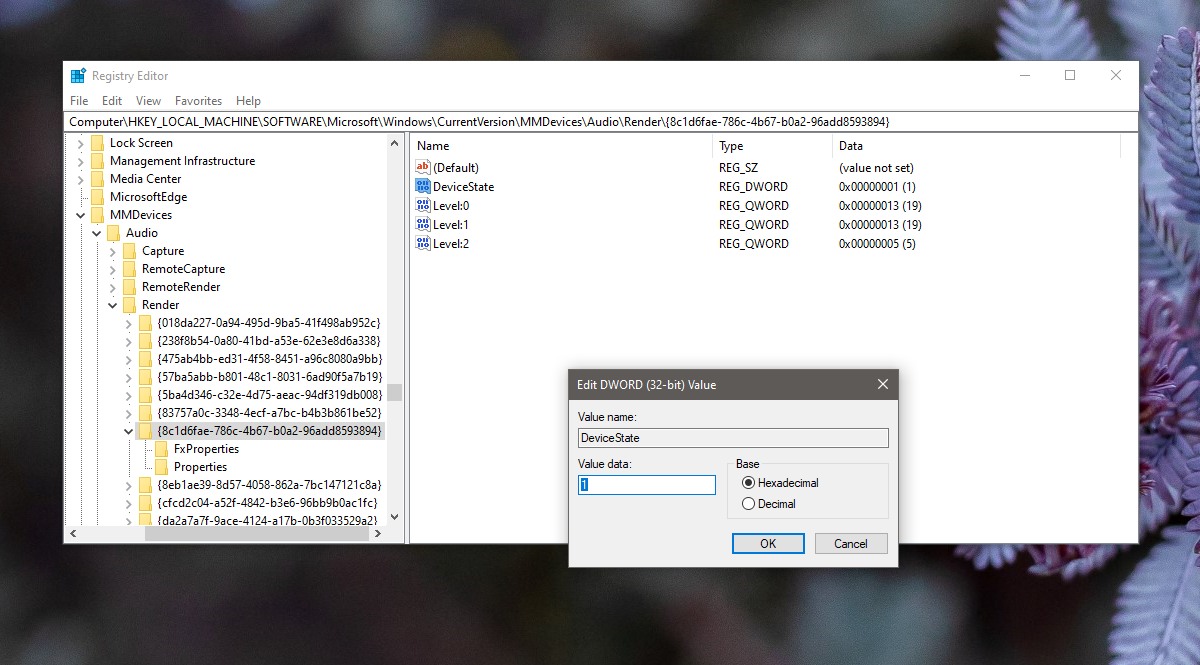 6. Run audio troubleshooter
Open the Settings app.
Go to Update & Security>Troubleshoot.
Scroll to the bottom, and select 'Additional troubleshooters'.
Select the Playing Audio troubleshooter.
Apply any fixes that it recommends and restart the system.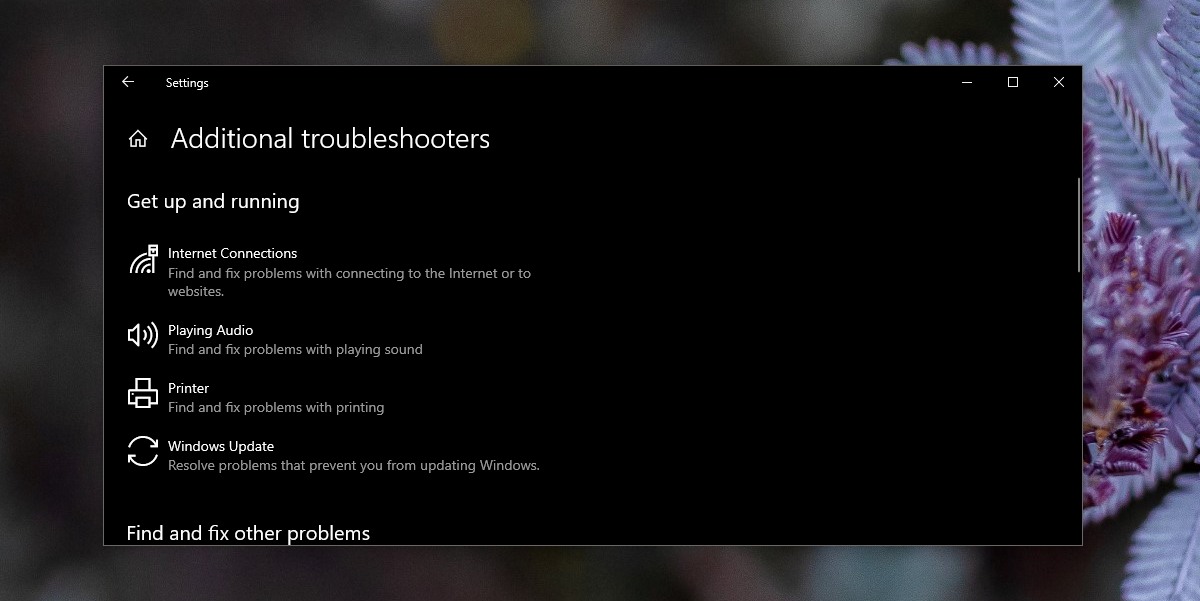 Conclusion
These solutions work if your speakers have stopped working. If you can hear crackling/popping, or white noise, it may be an indication that the speakers are damaged or that an internal wire has come loose. It's a good idea to have your laptop looked at by a professional, especially if it's under warranty.