Launch Any Application From Windows Run Dialog With Add2Run
If I had to choose my favorite feature of Windows, I'd name it the Run command dialog. This tiny component of Microsoft's operating system lets you painlessly launch files and programs without much effort. Furthermore, it's fairly easy to access too – a quick hotkey combination of Win + R on your keyboard does the job; could it get any better? Dare I say, yes – it definitely could! Especially after using Add2Run – a tiny portable utility that makes the Run command all the more intuitive, interactive and functional. This barebones application lets you swiftly open frequently accessed items on your computer by assigning them aliases, which means instead of having to type the full command to access a utility, tool, file or application, you can simply type its alias and it will be executed or opened instantly.
Add2Run sports a simple interface, carrying a few buttons, a target file field for the destination item, and an input space to specify the alias. There's no installation required; the portable program executes straight from its small 220KB EXE file. Here's how it works.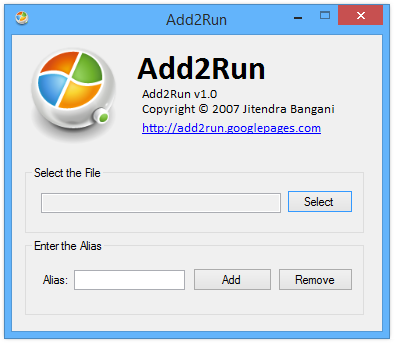 First off, you need to specify the target item to which you want to assign an alias. To do that, click 'Select' to specify the file. Add2Run supports most file types, thus compatibility is hardly an issue here. Once done with that, you will need to specify a custom alias of your choice. It can be anything – the short version of the app or file's name, an abbreviation, or even your pet name – the shorter, the better. Next, hit 'Add' and Add2Run tool will show you a message stating the specified alias has been successfully added for the pertaining command or item. And that's about it – there are no additional settings, parameters or options for you to configure. You don't have restart your computer or even hit some Apply button to make the changes come into effect.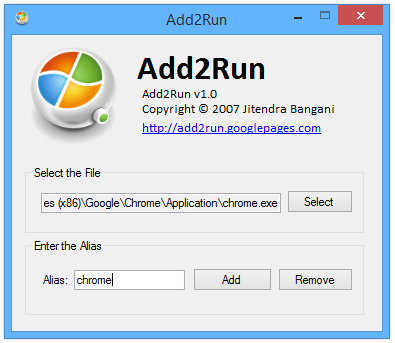 Now, whenever you need to run a command or launch the item you added in the earlier step, you can open the Run dialog, enter the specified alias for that command, and click OK or hit the enter key to launch it.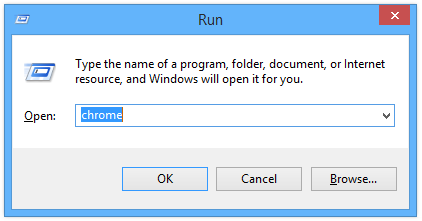 To sum it up, it's a highly simple, user-friendly tool that integrates well with an already intuitive feature of Windows. Add2Run works on Windows XP, Windows Vista, Windows 7 and Windows 8 / 8.1.