Typhoeus Hotkeys – Launch Any File Or Application By Pressing A Single Key
Typhoeus Hotkeys is a tiny application for hotkey lovers who want to open and control active applications by using nothing but only keyboard. It lets you create hotkey combinations for any program, document, and file which you use most frequently on your system. Unlike other application launchers which supports hotkey combinations, it can register a single letter or number as hotkey rather than lengthy Ctrl + Alt + Shift keys combination.
Once hotkeys are all set up, the application will be minimized to system tray, letting you access associated apps by using the assigned shortcut keys. You can also export registered hotkeys in order to use them on any other system without having to configure them from scratch.
It comes with a miniscule interface. To begin, click Create key and give the shortcut key an appropriate name followed by entering the full path of application, key (Number or Letter), and key activity. Once done, click Save Hotkey. Now start registering as many applications, files, and website URL with hotkeys in similar manner. Once done, select the hotkey and click Activate a Key.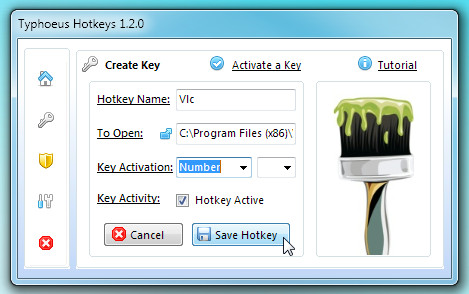 In Activate key window, use the hotkey that you've set to verify launching of associated application/file and document.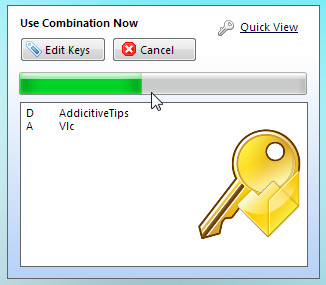 Now close the main screen. When you want to launch an application or open a file, click the Key icon in system tray and use the combination to open a specific application/file or to visit a specified website.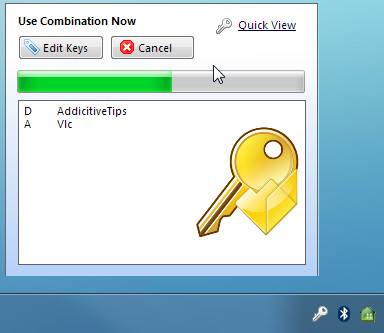 The system tray menu lets you view all the allocated hotkeys, create backup, and configure application general settings. If you want to register a new hotkey, click View Hotkeys and repeat the procedure of defining a new hotkey combination.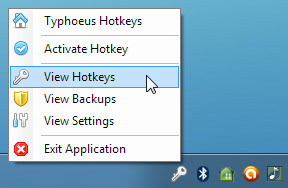 Below you can watch a brief usage demonstration video from the developer.
Before registering a new hotkey combination, make sure that you're not associating a pre-registered hotkey to avoid conflicts. If you want to remove a hotkey, you can disable it instead of deleting it so that it can be used later. It works on Windows XP, Windows Vista, and Windows 7.