Manage Tabs In Google Chrome [Extension]
If you are a geek like me with around 20 tabs open, you would have noticed that it becomes very difficult to manage the tabs and find the exact tab we are looking for. To solve this problem, there are two extensions that we will review to make navigation between tabs much more easier.
They are TooManyTabs and VerticalTabs. Continue reading to find out which one is right for you.
VerticalTabs
This extension is for basic users who open no more than 20 tabs and want a simple interface. The extension adds an icon next to the address bar and shows the number of tabs that are open. Click this icon and all tabs will be shown in a simple list.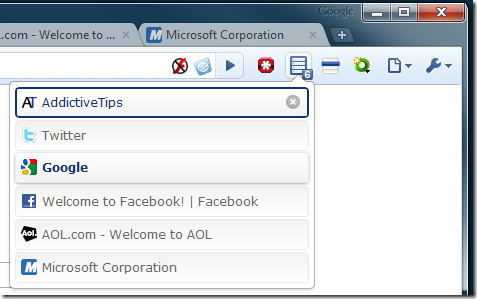 You can select or close any tab easily from the list.
TooManyTabs
This extension is for advanced users who have more than 20 or 30 tabs open. It opens a large pop-up window where you can see the preview of every tab in every open window. In short, it gives you a complete bird-eye view of all tabs. You can also sort the tabs and check the recently closed tabs.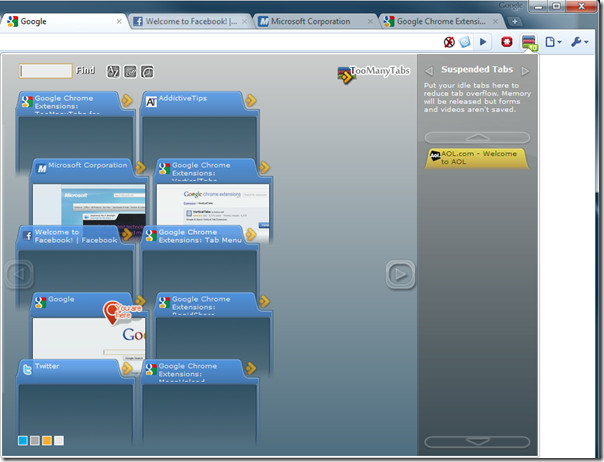 The most awesome feature is that you can suspend any tab. Once a tab is suspended, the memory will be released and the tab will be added to the right sidebar of the pop-up window. To suspend a tab, click the small arrow next to the tab preview.
Download TooManyTabs Extension
Nakodari is a founding editor at AddictiveTips who is searching among hundreds of extensions to find the best ones for the readers, he occasionally reviews extensions to help beginners turn pro.