Manage Windows 7 Jump List Items In Taskbar With Jump List Manager
Back in 2009, we featured a brilliant Jumplist tool called, Jumplist Launcher, which can tailor jump list items in the Windows 7 taskbar with ease. Today we have yet another jump list tool called, Jump List Mange. It can quickly collect items and tasks of most frequently used applications in customizable Jumplist. Compared with Jumplist Launcher, it is not feature-rich in terms of options to tailor Jump List items but offers a quick way to create and manage Jumplist items.
To begin, launch the application and to add a new Jumplist Item. By default, it comes with 6 sample items to quickly get you started. At the right sidebar, you have options to re-arrange the default order of jumplist items, edit any selected item, delete or reset the list.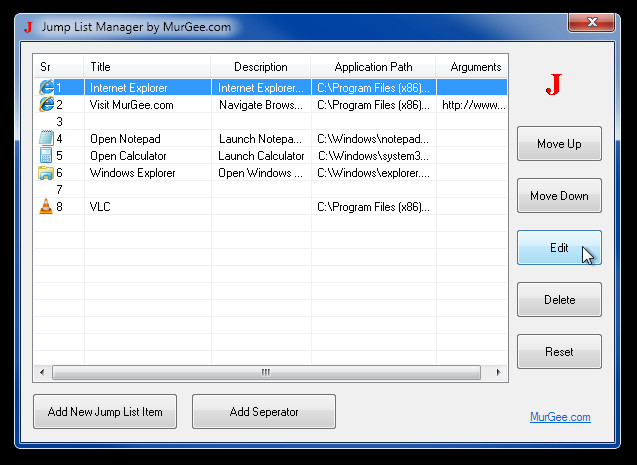 To begin, click Add New Jump List Item and specify the application title, path, icon file, description, and icon index. You can leave icon file, description and icon index input fields, as they are not imperative options. Once done, click OK to create a new Jumplist item.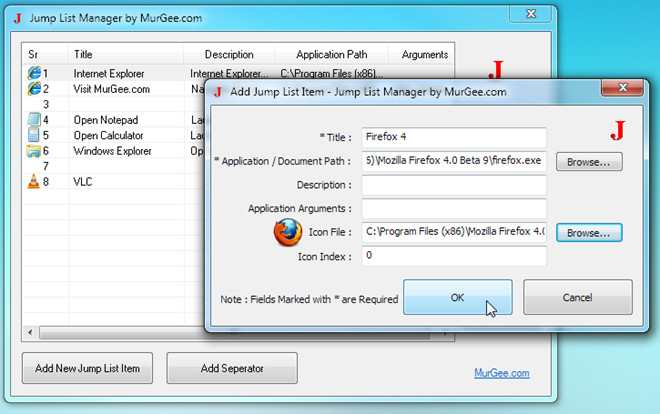 If you're planning to insert many items in Jumplist, don't forget to Add Separator which is present on the main screen.
It works on all versions of Windows 7.