Maxthon Skyfile Brings 6GB Of Free Cloud Storage To PC, Android & iOS
Google's very own cloud storage service, Google Drive, is finally alive and kicking, but it's not, by any means, the only good online data sharing and syncing solution available to users. The competition among some of the reputed cloud storage services and brand new entrants was getting fierce by the day, and now Maxthon – the team behind Maxthon Web Browser for Windows and Android – has unleashed its own cloud storage service by the name of Skyfile. Currently available for web, Windows, Android and jailbroken iPhone, iPad & iPod touch, Skyfile brings an initial offer of 6GB of free cloud storage space to anyone who registers for a new account. The desktop client lets you keep selective Skyfile folders in sync with your PC at all times while the Android & iOS clients allow remote access to all your Skyfile cloud content. However, more than any other aspect, it's the advanced and secure file sharing features of Skyfile that deserve to be commended. More after the break.
Cloud storage services and online data backup, sync and sharing solutions have been arriving thick and fast in the recent times, but apart from the big players (Dropbox, Box, SugarSync, SkyDrive, iCloud, Google Drive etc), not all have been able to impress users a great deal.
Though, with all the features that it currently supports, Skyfile does looks promising. No support for Mac and Linux is a big miss, but one can expect that void to be filled in the coming days. Apart from that, Skyfile supports almost all the basic features that can satisfy your cloud storage needs.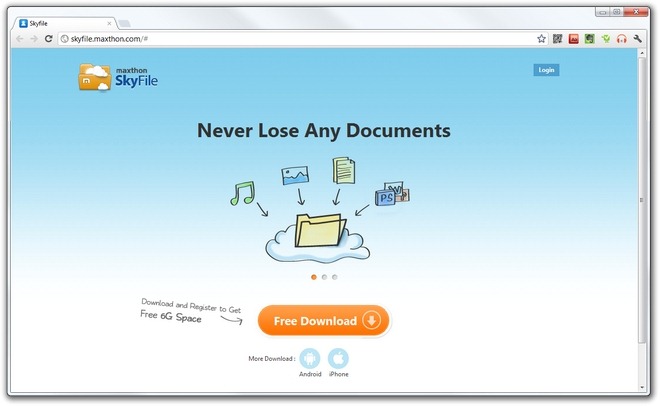 The web version of the service supports a dual sharing mode for folders. You can either avail the Read-only sharing mode to prevent others from making any changes to folder contents whatsoever, or you may use the Collaborative-sharing option to allow multiple users to access and write to the same folder simultaneously.
Then you have the option to specify an expiry period along with any file that you share via Skyfile. The link to the shared content will only remain valid for the specified time period.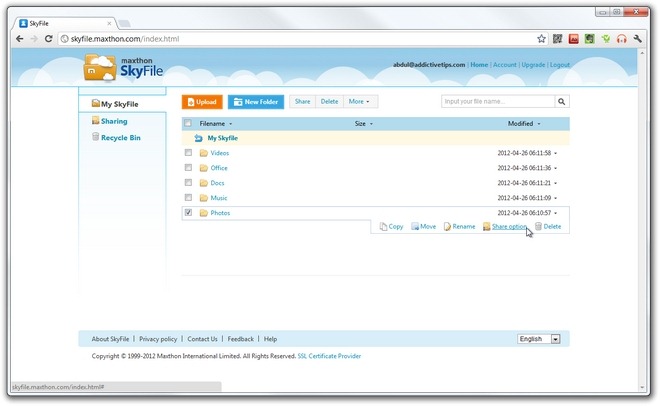 Each save instance is listed as a separate version of the file that can be restored if and when required. In this way, you can always recall the original version of the file to compare it against another version of choice. Said feature can also come handy in case you happen to misplace the file or lose track of changes made to it.
The desktop client of Skyfile is also quite simply built, with the most important feature on offer being the Selective Sync feature for folders. Using this feature, you can opt to sync only a specific Skyfile folder with your PC. You can also unlink your PC from the sync mechanism anytime you want to, and monitor the sync process of all the content in real-time.
Coming to the mobile clients of the service. The iOS version of the app has been designed to work only with jailbroken devices, that is, it has not yet been released in the iTunes App Store. The Android counterpart, on the other hand, is available in the Google Play Store, and requires Android v2.2 or higher to run. Using either mobile client, you can remotely access, manage and search for all the content stored in your Skyfile cloud.
You can add content to your favorites list, create new Skyfile folders, upload files to your account, download content to access it offline, and share files with others via temporary links. That's not all; the mobile app also lets you specify max storage space for downloaded content, and keeps you apprised of the total space consumed.
Should you opt to expand your Skyfile storage, you can upgrade to a Premium account with 50GB of cloud storage for $9.99 per month, or $99 per year.
Download Skyfile for Windows (Skyfile forums)
Download Skyfile for jailbroken iPhone, iPad & iPod touch (Skyfile forums)
If you haven't yet decided which cloud service you're going to adopt and are planning to go with only the reputed ones, you might want to take a look at this comparison between major cloud storage and sync services including SkyDrive, Google Drive, iCloud, Dropbox & more.