Weather Sky: Android Live Wallpaper That Depicts Weather & Time Of Day
As stated in our huge compilation of some of the best Android Live Wallpapers, GO Weather is arguably one of the most comprehensive and easy-on-the eyes weather apps to have arrived in the Google Play Store to date. The aspect that catches the eye out of the entire package is its LWP, which displays weather info, along with a graphic to depict it, and the time of day on your homescreen. If, however, you've already tried GO Weather and want a change of scenery on your home scenery on your homescreen, then you must try Weather Sky – a free standalone and fully customizable Android Live Wallpaper that beautifies your screen by displaying the current time and animated graphics to depict weather from virtually all major cities in the world. The app fetches all its weather-related info from the WorldWeatherOnline web service.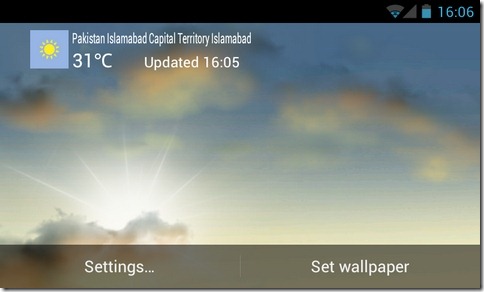 Weather Sky might not be the only LWP of its kind available in the Google Play Store, but while others mostly suffer from lag in graphics, hog your battery resources extensively, or fail to fetch the exact time and weather details, Weather Sky proves to be much more reliable in these aspects.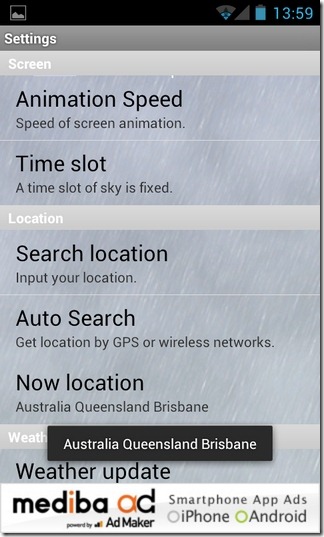 In fact, if you wish only to view the animations without cluttering your screen with weather parameters, current location and time, you can easily set the LWP to hide all info from within its settings screen.
Among other customizations, you have the option of setting the animation speed of the LWP. You can also opt to sync the LWP with your device's clock so that it automatically displays the time you have already set. The time of day depicted in the LWP can be fixed, that is, you may set it to show night, morning, day or evening, regardless of the current time.
In case Sky Live fails to load required information, it automatically tries again. In this regard, you have the option of setting the maximum number of retires that the LWP should make before it eventually gives up, and the retry interval (in minutes).
To set Weather Sky as your wallpaper, long press a vacant spot on your homescreen, select Wallpaper > Live Wallpapers > Weather Sky Live Wallpaper > Set wallpaper. But before that, make sure that you configure the LWP as per your personal preferences by tapping the Settings… button.
During our brief test-run of the LWP, we were pretty impressed with the overall quality of the graphics that it adds to the homscreen, without having much effect on performance.
Download Weather Sky Live Wallpaper for Android