X-Proxy: One-Click Way To Fake Your IP Address & Access Blocked Web Content
While surfing the internet, your IP address is your unique identifier, which can reveal sensitive information about you, including geographical location. This is how Geo-restricted websites determine our actual location and deny access in some countries. Nowadays, VPNs are used to avoid getting blocked in certain regions. For example, you are at times unable to view some YouTube videos because of them not being made available in your region by the uploader. Using a VPN application, you can bypass this barrier and view unavailable content, and/or visit blocked domains. Moreover, you are also prone to attacks by hackers and malicious codes, if they know your real IP address, and find any gaps in your computer's security. We've covered some very useful applications that allow you to browse the internet without revealing your real IP. Today, we have another application, called X-Proxy, that lets you surf anonymously, access blocked content and prevent attacks from hackers. Keep reading to find out about X-Proxy.
The application has a very simplistic interface, with Home, Proxy List and Settings tabs at the top. On the ride side of the three tabs, data about your Real IP, Fake IP and Anonymity is displayed. Click the proxy list tab to get a list of proxy servers to choose from. The IP list did not populate the first time we tested the software. However, the application worked in the second attempt without doing anything different. We hope that the developer can look into this bug and fix it in the future release of the software.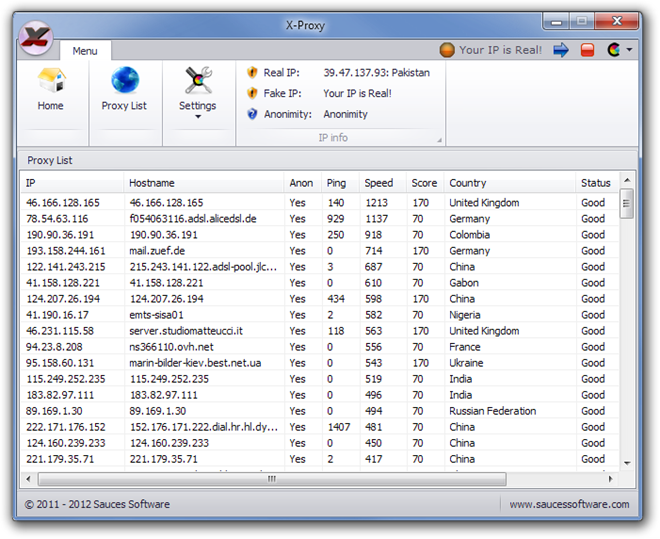 Double-clicking any of the available fake proxies in the list changes your IP address to that. A notification in the lower-right corner of your screen assures the IP change.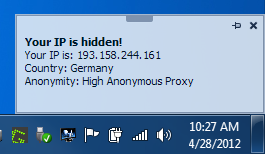 The Settings tab in the main interface allows you to change the program's language, skins, view anonymity info, internet speed test etc. To go back to your real IP, choose Restore Real IP.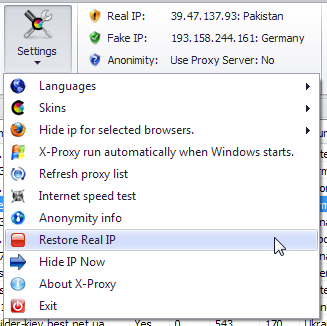 During testing, we experienced the browsing getting a bit slow after changing IP. X-Proxy works on both 32-bit and 64-bit versions of Windows XP, Windows Vista, Windows 7 and Windows 8.