MEGA Client For Windows Appears; Syncs Multiple Local Folders With The Cloud
Last year, Kim Dotcom unveiled a new cloud storage company called MEGA from the ashes of his now-defunct Megaupload – the popular file sharing service that made headlines after a forced shutdown by authorities due to copyright infringement. MEGA has gained worldwide acclaim since then, and in turn seen impressive userbase growth. Besides its intuitive web-based dashboard, MEGA also has an official Android client that lets you sync files directly from your smartphone or tablet to your online storage. However, when it comes to Windows, the company has stayed tight-lipped about any details pertaining to whether a desktop app is being developed or not. All that changes now, as the beta release of a MEGA client for Windows has finally emerged in the form of MEGASync, though there seems to be no official word regarding it from MEGA itself so far.
Note: We contacted MEGA support to confirm whether this was an official release. It turns out it isn't. This was their reply.

"The MEGASync app you refer to has nothing whatsoever to do with Mega.co.nz. We have not given any permission for it to use our name or logo or to suggest any relationship with us. We are not responsible for its actions or omissions and are not responsible for any links to data stored by us. We cannot and do not give any guidance on using any such sites. We strongly suggest that you cease using this software."
Being in beta, MEGASync can be considered work in progress for now, but despite that, it works like a charm at syncing all types of files between your computer and your MEGA cloud drive. The installation is simple and hassle-free, and also allows you to select your local and MEGA folders to keep in sync through the advanced installation option.
When installed, a wizard guides you through the process of setting MEGASync up, starting with signing in using your Mega account, or signing up for a new one if you don't have one already. During testing, I noticed that the Sign Up option doesn't work yet in this beta, which means new users will have to use the service's website to sign up for a new account for now.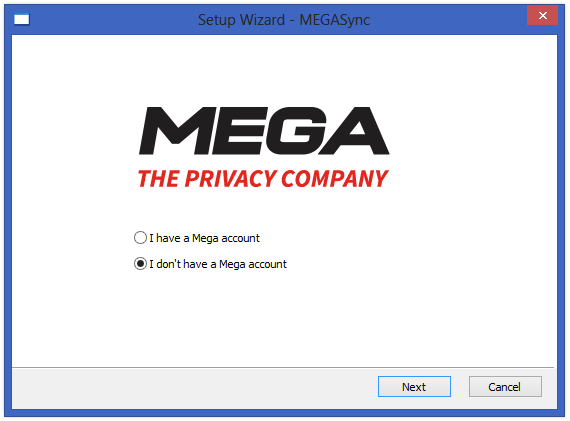 After setting up your account, MEGASync begins running in the background and adds an icon to the system tray to let you access its settings console. The Settings window houses General, Account, Syncs, Bandwidth and Proxies tabs. If you are already using Dropbox or SkyDrive, you won't feel much of a difference in usage between MEGASync and the former two cloud options; they add a folder on your computer, which is kept in sync with your cloud storage on the service automatically by the app itself. All the basic options like account linking and unlinking, checking remaining storage and limiting bandwidth usage are available in MEGASync.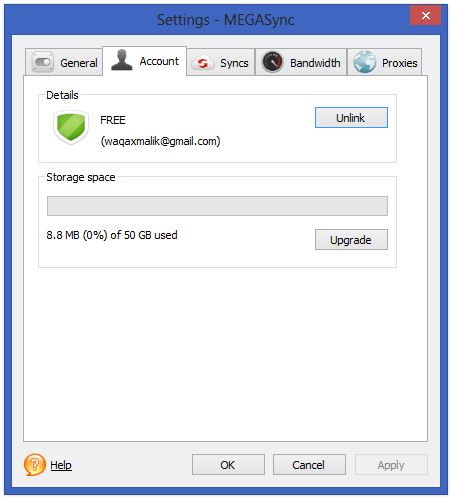 What makes MEGASync outsmart the competition is its ability to synchronize multiple folders in your MEGA cloud storage with different locations on your local storage via linking each folder to a specific cloud drive nodes. Nodes are basically folders on MEGA, and you can link any of your local folders for synchronization with any node. Folders and nodes can be added directly from the Syncs tab, and all you have to do is specify offline (local folder) and online (node folder) locations for your desired files to kep kept in sync.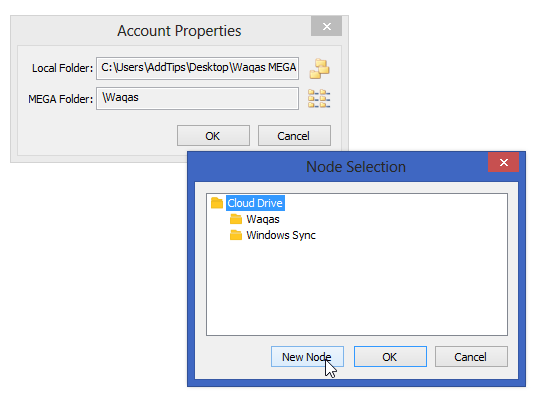 MEGASync works great even in its current beta state, and I didn't run into any issue other than the sign up problem mentioned earlier. The app works on Windows XP, Vista, 7 and 8, and you can download it via the link provided below.
[via Caschys Blog]