Metro Sidebar Is Windows 8 Style Sidebar For Windows 7
It has become clear that Windows 8 will have a new user interface called Metro after Microsoft demoed the product. There have been third-part development efforts to replicate this Metro user interface in Windows 7. We have been reviewing a lot of such third-party applications like Mosaic and Metro Clock. Recently, we found another such application called Metro Sidebar. It brings the Windows 8 Metro user interface in the form of a sidebar for Windows 7. This sidebar comes with five different colors (blue, red, black, orange and green), which can be changed manually to match your current wallpaper. The Sidebar contains shortcuts to your favorite browser (either, Firefox, Opera or Internet Explorer) and displays used, available and total capacity of your primary volume, time and date, user account picture, and operating system version. Metro Sidebar has been developed by the same developer who formerly brought us the Tweak IE9 application.
When you launch the Metro Sidebar setup, the installation wizard prompts you to select a browser and color for the sidebar. These options can also be changed later on by selecting Settings from the system tray. A shortcut to the selected browser is displayed on the sidebar and the selected color is applied to the sidebar background. To change the existing color being displayed, move the right/left arrow buttons. An additional option at the bottom also allows you to automatically start the sidebar at Windows startup.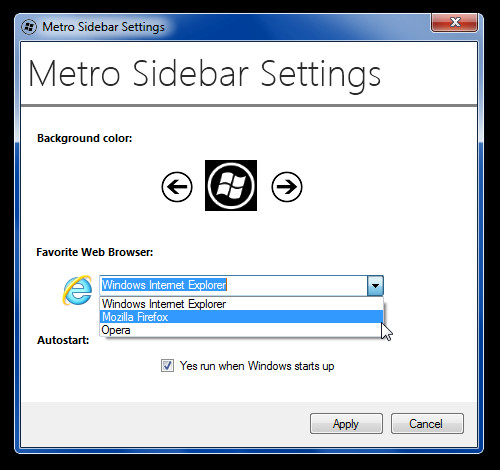 Once the Sidebar is launched, it can be exited anytime by right-clicking on the system tray icon of Metro Sidebar and selecting Exit.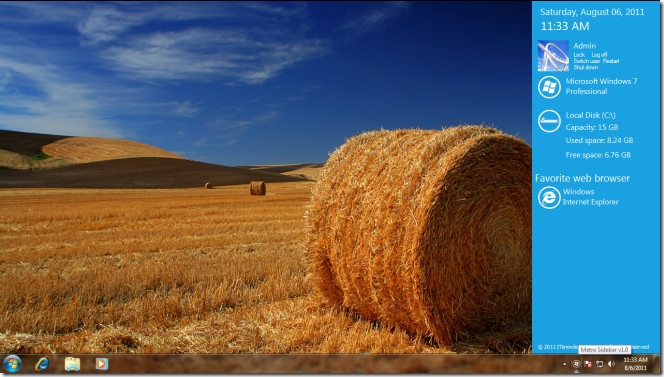 You can change the Metro Sidebar colors periodically to suit your existing wallpaper. It would have been better if the application automatically changed the sidebar colors according to the wallpaper for users who use rotating wallpapers in Windows 7. Having said that, it is worth mentioning here that this is only the first version of the application and we are likely to see more improvements to this sidebar in future versions.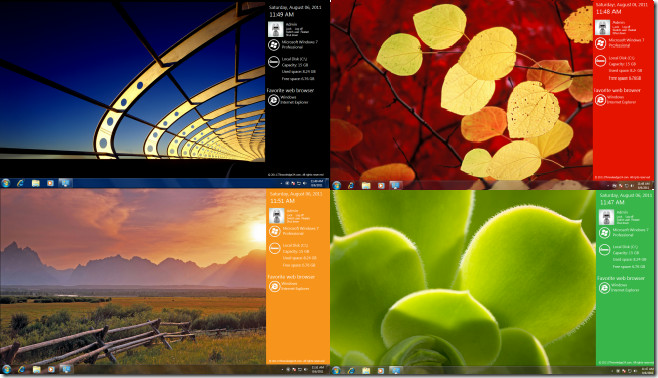 Metro Sidebar works on Windows Vista and Windows 7.