Microsoft Office Access 2010: Web Compatibility Checker
The Web Compatibility checker is a cool feature of Microsoft Office Access 2010 which lets you check your database for web compatibility issues. This tool can be really helpful if you want to migrate existing applications to the Web.
How to Run the Web Compatibility Checker
It is dead simple, launch MS Access 2010, open your database for which you wish to apply the compatibility checker, hit the Office (File) button, and head over to the Share option.

Now click the Publish to Access Services option in the left sidebar, then locate the Check Web Compatibility button on the right sidebar.

Click it and your database will be checked for any compatibility issues.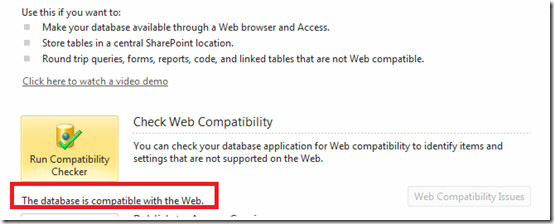 If any compatibility problem is found with the database then click the Web Compatibility Issues button to see the list of issues.