Microsoft Security Essentials Review (With Screenshots)
Microsoft Security Essentials is the name of Microsoft's latest Anti-Virus/Anti-Spyware software for Windows operating system. It is already being tested internally at Microsoft and is rumored to launch in September of this year. We were lucky to gets hands on the pre-beta build version of Security Essentials. I tested it on Windows Vista and was quite impressed with it. Below is the complete review along with some interesting findings.
Update: Microsoft Security Essentials has finally been released to the public, check it out here.
Note: Click the images below to enlarge.
Installation
Installation was a breeze, here are the step-by-step procedure for installation. When you run the installer for the first time, you are shown the welcome screen, click Next.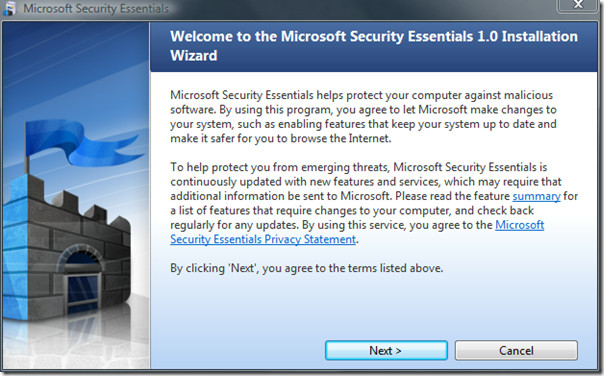 Read the License Agreement and click I accept.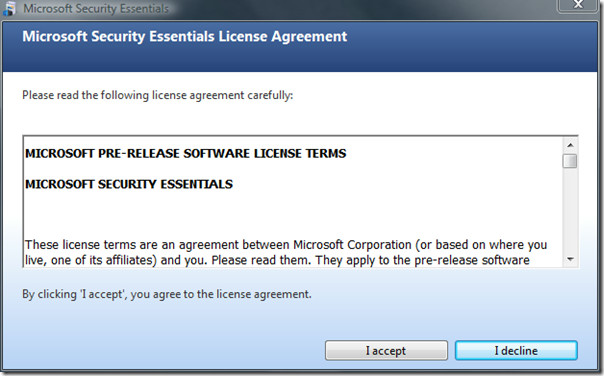 Here is the real bummer for those who are using non-genuine versions of Windows. This step will validate whether your Windows is genuine or not. Click Validate to check, if your Windows is validated you will be moved to next step, otherwise installation will fail.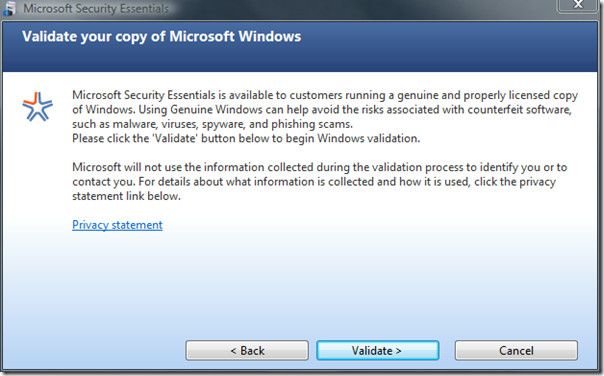 Now once your Windows has been validated, Security Essentials will now get ready to be installed. Click Install to begin installation.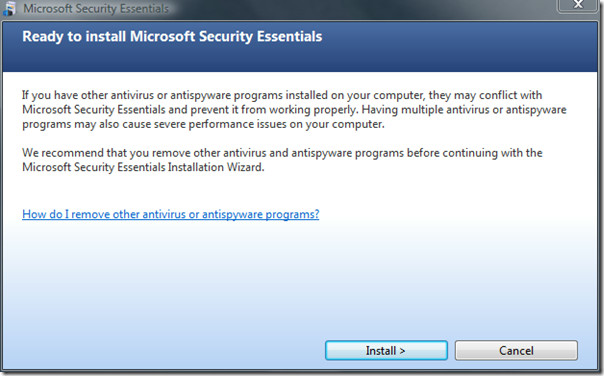 Installing…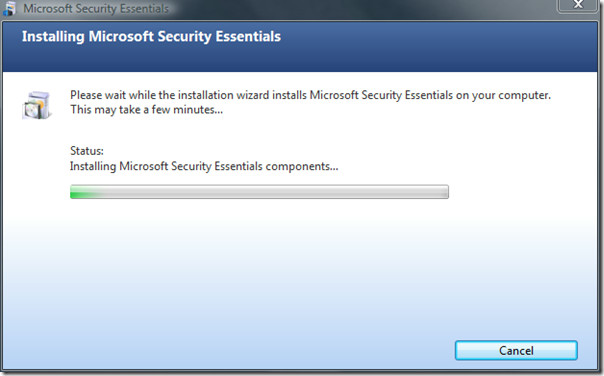 Once installation is complete, check the Scan My Computer checkbox and click Finish.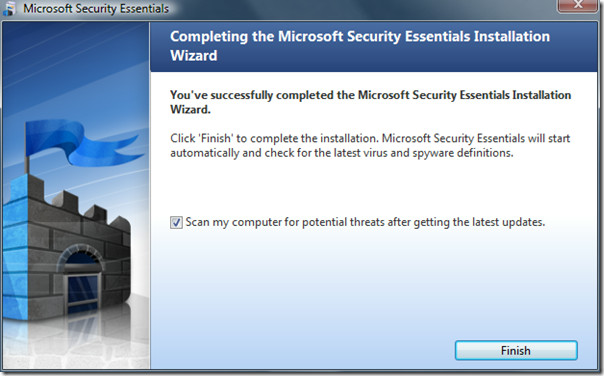 Using Security Essentials
Once installation is complete, you will be redirected to automatic virus & spyware definition updates.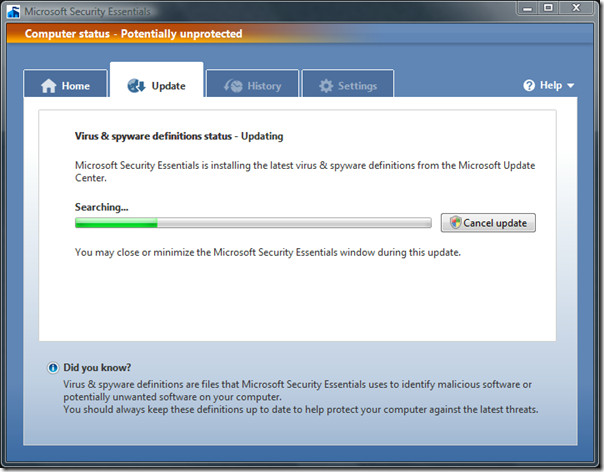 Now go to Home tab where you will be notified that everything is running smoothly.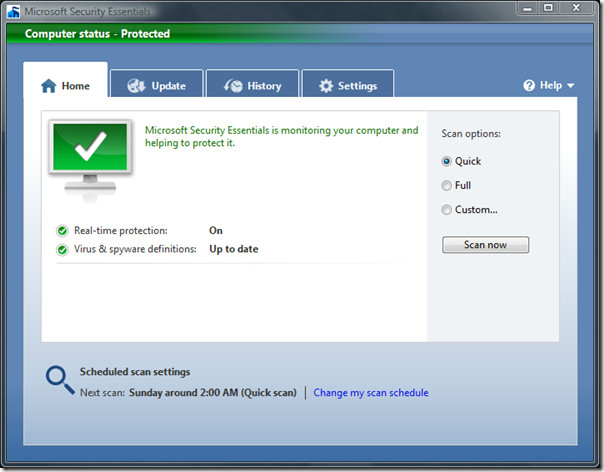 To perform a System Scan, you can select from any one of the three options, Quick, Full, or Custom. First, I performed a quick scan to see how well it goes. The Quick scan was not so quick as the name suggests, it took several minutes(10 minutes to be exact on my system) to complete.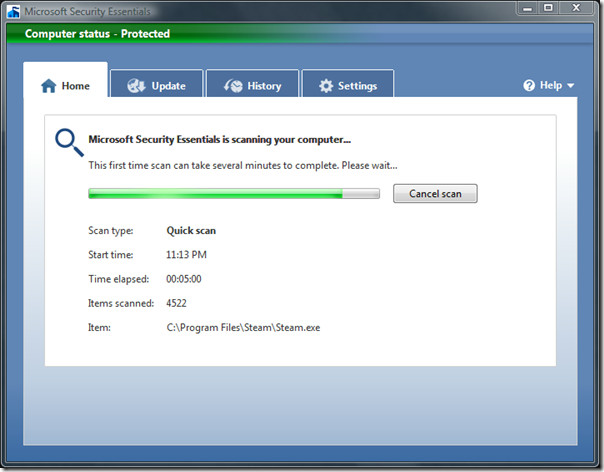 I did not perform a Full Scan since it would have taken more than 20 minutes 2-3 hours easily. So I went straight ahead with Custom Scan. You have to choose the exact drive or destination that you would like to scan and click OK.
Update: For those thinking why I did not perform a full scan, the problem was not about time(although I did perform it later). There was no need to review the Full Scan option, because it is just similar to Quick Scan but instead scanned all locations of hard disk.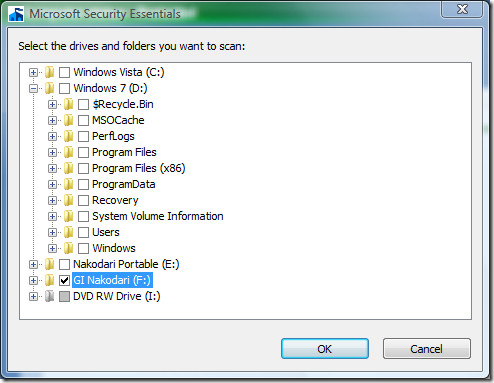 This is how the Home window looks like when a threat is detected.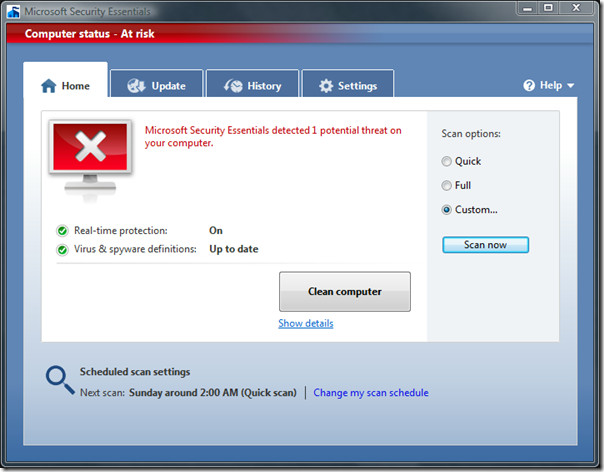 To remove this threat, click Clean Computer button. It seems like a Trojan was sitting on my computer which NOD32 failed to detect.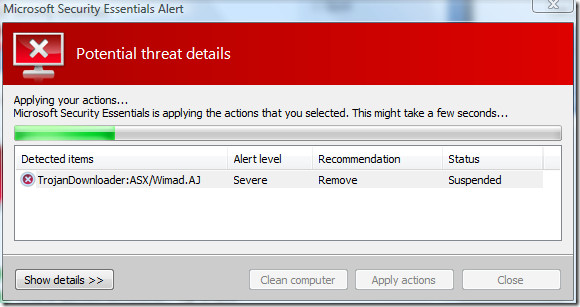 I have to commend Security Essentials for finding and removing this stupid Trojan.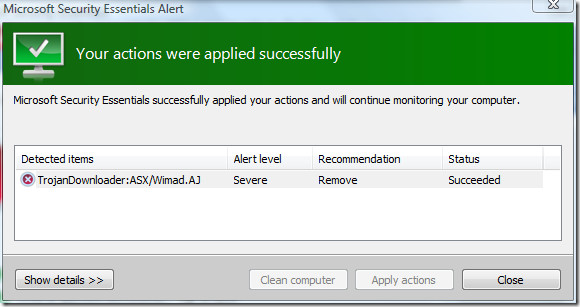 To schedule a scan you can either click Change My Scan Schedule link on the Home window or go straight to Settings.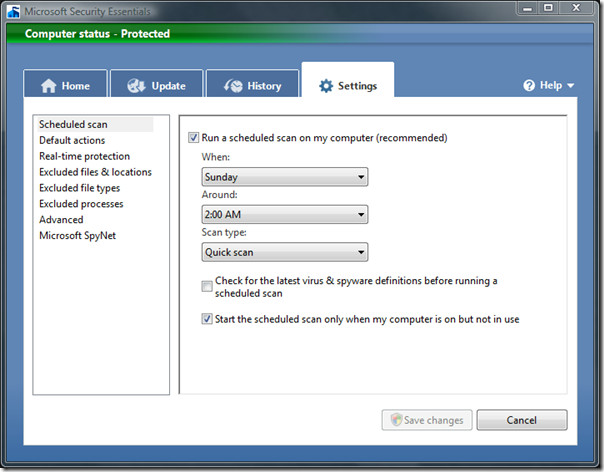 Below are some additional screenshots of Default action, Real-time protection, and Advanced settings.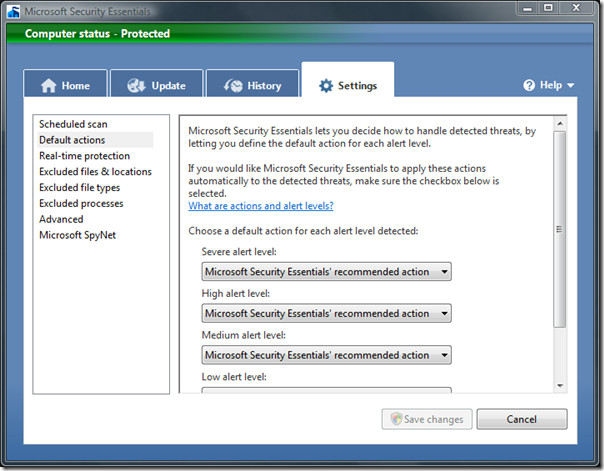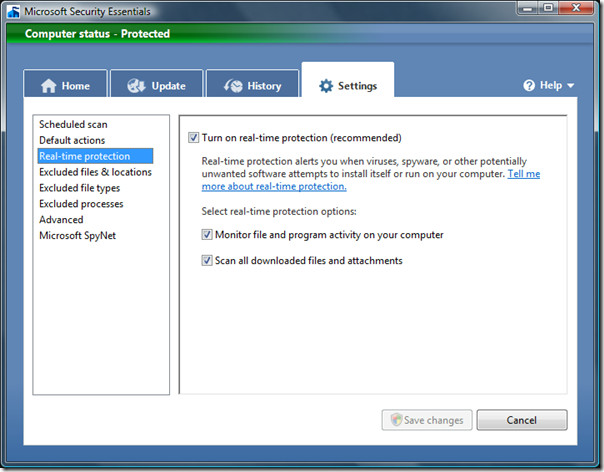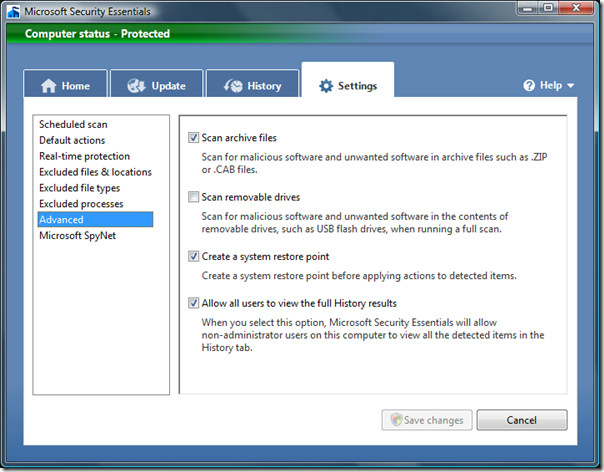 In History tab you can see all Detected Items, Quarantined Items, and Allowed Items. To remove all history, click Delete History button.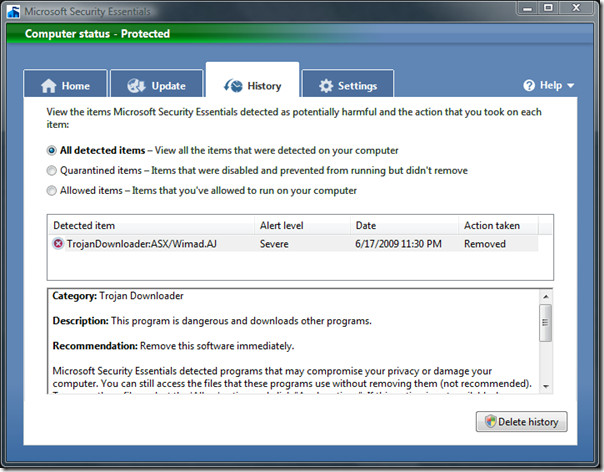 Conclusion
Since I tested the pre-beta build, it is quite difficult to draw the final verdict. But one thing that held out is it's ease-of-use and small memory footprint. The overall size of the software installer is only 4.8MB and takes around 6.6MB + 36MB(runs two different processes) when running on my system. Which is quite impressive if you look at the fact that it detected and removed a Trojan downloader that NOD32 even failed to detect in the first place. Just for the sake of comparison ESET NOD32 takes 35MB of system memory, which means approx 28.4MB more than Security Essentials. 😉 Enjoy!