Mikogo Brings Remote Desktop Session Sharing Between Two Users
If you are looking for a one-stop desktop sharing solution, Mikogo is the answer. Not only is this wonderful cross-platform application free, it has all the features that you can expect from a decent desktop-sharing application. From whiteboard to remote control, mouse pointers and desktop switching, the package is complete.
Mikogo offers a real-time desktop sharing environment, literally. Not only can all participants view other desktops in real time, but also take control and add their contribution to any collaborative task. Sessions can also be recorded for future reference.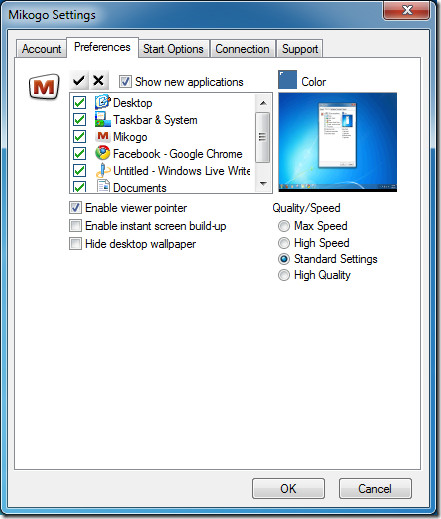 You will need a free account with Mokigo to become a meeting scheduler/organizer. Anyone else can easily join your session through a session ID. The presenter can decide what applications and desktop elements to share and what to hide. Once you have successfully scheduled a session, you can let people know the session ID that they would need to join in.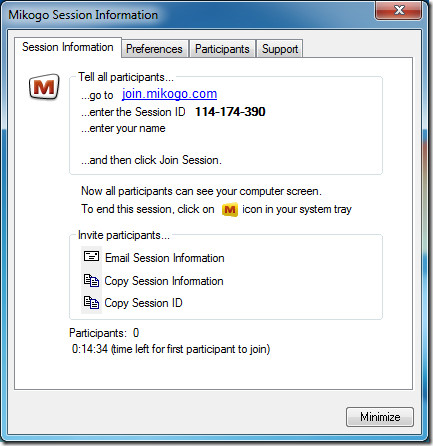 During a session, you can see extra controls in your Mikogo system tray icon, which can be used to manipulate the session as per the user's liking. Mikogo offers instant desktop switching, meaning you can transfer the control of your desktop to any other participant at any point with just one click.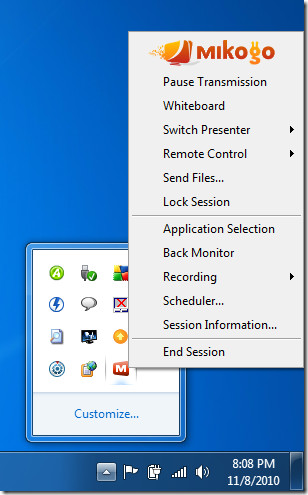 Mikogo also comes with a scheduling component, allowing you to schedule meetings, sessions, trainings etc, ahead of time, and email the session information to all participants. Each Mikogo session includes a conference number so multiple participants can easily talk in a group setting while the demonstration is in session. The connections are encrypted using 256-Bit AES encryption so security is not a problem.
Mikogo is available for Windows & Mac OS X, and was tested on Windows 7 x86 system.
Back in April, we reviewed a similar tool called MultiMouse that allowed multiple users to control desktop, but it was paid. Mikogo on the other hand is free.