Minitube For Windows Brings YouTube Player Without Flash To Desktop
Minitube, a widely known desktop YouTube player for Linux and Mac OS, has just been released for Windows OS. Users who were missing this awesome lightweight application can bring YouTube to their Windows desktop with almost all the features. Those who don't have any clue about MiniTube, it's a simple YouTube utility, which allows you to stream and download YouTube videos into any available video quality. You can easily search for YouTube channels, filter videos, switch between different video qualities, and importantly, download YouTube video in any quality.
Many YouTube desktop players which are available out there can't hold candle to what Minitube has to offer. First, it doesn't use Adobe Flash player to stream videos, which means that netbook and laptop users will save more battery power while streaming videos through Minitube rather than using memory hog browser integrated Flash Player, secondly, the options to switch video quality and to download selected videos on the fly, do get it over the line.
Minitube for Windows offers the very same, simple UI. On the home screen, you have options to search Youtube channels and videos. Just choose channel or search keyword and hit Watch to list down search results. Video search suggestions are also available, just as you have in YouTube and Google, to quickly find what you're looking for.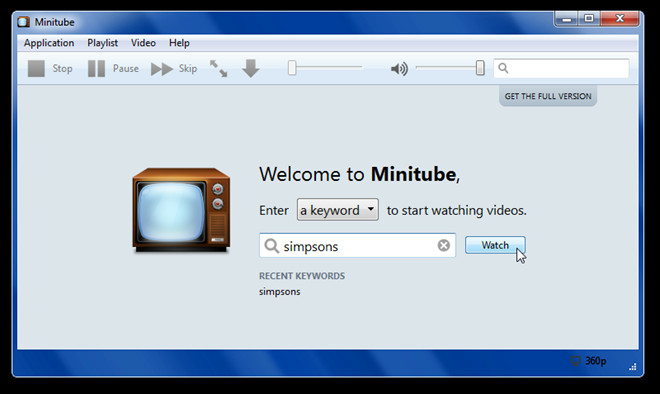 The search results are displayed in the left sidebar, while the top most video in stack will automatically get streamed. The main toolbar holds video playback options with direct download facility. You can skip the streaming, play/pause and stop the video, turn on the full-screen mode, control volume, and download the video by clicking the down-arrow button. The search bar is also present next to volume control slider to initiate a new search.
To change the video quality, click the small button residing in bottom-right corner and pick up the required video pixel quality.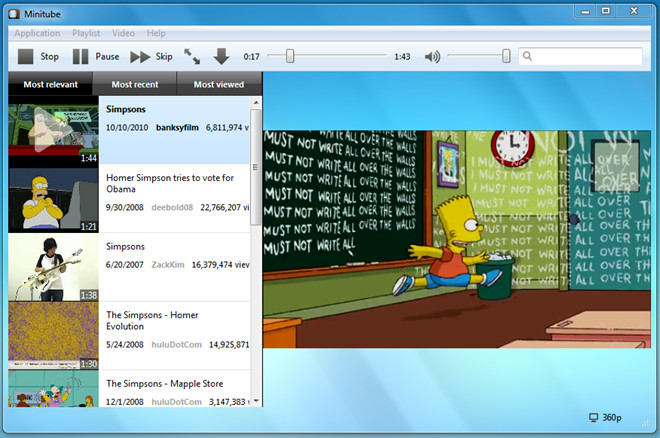 By default, it will download videos in Videos folder, however, you can click Change Location to change the location. Underneath it, you can switch between video qualities and choose any quality in which you want to download the video in question.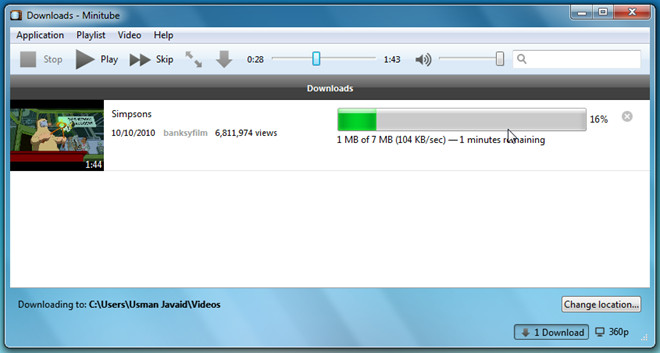 It runs on Windows 2000, Windows XP, Windows Vista, and Windows 7.
Update: It turns out it is only a Demo, the full version is paid and costs 9 Euros. Thanks to everyone who let us know!