Add MKV Support In Windows 7 To Play Matroska Video In Media Player
Recently I came across an interesting piece of add-in developed by DivX called DivX Tech Preview that adds support of Matroska (MKV format) to both Windows Media Player and Windows Media Center in both Windows 7.  Microsoft certainly brings a whole of improvement in Windows Media Player. It can now play almost any format seamlessly, but unfortunately it doesn't play videos in MKV format. So what is MKV format? In layman's term, it is a high-definition format that can hold unlimited number of videos, audio, pictures, and subtitles track inside a single container.
Most HD videos available online are in MKV format and you cannot play them using default Windows Media Player. This add-in adds support for Matroska file playback and apart from it, also enables video thumbnails and displays detailed information of files of this format in Windows Explorer.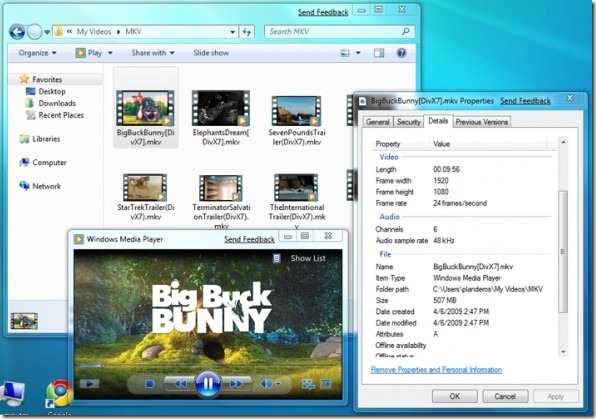 The screenshot above taken from developer's page pretty much sums up the features
Another benefit of using this add-in according to DivX is that you will be able to use hardware acceleration for H.264 video decoding via the system H.264 decoder(only where supported).
This add-in is for Windows 7. Enjoy!