Microsoft Office PowerPoint 2010: What's New?
Microsoft Office PowerPoint 2010 like it's counterparts has been improved and updated with some great new additions. We are reviewing the noteworthy additions to Microsoft Office 2010 and have written a summarized posts on both Microsoft Word 2010 and Microsoft Excel 2010. Today we are going to give one comprehensive insight into Microsoft PowerPoint 2010. Lets see what new features Microsoft has added to it.
Enhanced Ribbon Toolbar
The Ribbon feature which was first introduced in Office 2007 lets users use Microsoft Office with greater flexibility and ease. The PowerPoint 2010 Ribbon is now customizable. The Ribbon can be customized by right-clicking the Ribbon icon and choosing the Customize the Ribbon option.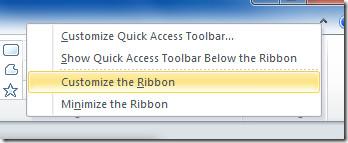 If you want to read more regarding the Ribbon, go here.
PowerPoint To Video Conversion
PowerPoint 2010 now lets you convert your Presentations in to Videos. In order to create a video, click the Office button and then go to the Share > Create a Video Option.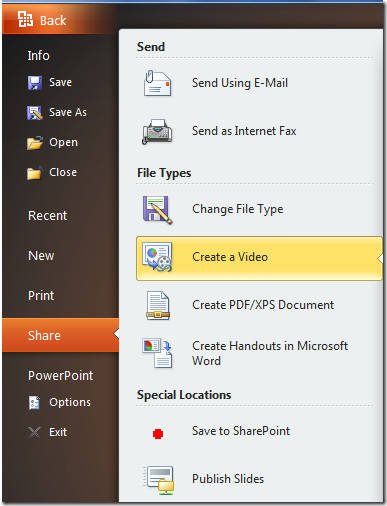 You can find the full detailed guide for this process here.
Compatibility Of .pptx
In PowerPoint 2007, Microsoft introduced a new XML format (.pptx) which was not compatible with the former .ppt presentation format. This problem is not there to bother you any more, meaning PowerPoint files created in PowerPoint 2010 may easily be opened in versions of PowerPoint prior to PowerPoint 2007.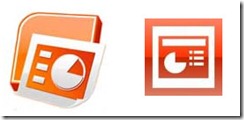 Sections – Provide An Easy Way To Manage Presentations
Microsoft PowerPoint 2010 lets you organize your presentations into sections. You will be able to easily locate the Sections button on the Ribbon toolbar. This feature helps you organize your presentation by grouping all related slides under individual sections. In this way, you can easily find and edit the related slides.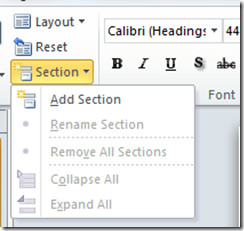 Built-in Screen Capture Tool
Microsoft PowerPoint 2010 includes a feature called Screen Capturing(which can also be found in Word 2010). Now there is no need for a third party or additional tool to capture screenshots in order to use them in your presentations. It is a piece-of-cake to capture the screenshot of any area of the screen. Simply click the Insert > Screenshot option and there you go.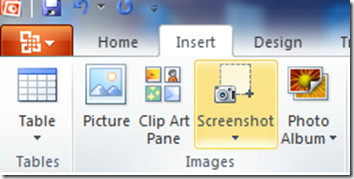 Background Removal Tool
The Background Removal tool is an awesome addition to Microsoft PowerPoint 2010(which can also be found in Word 2010). It simply removes the background of any image. Just insert the image in your presentation and then locate the Background Removal tool under Insert > Picture to remove the background.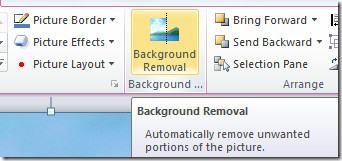 Enhanced Features For Embedded Videos
It is now very easy to embed videos into your PowerPoint presentations. This feature was also present in PowerPoint 2007, however PowerPoint 2010 has added some more magic to it. Now you can easily perform some common operations on the embedded videos with a simple right-click. If you are curious about how to embed a video into a PowerPoint presentation, you can find the full details here.
Improved Animations Menu
In PowerPoint 2010 you will feel that the  Animations menu has been improved to a great extent. It offers a very user friendly thumbnail type of style choices. Just by looking at each choice, you would know what the effect will do when you apply it.

Enhanced Slides Transitions
Microsoft PowerPoint 2010 includes many new slide transitions, thus it empowers you to create a more powerful and eye-candy presentations.

Enhanced Word Art
Word Art is an old feature of Microsoft Office which been enhanced in PowerPoint 2010(same enhancement can be found in Word 2010). WordArt has been updated with new colorful art effects. Select the text, then click Word Art and a list of all the available options will be displayed.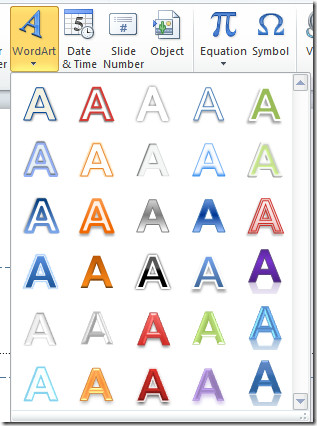 Equation Editor
Equation Editor comes in handy when you need to add some common mathematical equations to your documents/presentations. You can also use it to create your own custom equations by using a library of mathematical functions. This feature was already available in Microsoft office 2007 but was limited to Word 2007 and Excel 2007. In office 2010, this feature has been added to PowerPoint as well. You may locate the Equation Editor under the Insert menu.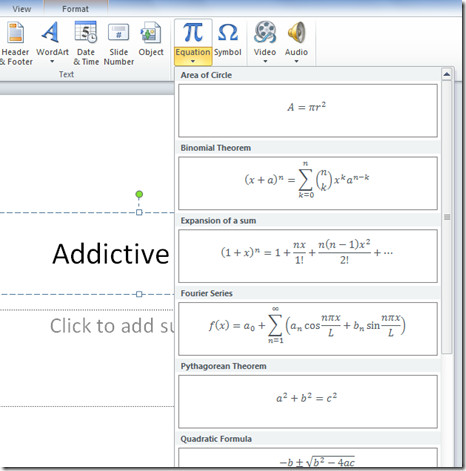 Video Editing
PowerPoint 2010 now includes a build-in video editing features. You can trim videos, add effects, and do much more. Read the full guide here.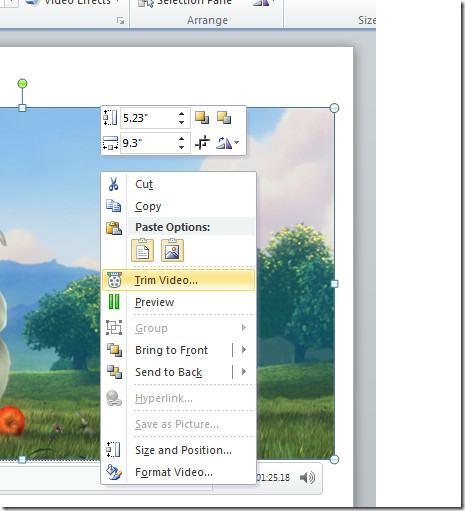 We have covered the most important additions to PowerPoint 2010. If you think we have skipped any important feature, let us know in the comments. Enjoy!