How to monitor deleted files on Windows 10
You can delete files from your system and that is hardly a secret. If you have multiple users on a single system, a user's files in their own respective library will be safe from other users but, anything in non-Window drives can be deleted by anyone. If you need to keep an eye on files that have been deleted from your system, you can use an app called Deletion Extension Monitor to monitor deleted files.
Monitor deleted files
Download and install Deletion Extension Monitor. By default, it monitors the deletion of EXE, DLL, PDF, TXT, LOG, OOC, SYS, BAT, PIF, COM, CPL, and TMP files. You can add any other file extension that you need to monitor for deletion.
If you need to add a file extension, run the app and go to Monitoring>File Extensions. This will open a new window listing the file extensions that are already being monitored. To add a new extension, click the Add button, enter the extension, and click OK.
It's a good idea to remove any file extensions that you don't need to monitor or it will clutter the log up. You should remove TMP because a lot of these files are deleted constantly.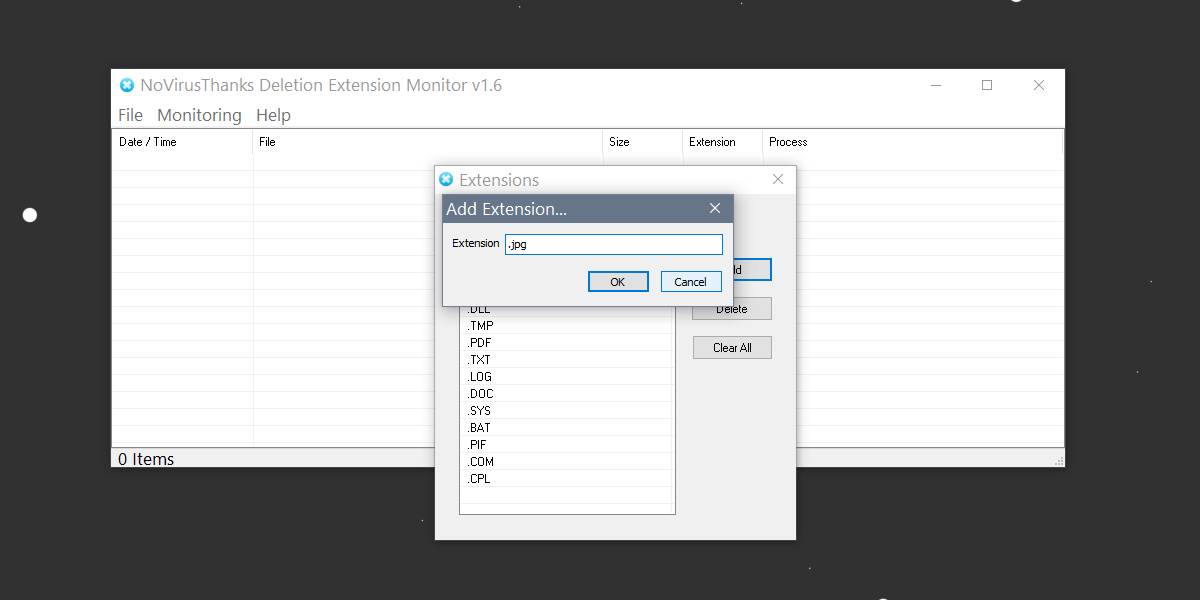 After that, close the app and it will minimize to the system tray. As files are deleted, the app will build a log of them all. The log will include the name of the file and where it was located, the process it belonged to, its size, and its extension as well as what time and date it was deleted on.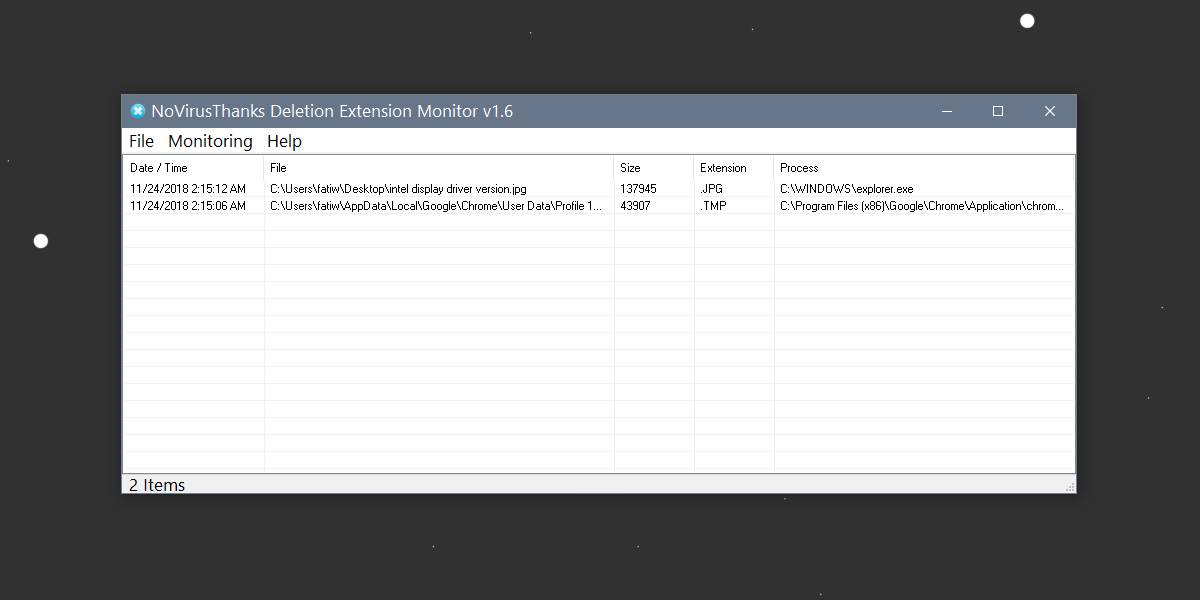 This app cannot log files that have been deleted by other users logged on the system. It can only log files that have been deleted by the current user. The app also doesn't offer any ways to recover files. It's a simple logging tool and nothing more.
The log can be sorted by time, extension, size, and process. You can also clear the log. The log is saved to the app's folder under Program Data however you can select a different location from Settings to save the log file to.
If you don't need the app to save a log, you can disable it from the settings as well. The log file isn't going to be that big so there's nothing to worry about if you're concerned about disk space.
The app is pretty neat though it would be great if there were an option to set up an alert for when a particular file is deleted.