Mount FTP Server As Local Drive In Windows 7
Many of you will be frustrated to find out that there is hardly any way to mount an FTP server as local drive in Windows 7. Yes, Microsoft has always provided an option to map a network location but this is not helpful for many users. The benefit of mounting an FTP or WebDav server as local drive is that many backup and 3rd party tools are easily able to recognize the drive and allow operations to be performed on them just like a local drive.
NetDrive is by far the most suitable freeware available to mount both FTP and WebDav server as a local drive. A user just has to give it a name, enter the IP address or URL, enter the port (default is 21), assign a drive letter, and finally enter the login credentials. Once connected, the drive is visible in "My Computers" alongside other local drives.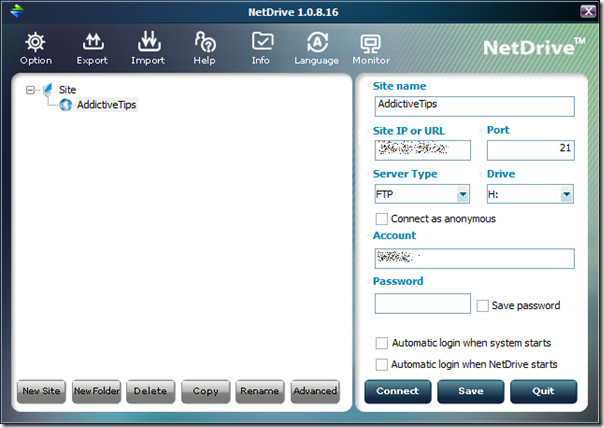 You can save different servers which will be listed on the left side of the application and can also put them in any self-created folders to better organize and manage them.
In the screenshot below, the drive H named AddictiveTips is a server mapped as local drive.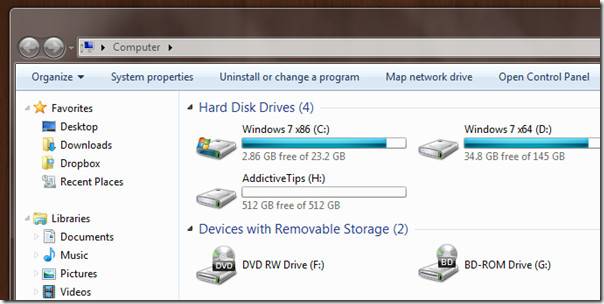 NetDrive sits in the system tray and starts during Windows startup. There is an option to export the servers along with their settings so that they can be imported easily on another system running NetDrive. There is also a build-in Monitoring tool that monitors the activity in each mounted drive.
It works on Windows XP, Windows Vista, and Windows 7. Testing was done on Windows 7 32-bit system.