Automatic Backup Software For USB Drive [Windows]
BackUpAnyWhere is a free, portable tool that allows easy and automated backups of USB flash drives to a predefined directory on your PC. Other than backing up the drive, the software also supports syncing the contents between the flash drive and the HDD. Once configured, the program can perform all these functions in an automated manner, without the need for user intervention.
With your USB drive plugged in, all you need to do is specify the folder on your local file system where the flash drive would be backed up. Once you have selected the desired directory, simply click Start Backup to begin the process. Checking the 'Automated Mode' will start the backup/sync process whenever you plug the drive in, provided that BackUpAnyWhere is kept running.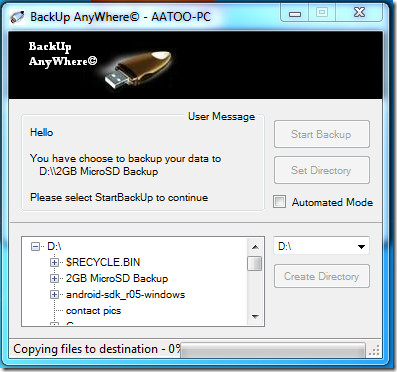 The program required administrative privileges to work properly, so make sure to run it as an administrator. It is portable and we tested in on Windows 7 x86 OS.
You may also want to try out GTK Selfimage or Toucan as more comprehensive and alternate solutions.