WinArchiver: Mount ZIP, RAR, 7z Archives & Disk Images As Virtual Drives
WinArchiver Virtual Drive is a disc mounting application for mounting all kinds of CD/DVD images and compressed archives. You can run programs or access the files from a virtual disc without the need to use the original CD/DVD. This can greatly help reduce the strain on the lens of the optical drive, and generally prolong it's life. WinArchiver Virtual Drive is similar to other applications of it's kind, such as Magic Disc, with the exception that it can also mount ZIP, RAR, 7Z and other archives as virtual discs. This makes it possible to run compressed archives without extracting them, and also saves hard disk space. For example, you can run a compressed archive containing your files from a virtual drive rather than having to extract the archive, which may consume more hard disk space.
Using WinArchiver Virtual Drive is the same as any other disc mounting application. After installation, you can launch WinArchiver Virtual Drive and select the number of virtual drives you want.  You can enable the application to start at system startup, and go to application configurations from Options.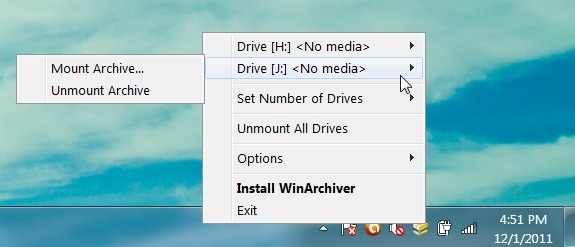 From here, you can select the number of drives to assign (up to 23 drives can be mounted, and the same option is also available from the system tray menu), assign drive letters to virtual discs, choose a temporary files' folder and interface language.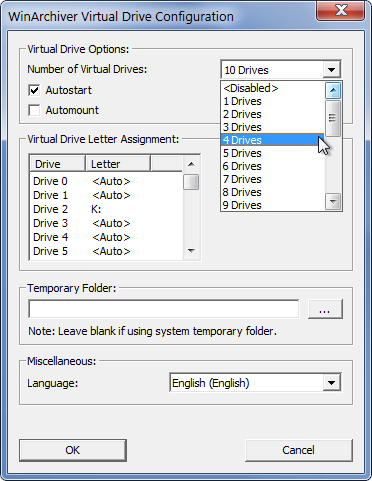 WinArchiver Virtual Drive works on Windows XP, Windows Vista and Windows 7.
Download WinArchiver Virtual Drive