MSE Update Utility [AddictiveTips Apps]
MSE Update Utility is a simple app that updates Microsoft Security Essentials when Windows Update is disabled. Windows Update service is responsible for frequently updating MSE. But once it is disabled via Group Policy Editor, MSE won't update anymore.
Microsoft's idea for merging the MSE update with Windows Update is perhaps the biggest downside of MSE and the only workaround until today was to manually grab the latest virus definitions. Since MSE virus definitions are updated almost daily, the manual route was quite tiresome. This is where MSE Update Utility comes in.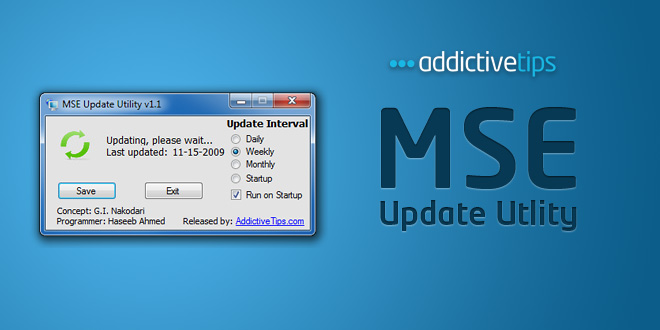 From the main window you can select the update intervals, there are four options given – Daily, Weekly, Monthly, or Startup. I would recommend going for either Daily or on Startup.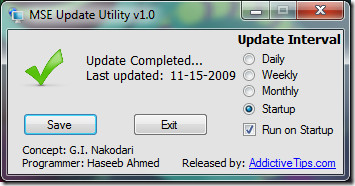 Updating the virus definitions during startup is the best way to keep the system secure. It will automatically update the definitions and notify you when they are complete.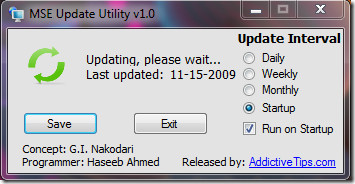 By default it is checked to run on startup, you can always uncheck this option later. MSE Update Utility is not for everyone, but if you fall in any one of the category below then it will come surely handy:
Users in corporate office environment where the network administrators have disabled the Windows Update.
Those having difficulty updating MSE using Windows Update due to some problem.
When Windows Update is disabled by a virus.
Downloads:
Mirror for Installer (Software Informer)
Update: The app has been updated to version 1.1, various fixes have been implemented. For full details, go here. The FAQ below has been edited to better reflect the changes.
Update 2: Those users who are uncomfortable using this tool can try out a Task Scheduler method which uses MSE's own command line utility to look for latest virus signatures.
Update 3: The app is still v1.1, but we have managed to fix the exception error. Please note that it will work only with US Short Date Format, to read more about it, go here.
Update 4: Software Informer was kind enough to feature MSE Update Utility. They've been added to mirrors for downloading the application.
Note: This is the first second stable release. If you would like to see some additional features, drop a comment below. It requires .Net Framework 3.5 to run.
Frequently Asked Questions (FAQs)
1. The software wont update the virus definition?
A. Please make sure that the software is run with Administrator Privileges. This has been fixed, the software will indeed update the virus definitions even if you are not running with Administrator Privileges.

2. The software wont run on startup even though I have it enabled to run on startup?
A. Please disable your User Account Control (UAC) from the control panel. Disabling UAC was quite foolish for us to say, we have fixed this as well.  If you want to run an app during startup, please make sure you run the program as Administrator before checking the "Start during startup" option. You need to run the app as administrator because the app adds a key to the registry.
3. Where did the app get installed?
A. Straight in the C drive. You can now select any destination where you want to install the app.
4. The app shows the definitions have been updated but MSE still shows old definitions?
A. Exactly, MSE will actually show the updates a few minutes after the app says update complete. 😉
Special thanks goes to Haseeb Ahmed for his help in programming the app!