Multi Photo Quotes Builder: Create Custom Text & Image Screensavers
Working with Windows OS for the past several years, the word Screensaver must not sound something unfamiliar to you. They come packed with Windows itself and you can even download numerous others to satiate your appetite. In case you don't know, screensavers were originally introduced in order to avoid phosphor burn-ins on CRT and plasma monitors, and save the screen colors. Well, you can always Google about the cause behind these affects, screensaver pretty much help in reducing it. They done so by either blank out the screen, or fill it with moving pictures after a specified time of inactivity on the computer. As time changed and we moved to LCDs, the need for screensavers vanished, and now, they are mostly used for their aesthetic qualities instead of the aforementioned function they were originally intended to perform. Albeit you can download various screensavers off the web, should you need to create one of your own, one software that might help you is Multi Photo Quotes Builder. It is an application that lets you create custom screensavers using images of your choice. The screensavers are created as EXE setup files and you are allowed to add custom Name, Label, Author, URL, Pre-Installation and Post-Installation Messages. Find out how to creates custom screensavers after the break.
When running the application for the first time, you will be asked to enter the registration data. Just click accept and you should be good to go. To start building a screensaver, select Screen Saver Information from the left side and fill up the required fields in the right. You will need to enter ID Name, Label, Version String and Company/Author Name, while adding the Screen Saver Web Page URL, Pre-Installation and Post-Installation Messages are optional. Once everything is done, click Build ScreenSaver Now.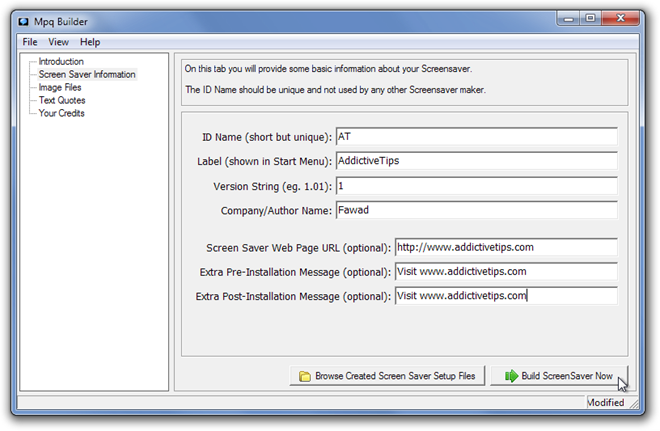 In the Image Files tab, add the images that you would like to appear in the screen saver. Images can be added by simply dragging and dropping, and can be previewed in the lower-left corner of the interface. Click Build ScreenSaver Now when all pictures are added.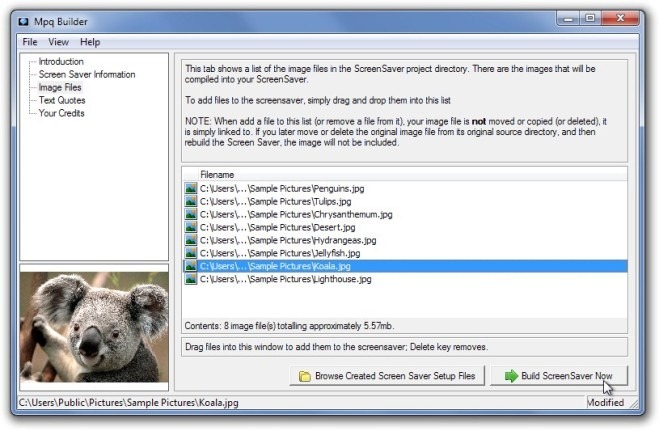 The application will process all the data and automatically create the installable file for the screensaver for you. The file can be viewed by clicking Browse Created Screen Saver Setup Files.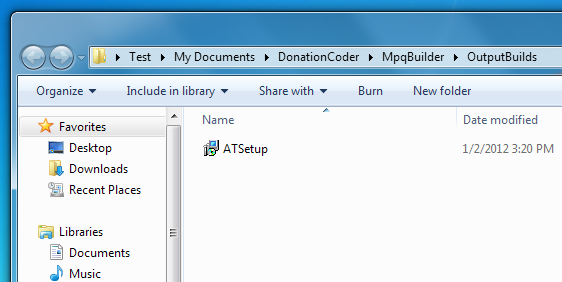 All-in-all Multi Photo Quotes Builder is handy tool if your love for screensavers hasn't died yet. It works on Windows XP, Windows Vista and Windows 7.
Download Multi Photo Quotes Builder