NetRouteView Is A GUI Alternative Of Windows Build-In Route Utility
Windows has a build-in utility for checking and modifying the default network route called route.exe, which can only be used in CLI based environment. Considering the need of having simple interface to view routes, NirSoft's NetRouteView is a free portable application, which is a GUI alternative of Windows route utility. As user-friendly environment is always preferred, it displays all the routes on your network in multiple columns. The informatory columns provides information like; Gateway, Mask, Interface IP address, Protocol type, and lot more.
You will see all the network routes on the main window, all the related information is spread in aforementioned columns. Right-clicking the item in the list will let you specify new route, modify selected route, or delete the entry. The operation can be performed in bulk by selecting multiple items in the list.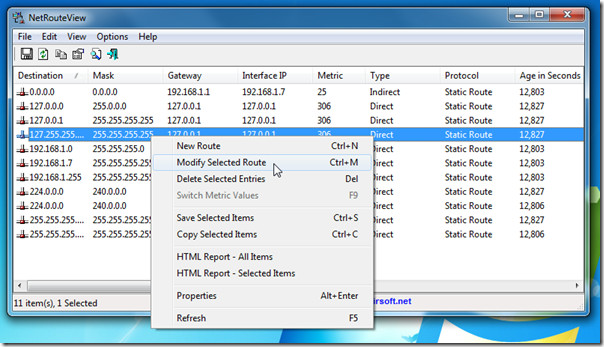 To instantly modify an entry, double-clicking the item will bring up a dialog where you can modify the route. For adding a new route, you'd need to specify several parameters which includes; Destination, Mask, Gateway, Metric, etc. From right-click menu, click Properties to view all the related information of selected route.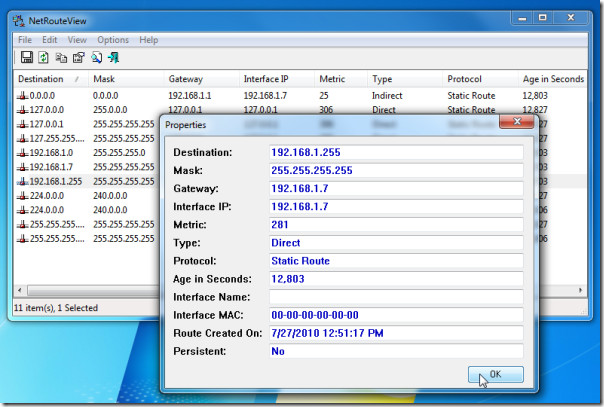 It makes managing network routes easy as it offers simple interface to let you easily add, modify or delete the routes in bulk. Now for checking or modifying network routes, you wont need to work in CLI-based environment.
It runs on all Windows based OS, testing was carried out on Windows 7 x86 system