NetSurveyor: Advanced Signal Analyzer For Wi-Fi Surveys
NetSurveyor is an advanced Wi-Fi network discovery application for gathering information about wireless access points in the vicinity. It displays data in the form of graphical charts and detailed reports, which can be generated as PDF files. NetSurveyor can be used to assist installation of a Wi-Fi network, verifying network configuration settings, troubleshooting Wi-Fi issues, carrying out Wi-Fi site surveys, detecting rogue access points, checking Wi-Fi coverage and strength. In case you do not have a Wi-fi card attached to your system, you can run NetSurveyor in Demo mode to test its capability.
NetSurveyor provides real time stats, with graphs that list all available Wi-Fi networks in range. For all networks in range, the network SSID, BSSID (MAC), channel, beacon strength, beacon quality, signal quality, radio type, activity and encryption status (whether the network is encrypted or not) is displayed on top of the main interface.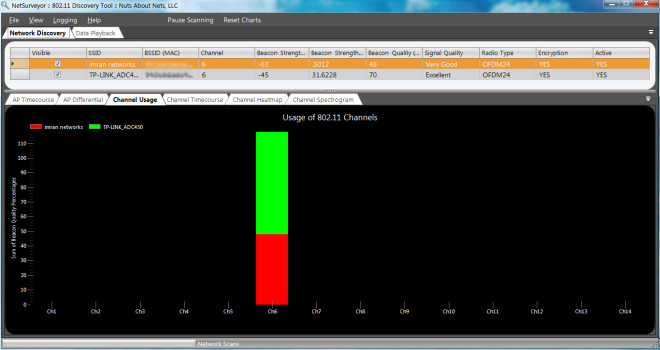 The graph types include AP Time course, AP Differential, (Wi-Fi network) Channel Usage, Channel Time course, Channel Heat map and Channel Spectrogram.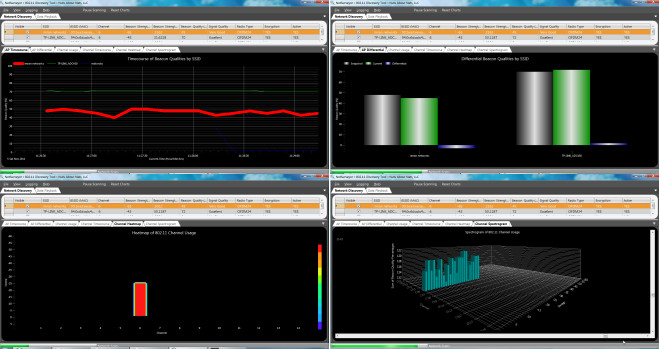 You can generate instant PDF reports of your existing stats from File –> Create Report. This enables saving current stats for later review, with precise graphs.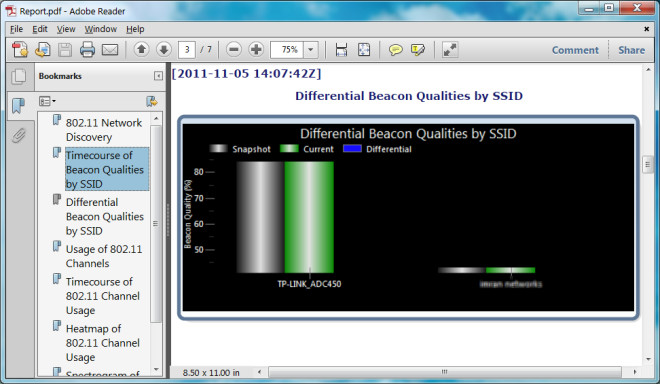 NetSurveyor is basically a diagnostic tool for professionals and will probably not be of much help to average users. It falls under the category of 802.11 Network Discovery Tools. For more information, check out the below video:
NetSurveyor works on Windows XP, Windows Vista and Windows 7.