New Features In Firefox 31 For Desktop & Android
Has it been six weeks already? Yes it has and that means it's time to get a new version of Firefox for both desktop and Android. Firefox 31 is now available for direct download or you can upgrade the current version by clicking the help button in the options panel. Firefox 31 for desktop brings new features for both end users and developers. Noteworthy among them is the Prefer:Safe feature which tells websites the current user is accessing the web behind parental controls. A new search field has been added to the new tab page, and a nice color picker tool has been added for developers, among other things. Firefox for Android is expanding on the home panels feature and you can now install more add-ons to add a larger variety of feeds to the home page. The API for adding content to the home page has also been introduced for developers. Users can now force sync open tabs from their Android device and reorder the home panels.

Firefox For Desktop
Search Field To New Tab Page
It's hard to gauge the usefulness of this feature but it is there and the screenshot below shows what it looks like. A search bar has been added to the new tab page just above the speed dial.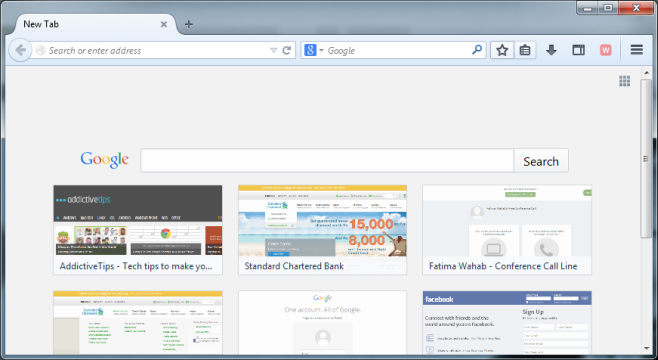 Prefer:Safe
This feature is enabled by default and you cannot disable it. There are no UI elements for managing it. The feature checks if the OS is running with parental controls enabled, (OS X and Windows only) and lets websites know they should filter content accordingly. The feature sends information with the HTTP header to alert websites so they can block content that may not be appropriate for young users.
Eyedropper
To enable the eyedropper tool, you must first open developer tools settings and enable the 'Grab a color from the page' option under Available Toolbox button. This adds an eyedropper button the tool. Alternatively, you can also type in Eyedropper in the developer toolbar.

Partially Selected Link Text From Context Menu
This isn't a new feature, it's a fix. You can now search a partially selected link from the context menu.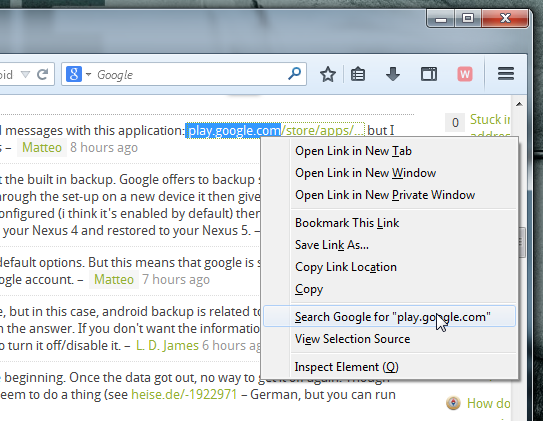 Firefox For Android
Reorder Home Panels
Home panels can be reorderd by going to Settings>Customize>Home and long pressing one of the panels listed there. A pop will appear with the option to remove the panel or move it up or down.
Refresh Synced Tabs
A pull to force refresh option has been added allowing users to force Firefox to fetch the latest tabs open on another device. Just pull and release on the sync tab to run the sync.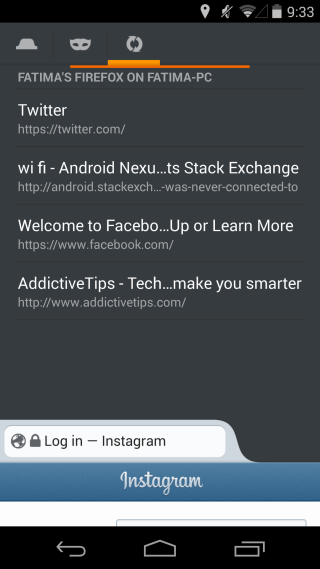 Firefox Hub APIs
Developers will be able to use this new API to add content from their website to the Firefox home page. A few experimental add-ons are already available in the Firefox Market Place for anyone wanting to try it out.
You can read the full change log for Firefox desktop and Firefox for Android to learn about other new features.
Download Firefox 31 For Desktop
Download Firefox 31 For Android