New Features In Firefox 33 For Desktop And Android
Firefox 33 is out for both Desktop and Android. You should be prompted to upgrade the next time you launch it and if you're a developer, you might want to upgrade right now. This latest instalment is a treat for developers with two new noteworthy features; a media sidebar in the Style editor and a paint flashing tool. End users will want to upgrade for the improved search functions and the more reliable session restore feature. Firefox for Android is also supporting the new Paint Flash tool for developers. For End users the new option to delete data when you quit the app is very promising as is the ability to stream video content to Chromecast and Roku.

Firefox 33 Desktop
 Improved Search Experience
We're bundling two features under one head; Firefox 33 does two things to speed up search. It offers search suggestion on the Firefox home page (about:home) and the new tab page (about:newtab). It additionally does something different to speed up the search result. With prior versions, if you were to type in a single word or mathematical expression, the browser would take a considerable time to give you any results. It was looking for locally hosted sites that would correspond to the search term. With this update, it now searches online first while conducting a local search in the background.
Session Restore Is More Reliable
This is a feature that has often failed on me in the past so I'm glad Mozilla paid some attention to it. Session restore is now more reliable which means that message you get about Firefox not being able to restore your previous session will be seen far less frequently.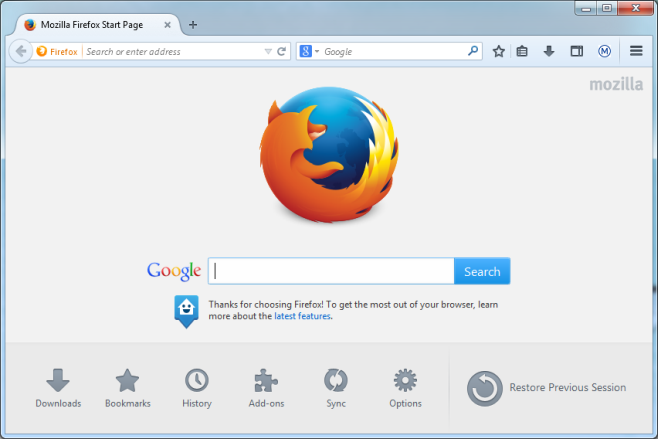 Media Sidebar In Style Editor
This is a new bar that appears when you have the style editor open. It lists rules and links to line numbers of a CSS sheet if it detects any media rules have been used.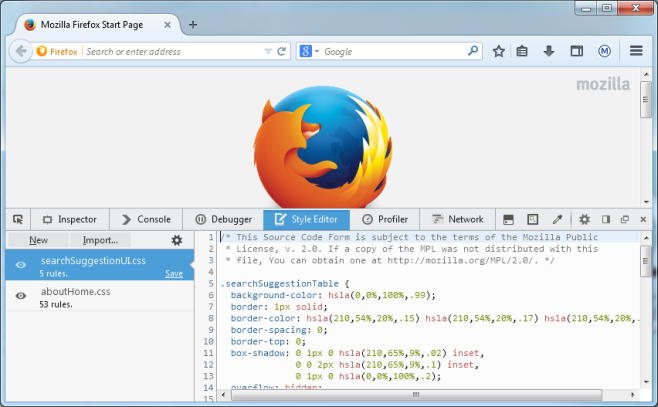 Firefox 33 For Android
Clear Data When You Quit Firefox
Each time you quit Firefox, you can now delete all your data with it. The feature can be found under Settings>Privacy and you can select what data to delete. Once set, Firefox will remove data for the items you've selected.
Paint Flashing
This feature has been added in both the desktop and the Android versions of the app. Before we go into any details, take a look at what the feature looks like in action on both platforms.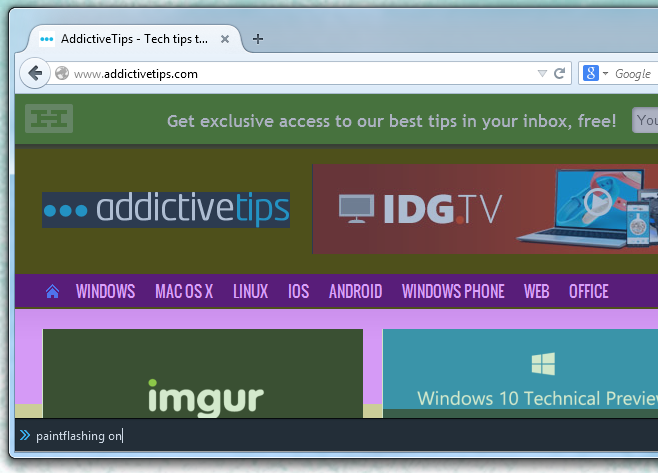 To activate paint flashing on the desktop, open the Developer toolbar and type 'Paintflashing on'. To activate the feature on Android, go to Settings> Developer Tools and check the Paint Flashing option. What this tool does is that it highlights which parts of a page may have been repainted by actions such as hovering the cursor over a page element or scrolling. It makes it easy to spot if the browser is having to repaint a page more than is needed.
For more details about the new changes, read the release notes for Firefox 33 for desktop and Android. The biggest addition for end users is no doubt on the Android version where better security and the ability to stream video to Chromecast and Roku have been added.
Download Firefox 33 For Desktop
Download Firefox 33 For Android