Nitro PDF Reader 3.0 Update Adds Text Alignment & Auto-Save Support
We covered Nitro PDF Reader back in 2010. It was a PDF reader well ahead of many others at the time, even Adobe's own software. The reader is more than what its name implies; it allows users to edit and create PDFs and that's something that very few free PDF readers do, let alone doing it well. Nitro PDF Reader has just released a new version, version 3.0, that comes with four new features and a few enhancements to existing ones. The most significant features include the option to align text better when you're creating a PDF file or insert text into an existing one, auto-recover a file you were working on when your system crashed, detect and indicate if a file is an image-based file or a scanned document, and lastly, for large enterprises, Nitro PDF Reader has implemented Autonomy WorkSite Integration. Enhancements for Japanese and Chinese text, detecting and opening links to PDF pages, reduced file sizes when text is added to a file and saved and better PDF rendering have been added.
The features and enhancements that matter to most end users are text alignment and auto-recovery. When you open a PDF with Nitro PDF Reader and activate the text tool, you will see relative margins and outlines appear as you move the cursor around the text. It will give you an accurate idea where your text will appear.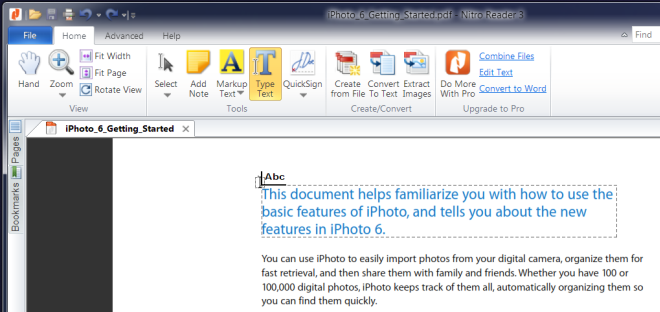 Editing and adding text to PDFs usually means their size will increase and there isn't a way around it but as per a new enhancement, the file size that users see after adding more text or annotating a PDF file will be much less. The auto-recovery feature is yet another one that will be more than welcome in Nitro PDF Reader. For an application that allows you to make so many changes to a PDF file, the lack of an auto-recovery feature meant that a lot of work might be lost if you system suddenly decided to shut down. If you visit Nitro PDF Reader's preferences, you will be able to define how frequently the application should save your work. You can set it to save work as frequently as every minute.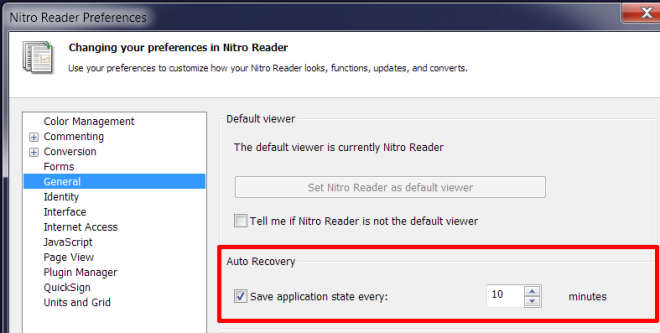 Filling out forms is bound to be much neater now that text aligns better with other objects in a file. The general performance enhancements are meant to make it easier to open and render large PDFs, so users can expect Nitro PDF Reader 3 to run much smoother. It works on Windows XP, Windows Vista, Windows 7 and Windows 8. Testing was carried out on Windows 7 64-bit.