Open .DAT File Extension In Windows Quickly
Do you have a .DAT file in your computer and don't know  how to open it? Firstly .DAT file could be anything like a picture, video, data, email attachment, etc. To open .DAT file you will have to find out what kind of file it is, you can than convert the extension to open it easily. If you don't know what kind of file it is, you can determine it too. More details after the jump.
.DAT file is never associated with any one program. You can try opening it with notepad and MS Document. If it is a chat session or some text document then it will display the content, otherwise it will show some rough data that only programmers can understand.
Your .DAT file could be anything like a video file or a document, the best way to determine would be to add different extension in place of .DAT extension and see if it works. To do this, follow the method below.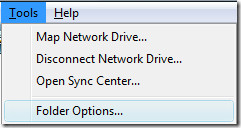 Go to Tools > Folder Options and click View tab. Now uncheck the Hide Extensions For Known File  Types checkbox and click OK.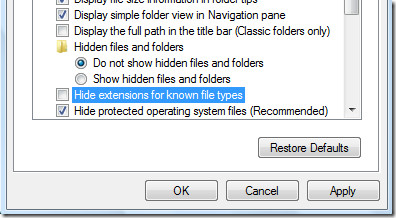 Now you will see file extension at the end of every file on your computer. Now change the extension of your .DAT file to .JPG, .PNG, .DOC, .XLS, .AVI, one by one and check if it works. Opening it with IrfanView might solve the problem, as it opens most Picture and Video extensions.

If this method doesn't work, then it means either you have a Email Attachment, or a Video file.
Winmail.Dat Email Attachment
If you have a file named  Winmail.dat, this means you have received this file as an attachment in the email and the sender has used Microsoft Outlook, Outlook Express or MS Exchange Server to send you this mail.
To easiest way to open it is to use an online converter called WinMailDat.
VCD Video File
If you find a video file in .DAT extension. You can easily open it using VLC Media Player. But if you want to convert it so that it can be easily played on other video players than you can use VCD Gear to convert .DAT extension to .MPG easily.
That's all. If it solves your problem, don't forget to say thanks. If you are still in trouble, feel free to leave a comment.