How to open .key files on Windows 10
Apple is no stranger to productivity and it has its own suite of apps collectively called iWork. iWork includes a document processor, a spreadsheet tool, a presentation tool, and its famous movie editing tool iMovie, among other apps.
Like many of its products, Apple's iWork tools have their own proprietary format. The .KEY file format is used by Keynote, the presentation tool in iWork.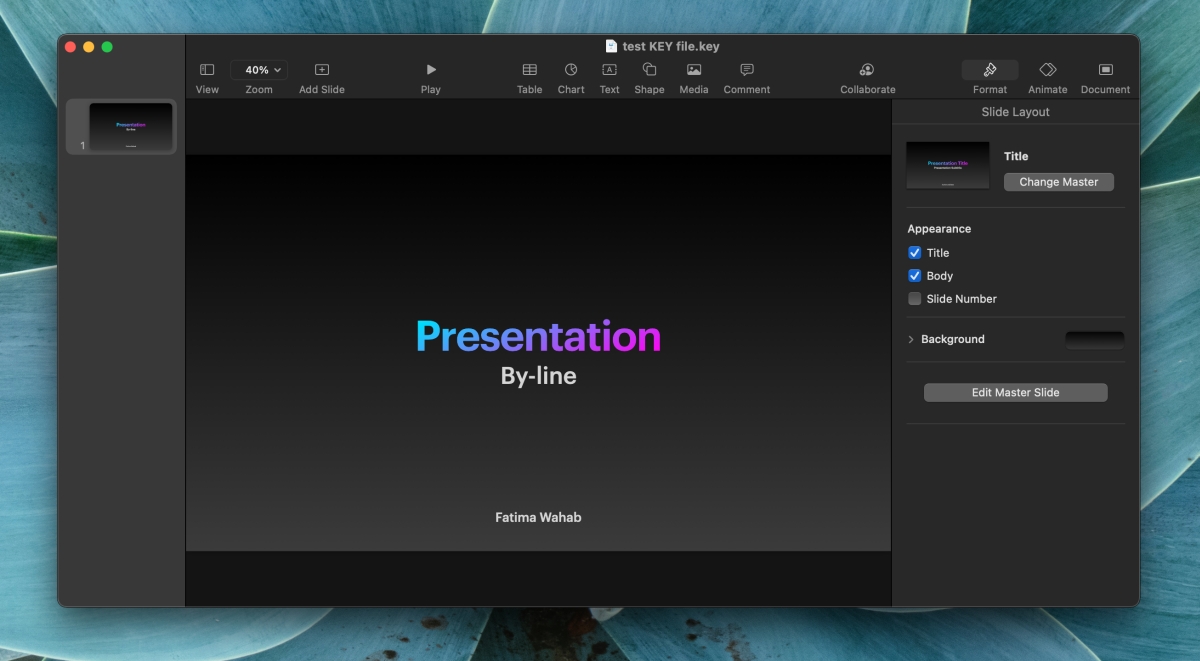 Open .key files on Windows 10
The .KEY format is not compatible with PowerPoint. If you use Microsoft Office, its presentation app will not be able to read the format. It may attempt to repair the file but that ultimately fails. To open .KEY files on Windows 10, use one of the methods below.
1. Google Slides
Google Slides is a convenient tool to use if you want to open a .KEY file. It will retain most of the formatting and replace fonts that it does not support.
Visit Google Slides and click the plus button to create a new Slide file.
Go to File>Open.
In the window that opens, select the Upload tab.
Click Upload from my computer.
Select the .KEY file.
Wait for the file to upload and Google Slides will open it.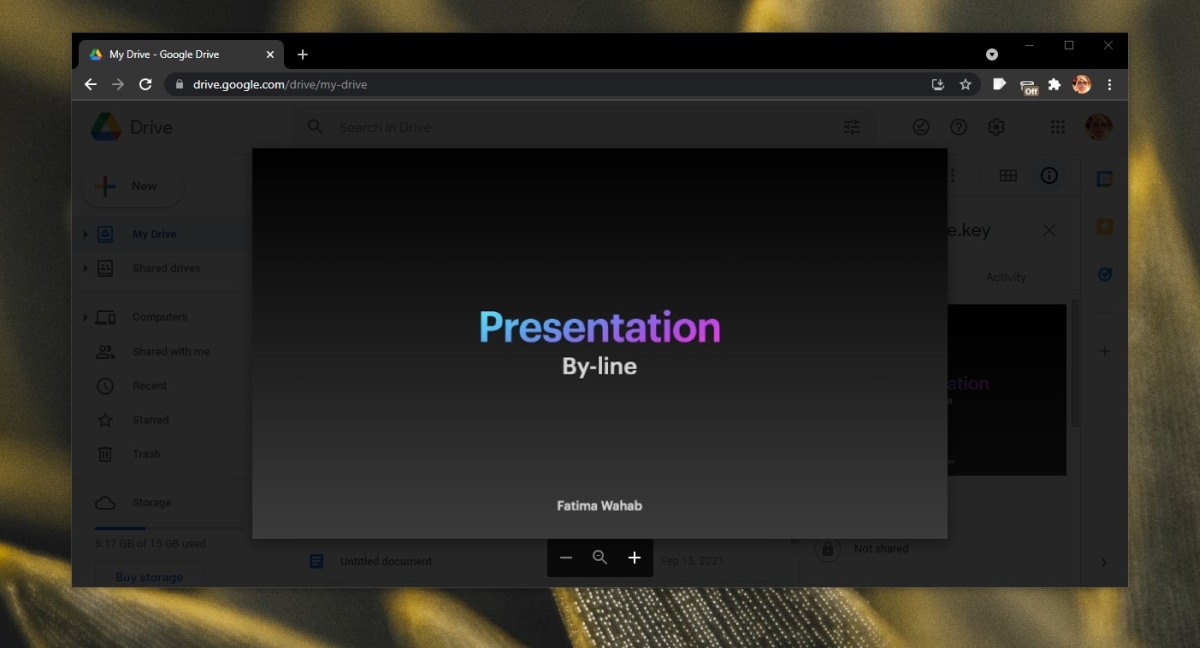 2. View in iCloud
This method will guarantee that the file opens with most, if not all of its layout and contents intact. The only downside is that you need to create an iCloud or an Apple ID to use it.
Sign into iCloud with your Apple ID.
Click the Keynote app.
Click the upload icon.
Select the .KEY file and upload it.
Once uploaded, you will be able to open it in iCloud (in your browser).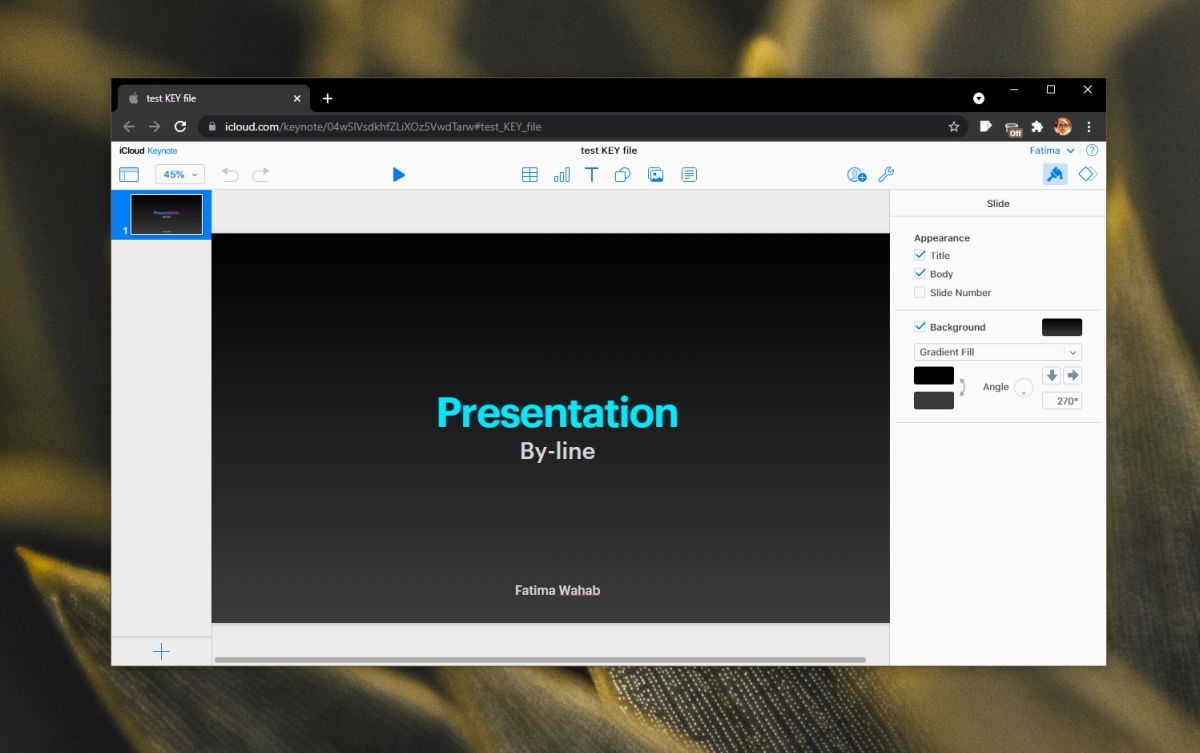 3. Convert to PPTX format
If you're not just looking to open the KEY file but also to edit it on Windows 10, you will need to convert it to the PPTX format. There are online apps that can do the job; some work, some don't.
Visit Cloud convert.
Click Select files.
Select and upload the KEY file.
Select PPTX as the format to convert the file to.
Download the converted file format.
4. Ask for a PPTX file
Keynote files cannot be opened in PowerPoint however, you can save it as a PowerPoint file from the Keynote app. Ask the person who sent you the file to save it as a PowerPoint. To save it as a PowerPoint file, follow these steps.
Open the KEY file in Keynote.
Go to File>Export as.
Select PowerPoint from the menu.
Select where you want to save the file.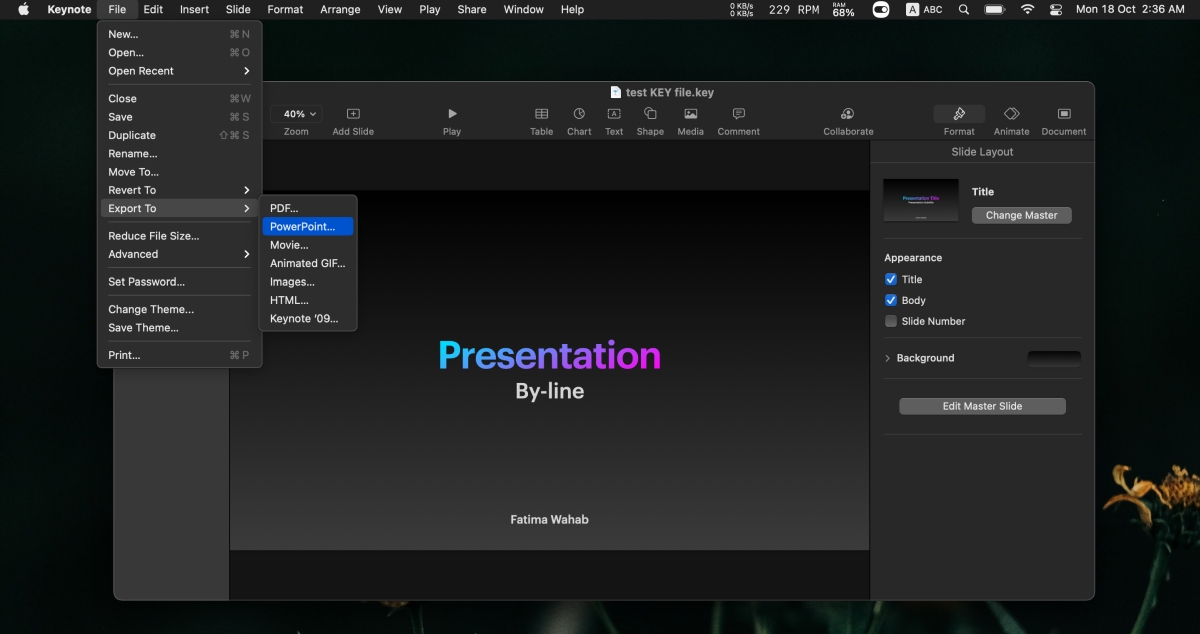 Conclusion
You won't find a lot of presentations in the KEY format. It is not as popular at the PPTX or PDF format for sharing presentations which is why there is little editing support for the format. You will be able to view the file in iCloud but if you need to edit it on Windows 10, it is best to convert the file from the Keynote app.