OpenMusicPlayer Is A Feature-Rich, Open-Source Media Player With Lyrics, Radio & Themes
Remember the good 'ol days when our living rooms were full of audio cassette and CD racks of our favorite artists? Fast forward to the present day, and almost everyone keeps their entire music collection on their computer, smartphone or even the cloud. Time has changed pretty quickly and with it, so has the way we listen to music. Although most people tend to listen to music using the default player that comes with their OS (like Windows Media Player, iTunes etc.), it's not unusual to download third-party programs for the purpose, which usually provide a variety of additional features other than those included in stock media players. OpenMediaPlayer (or OMP) is one such open-source desktop application for Windows that lets you enjoy your music and video under one interface. While its video playback capabilities aren't all that impressive, it's the audio side of the app that really shines.
Some players look prettier out of the box, while others are easier to use . Luckily, OMP boasts both capabilities under one package. The UI of the application is easy to navigate and looks great while at it. The application supports plenty of media formats including MP3, OGG, SPX, TTA, FLAC, AAC, WAV, WMA, APE etc., on the audio front, and MP4, MPEG and AVI for videos. The interface carries playback controls at the top, while the mid section of the application is largely taken over by the current music library. The application allows you to add music from whole directories, which save loads of time. The lower area comprises of album cover art while to the left, you'll find buttons for music player, lyrics display, CD player, radio and video player.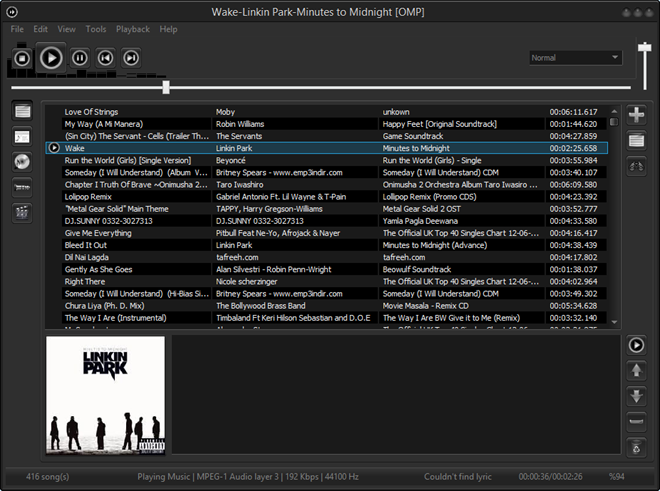 The application also offers some additional perks like queue operation for continuous playback, tag viewer & editor, playlist editor, equalizer and visualization effects. Another interesting bit about the app is its low resource consumption, meaning you are left with a lot of CPU and memory resources for other resource-intensive tasks while enjoying your favorite tunes. Playlists can also be curated to keep your music organized and easily accessible. There's a drop down menu in the upper-right that lets you switch playback mode between normal, shuffle, random and repeat.
Although the integrated music player left quite positive impression on me during testing of the app, the video player features were rather underwhelming compared to the former. The developer hasn't even mentioned a full list of video formats it supports, leaving it up to the users to do some guesswork on their own I had success playing MP4 files, but quickly ran into problems while trying some other widely used video formats like MOV, MKV, AVI etc. On the bright side, the application has a built-in radio player as well as a lyrics downloader.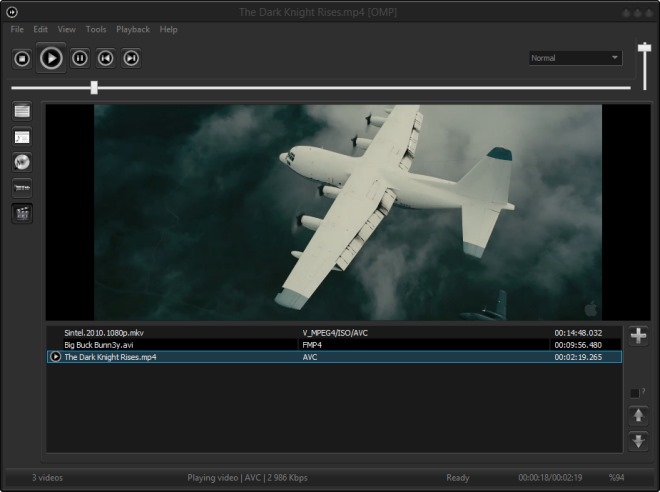 If you don't find the audio quality of a song up to the mark, the integrated software equalizer may help. OMP's equalizer (accessible under Settings) contains various presets such as rock, pop, dance, party, techno etc. In addition, you can also configure it according to your own preferences.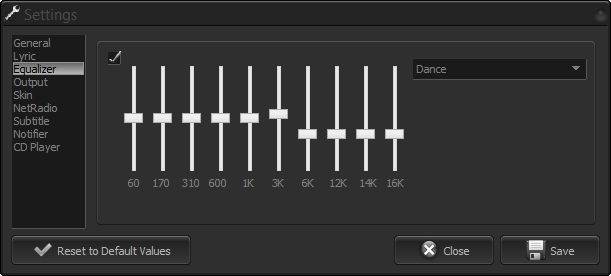 The last and definitely not the least awesome aspect of the app is support for skin packs. You choose from 7 different available skins, and also control the current skin's hue and saturation.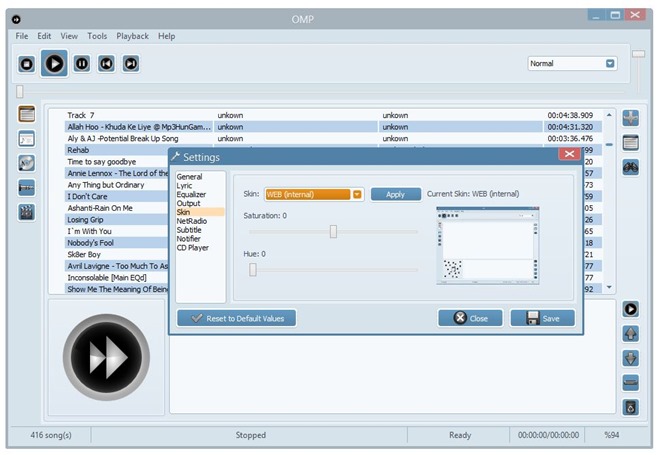 Overall, OpenMusicPlayer is a feature-rich music player that comes with a variety of features and a beautiful design, making it worth a try for every audiophile.