Organize Files / Apps In Multi-Level Categories With Stuff Organizer
Stuff Organizer is an open source, multi-purpose item cataloging application for Windows which allows saving source directories of ebooks, movies, music, games, with option to add and set up new categories for any kind of item. It's different from previously covered GCstar and Booxter because it stores, finds and gives quicker access to frequently used user and system directories. Stuff Organizer comes packed with ISO, 7z, RAR, and ZIP plugins to automatically unpack compressed archives. After extracting the items, it cleans the redundant files, such as, file_id.diz, SFV and .NFO files and places the required items in selected category.
With Stuff Organizer, you can easily catalog project files, databases, magazines, ebooks, music files, applications, etc., under one unified interface. It deploys a multi-level category mechanism to sort files and folders in a convenient way. This comes useful for those with a very large collection of files who often find it challenging to find required types of files from their collection. Using tags and ICS (Intelligent Collection Selector) features, it intuitively organizes your collection by using pre-defined tag information. ICS helps users assign newly added files and folders to default and custom categories by matching the content with tags.
The main interface is divided into 3 panes; the one at left holds all the default and custom categories, main window displays items with category name, product name, added time, and source path of files, whereas the bottom window shows selected item's information.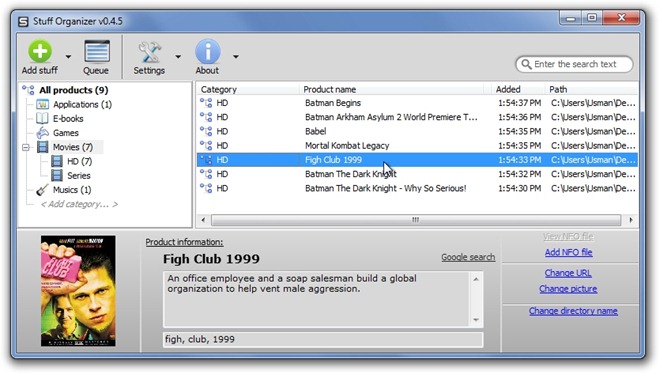 When you drop folder over the category listed in main navigation bar, file processing dialog will show up, allowing you to specify tags, enable/disable Unpack compressed and ISO files, and delete source file option. Here you can also change category and replace directory name. Once done, click Process to index all contained files.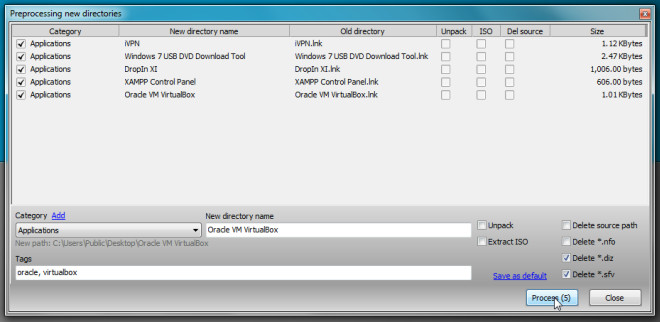 When processing is finished, it will list all files on the main interface, from where you can easily search the item from respective category. From right-click context menu, you can open source path, copy target directory to clipboard, reprocess, and delete selected item or delete source file.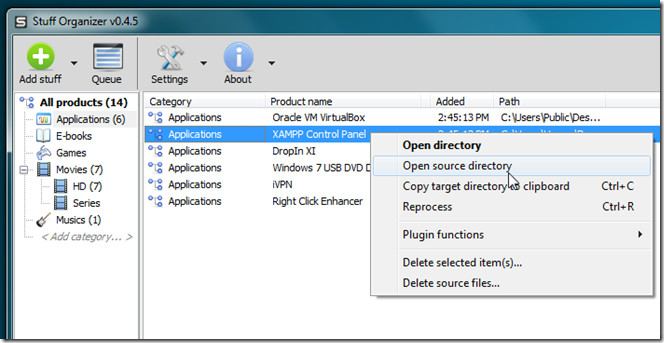 To add a new category, navigate to bottom of category list and click Add Category. It will ask you to enter category name, specify color, icon and category path. Stuff Organizer is highly extensible application. Along with 7zip, ZIP, and ISO file format plugins, it includes an Allrovi.com plugin which helps user quickly fetch movie description from online resources. The Plugin functions option in right click context menu lets you initiate search for selected movie in the list.
The video below further demonstrates the usage and features.
Stuff Organizer is an open source collection manager that works on all versions of Windows. Both 32-bit and 64-bit OS editions are supported.