How to fix Outlook stuck on loading profile
Outlook works with any and all email services. You can add multiple accounts and check the inbox for any one of them. Outlook can keep the inboxes for each account separate and you can configure different rules for each one.
Outlook can also create different profiles. A profile can consist of entirely different accounts and settings. It's a great way to keep work email and personal email separate.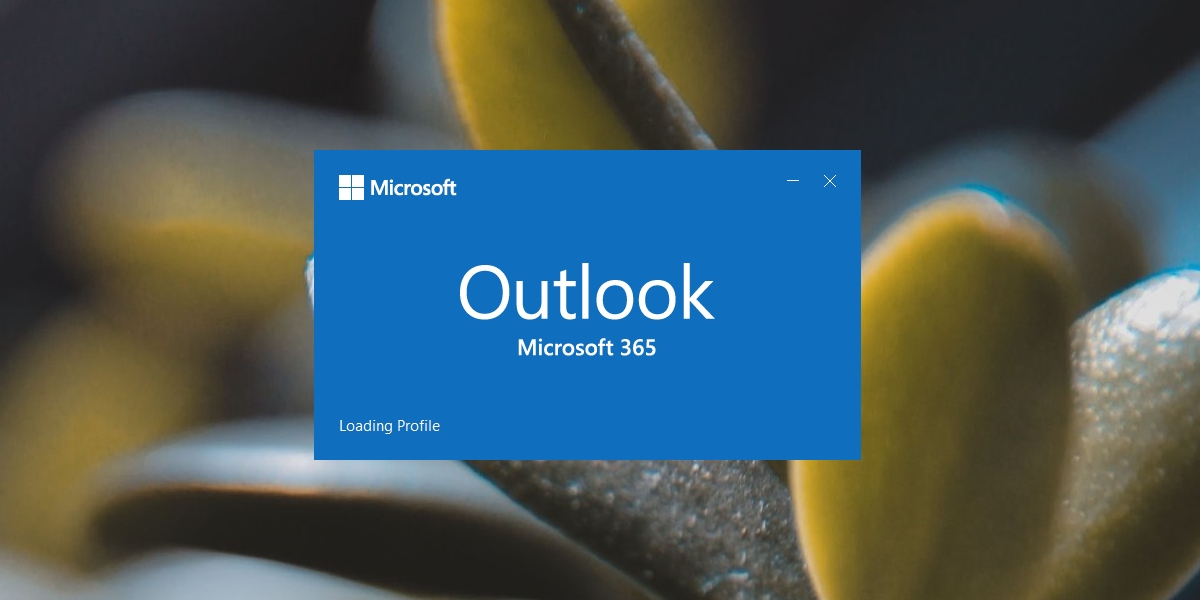 Fix Outlook stuck on loading profile
Outlook will create a profile by default when you first install and open it. The accounts you add are added to this profile. You can always create other profiles and configure other accounts to it.
Each time you open Outlook, the default profile is loaded. Normally, this is a seamless process but Outlook may get stuck loading a profile if there's something wrong with the profile that's loading. Here are few things you can try to fix the problem.
1. Repair Outlook
The first thing to try when Outlook gets stuck at any point, is to repair the app. It's a simple process that often acts as a fix-all for many problems.
Open Control Panel.
Go to Programs>Uninstall a program.
Select Microsoft 365 and click the Uninstall button.
Select the Repair option.
Allow the app to repair and open Outlook.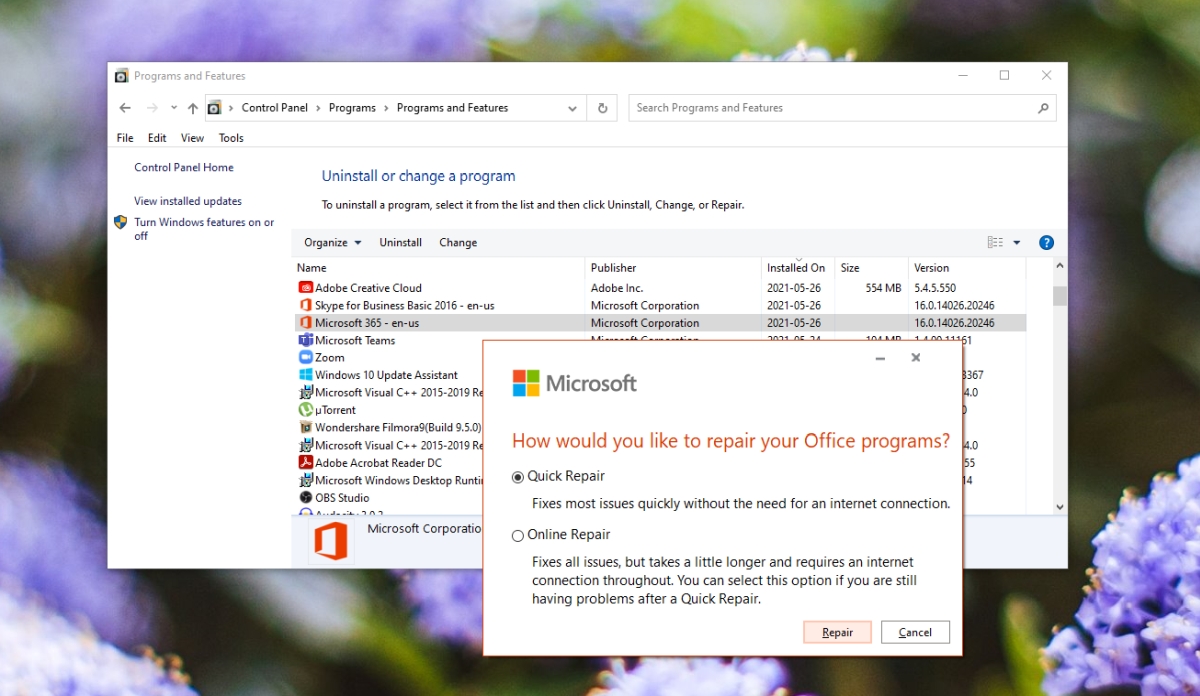 2. Repair inbox
Outlook comes with a built-in repair tool that can fix problems with the profile and the inbox. This tool is separate from the Microsoft 365 repair tool and is specifically for Outlook.
Quit Outlook (make sure it isn't running in the System Tray).
Go to C:\Program Files.
Look for the Microsoft Office folder and open the folder for your version of Office or Microsoft 365.
Inside, run the Scanpst.exe file.
Browse for and select the PST file for your profile.
Allow the tool to repair the PST file.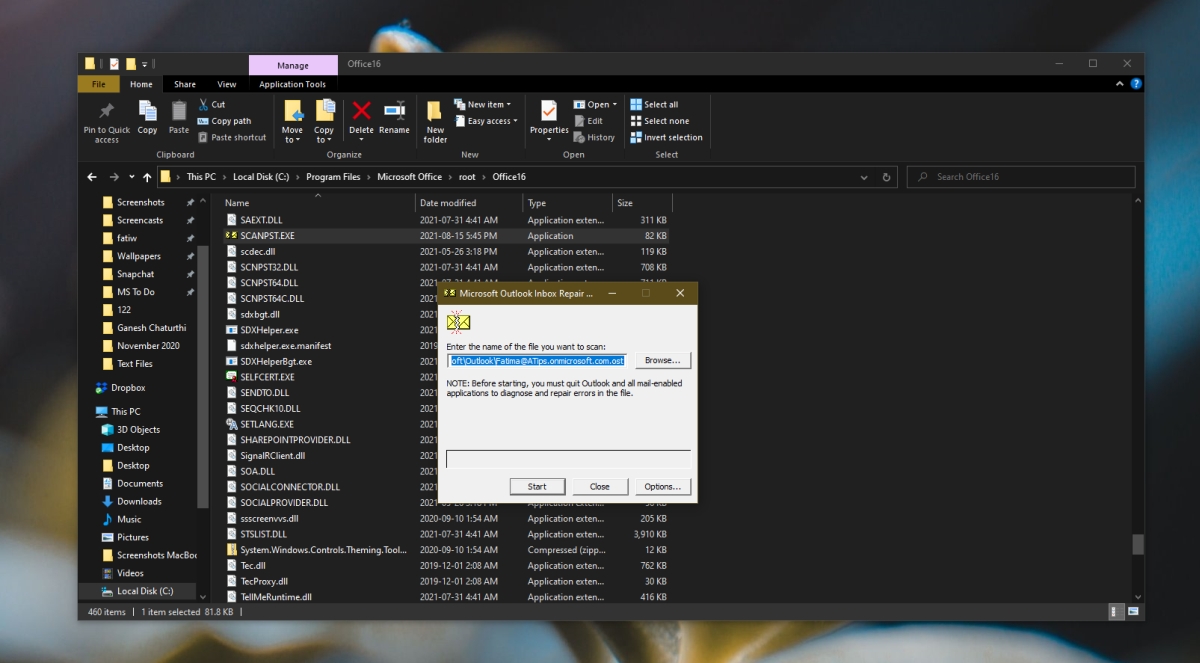 3. Run in compatibility mode
If you are using an older version of Office, you may need to run Outlook in compatibility mode.
Locate the EXE for Outlook or create a desktop shortcut for it.
Right-click the EXE/shortcut and select Properties from the context menu.
Go to the Compatibility tab.
Enable Run this app in compatibility mode for.
Select Windows 7 from the dropdown menu.
Click Ok.
Right-click the shortcut/EXE and select Run as administrator.
4. Disable hardware acceleration
Outlook supports hardware acceleration but it's not really the type of app that would benefit from it. Disable it and the profile will load.
Tap the Win+R keyboard shortcut to open the run box.
In the run box, enter Outlook /safe and tap the Enter key.
Outlook will start in safe mode.
Go to File>Options.
Select the Advanced tab.
Under the Display section, enable the Disable hardware graphics acceleration option.
Click OK and quit Outlook.
Open Outlook in normal user mode.
Note: If you do not see the Disable hardware graphics acceleration option, open other Microsoft 365 apps installed on your system and check in its Options. The change you make in one app will apply to all Microsoft 365 apps.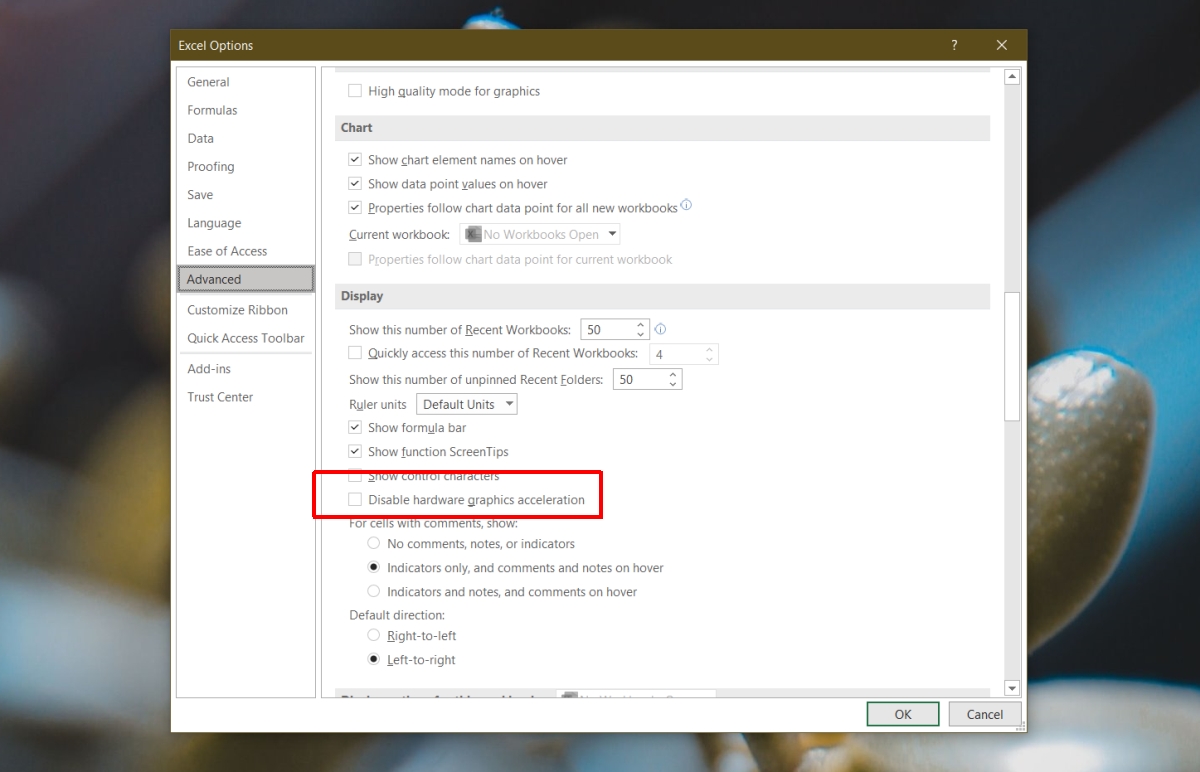 5. Run Outlook offline
Try running Outlook with your system offline. The app may be trying to fetch new messages while it loads and that can cause a conflict.
Click the WiFi icon in the system tray and click the Airplane mode toggle in the panel that opens.
Open Outlook.
6. Install pending updates
If you have pending updates, whether they're for Windows 10 or for Microsoft 365, install them. They may fix problems with Outlook.
Open the Settings app with the Win+I keyboard shortcut.
Go to Update & security.
Select the Windows update tab.
Click Check for updates.
Install available updates and restart the system.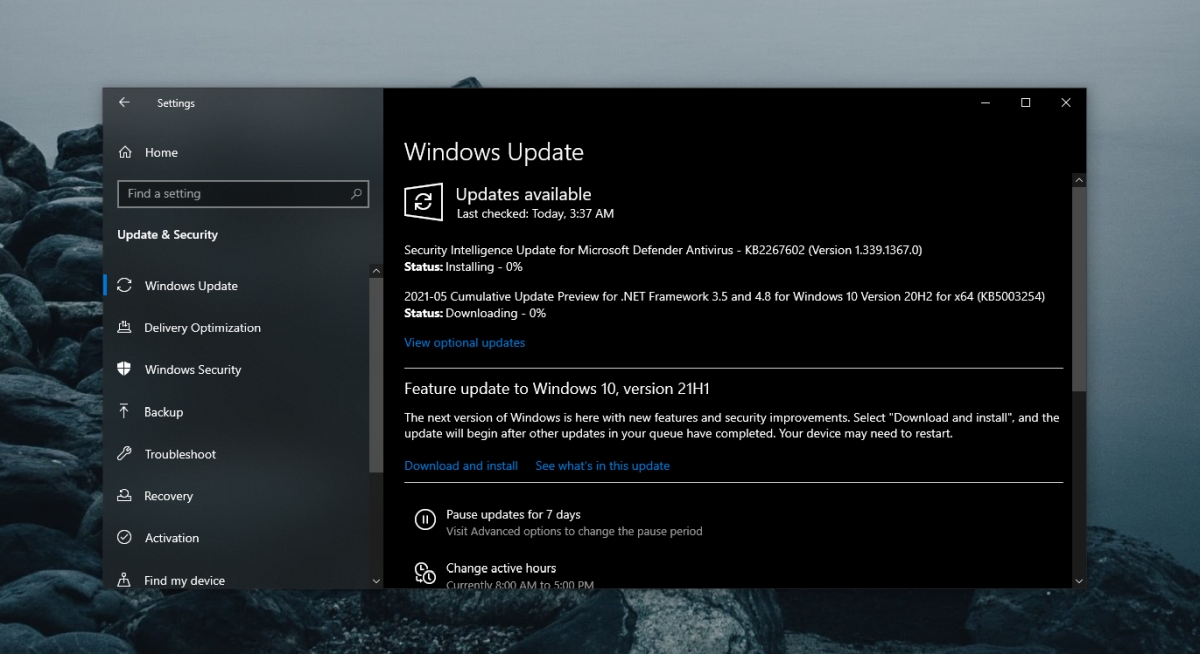 7. Create a new profile
You can always create a new Outlook profile if all else fails. It's easy but you will need to set it up with your email accounts, rules, and other settings.
Tap the Win+R keyboard shortcut to open the run box.
In the run box enter Outlook /safe and tap Enter.
Once Outlook opens in Safe mode, go to File>Account Settings>Manage profiles.
Select Choose profile>New.
Create a new profile.
Restart Outlook.
When Outlook opens, select the new profile and Outlook will start.
Conclusion
Outlook profile files can be corrupted if the app isn't quit correctly, if an outdated add-in is installed, or there is a problem with the account configurations. If all else fails, create a new profile.