How to Make Background Transparent in Paint (Windows 10)
Paint is a very basic drawing tool. It is not an image editing tool though some of its tools may be used to edit an image. For those that are skilled, it can be used to draw well but it is still a basic app. What that means is that it doesn't have layers nor does it allow users to change/add an alpha channel. That said, it does support the PNG format which can save an image with transparency. Adding a transparent background in Paint is possible but it's not simple.
Paint transparent background
On Windows 10, you have the Paint app which has been around since Windows 98, and there is Paint 3D which is a new app added in Windows 10 for creating 3D projects. We're going to show you how you can make a background transparent in both apps.
How to make a picture transparent in the Paint app
Open in Paint the image that you want to make a transparent background. You will see a 'Select' button on the toolbar. Click the dropdown under it.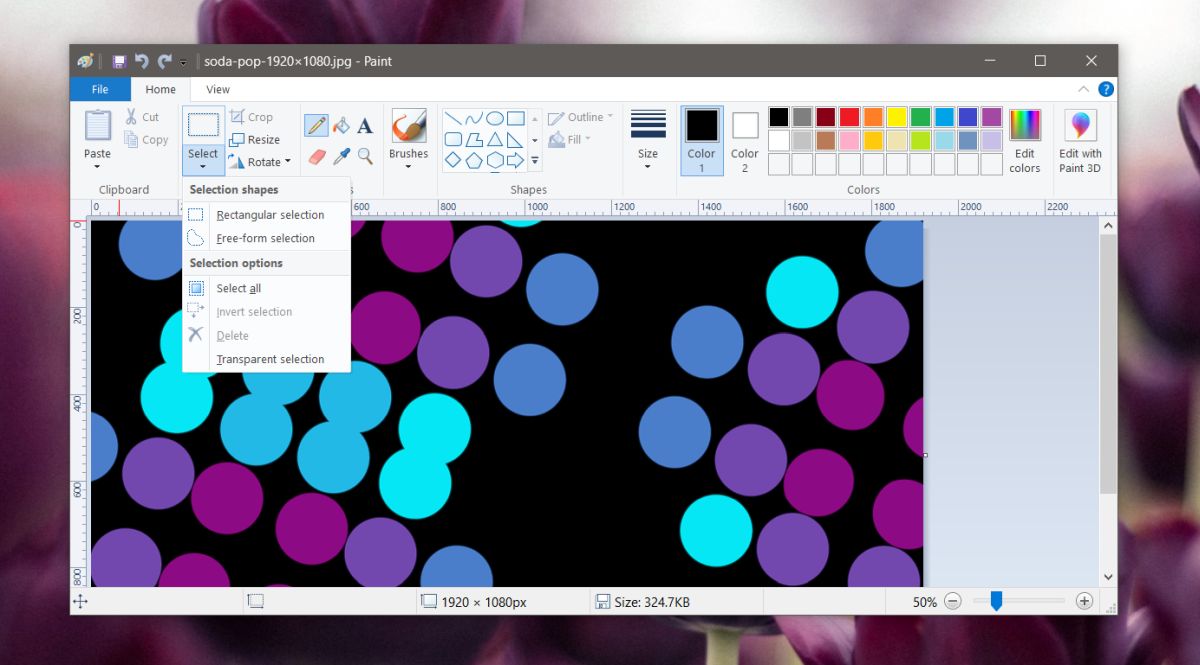 You will see two selection options; Rectangular selection, and Free-form selection. You can choose either one of these tools and they will do the job. The trick is to know what suits your image and how skilled you are with selecting/outlining an object with a mouse or trackpad, or whatever device you have. The rectangle selection tool only lets you outline/select items in a rectangle. The Free-form tool doesn't confine you to a specific shape and makes for a more accurate selection around an object.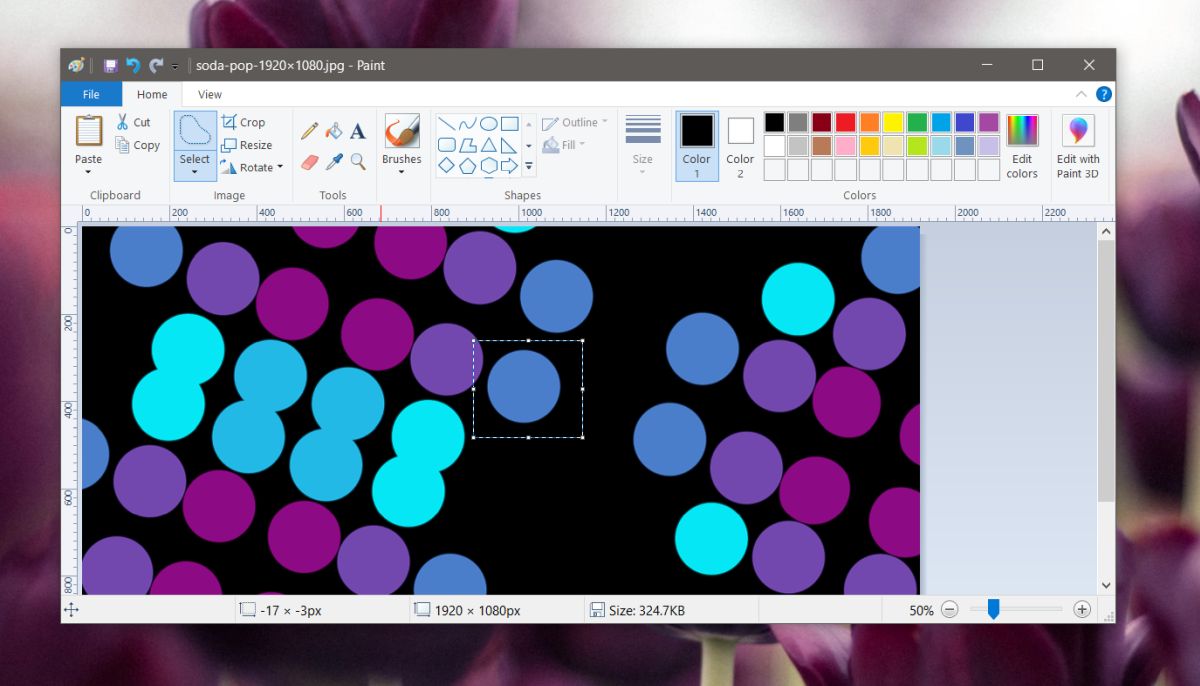 Use one of the tools and select only the part that you'd like to include in the image. Everything outside the selection will be removed. Once you've made the selection, open the Select dropdown again, and select the 'Invert Selection' option. Tap Delete. The background will be removed leaving only the selected object on the canvas.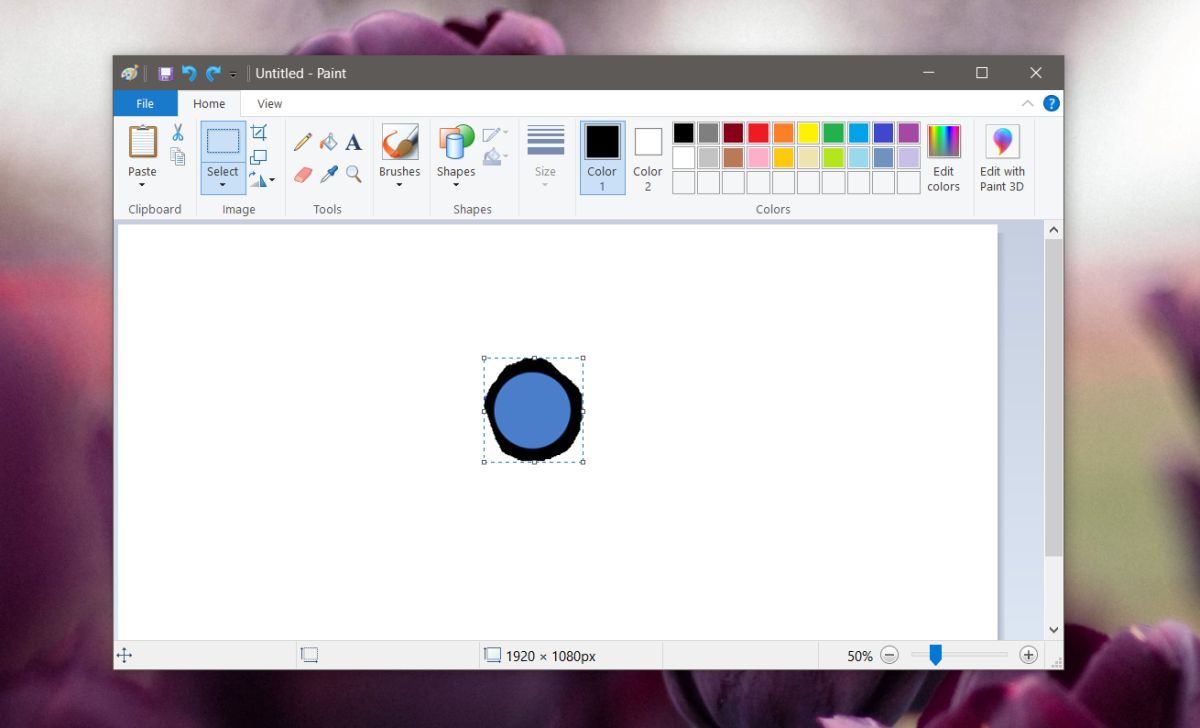 Save the image. The background is going to be white and that's really how Paint handles transparency. It doesn't support the alpha channel so you can't get the same transparent background you could if you were to use Paint.net or you can use Paint 3D.
How to make an image transparent in Paint 3D
Open the image in Paint 3D. At the top, you're going to see a bunch of controls. Select Canvas. A panel will open on the right. In this panel turn on the 'Transparent canvas' switch.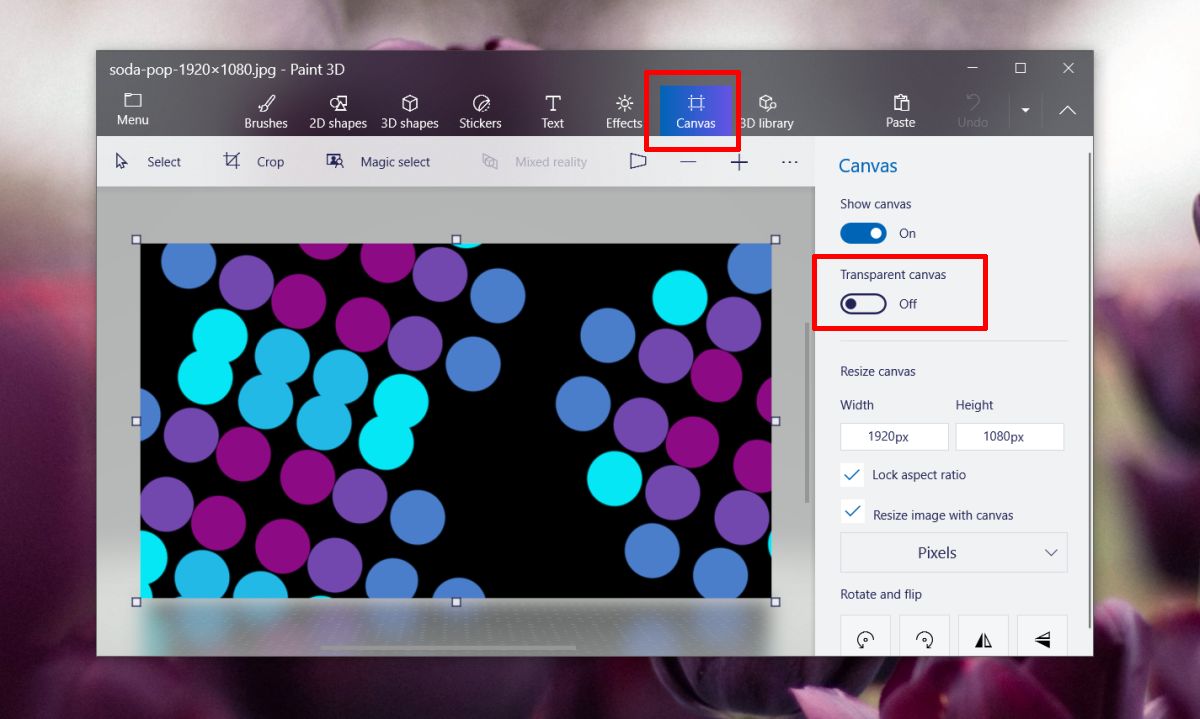 Click the 'Select' tool and create an outline around the object that you want to include in the image. Everything outside it will be deleted. Paint 3D doesn't have a free-form selection tool. Instead, it has a tool called 'Magic select'. Click it. It will automatically remove content around the object that it thinks you don't want to include. You can choose to accept or reject this selection.
Another option to play with here is the 'Autofill background' option. Uncheck it, and see how accurate the selection is. If it's not accurate, repeat the selection process but do not uncheck the 'Autofill background' option.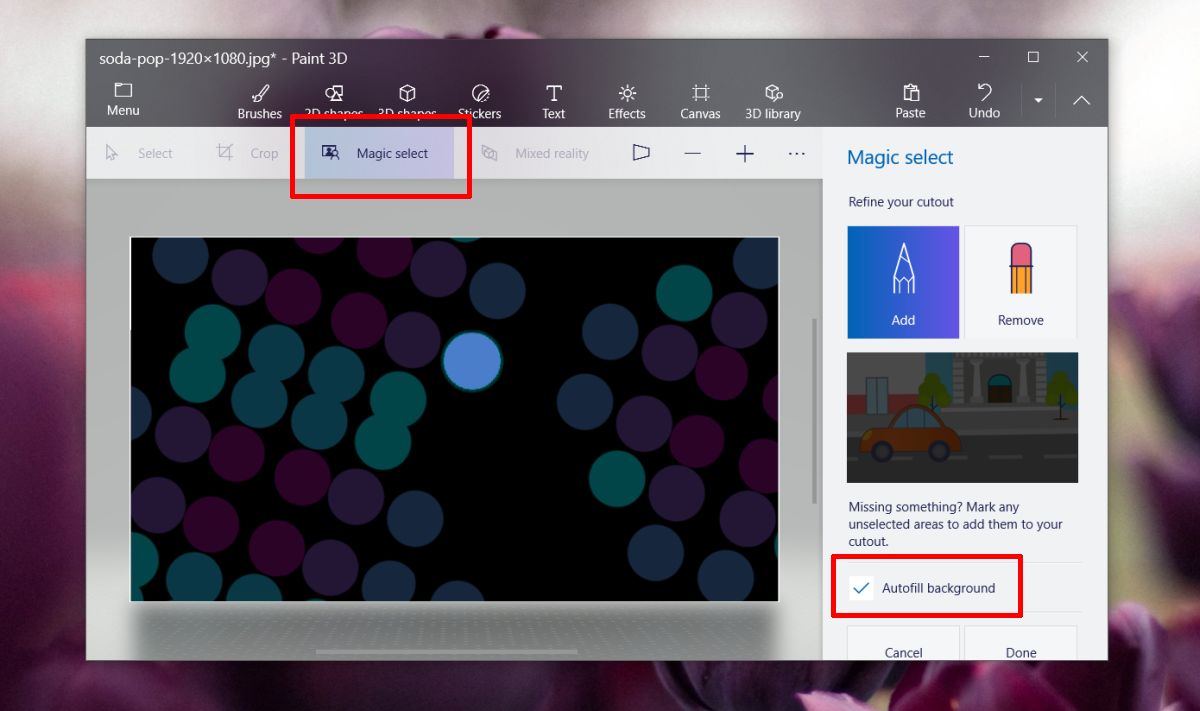 Once your object has been selected, click the copy button.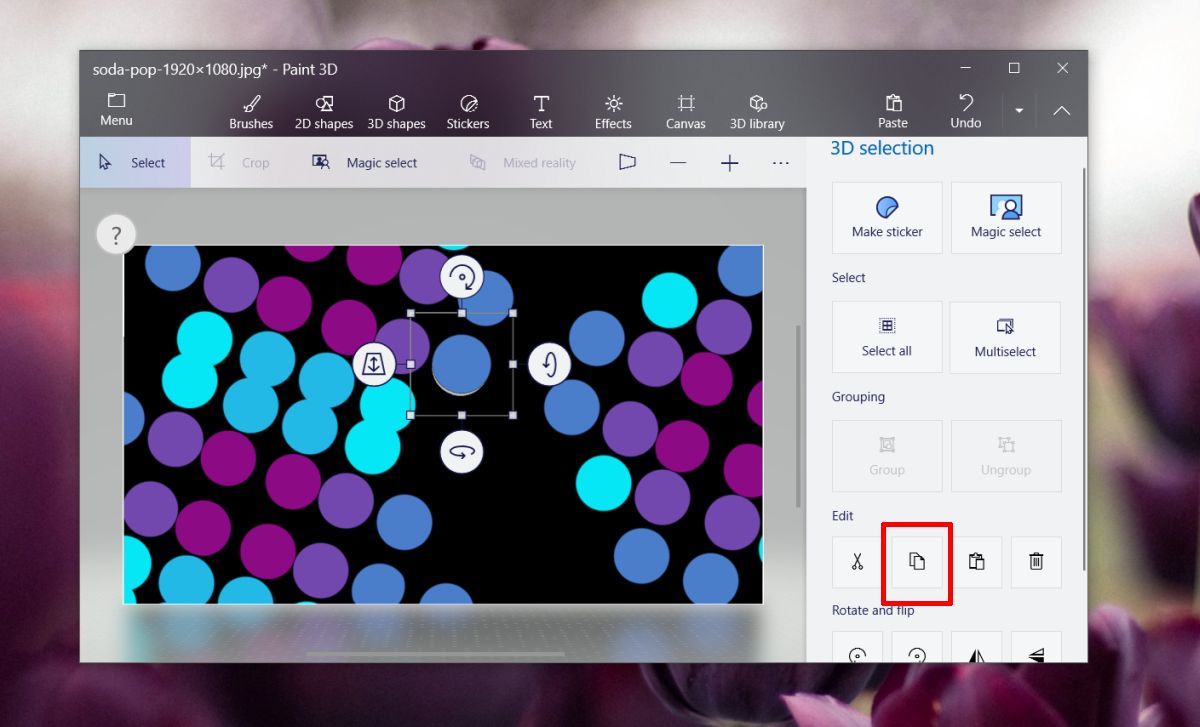 Next, open a new Paint 3D file. Go to the Canvas tab again, and turn on the transparent canvas option. Once the option has been enabled, you can paste the copied selection from the previous file into the new one.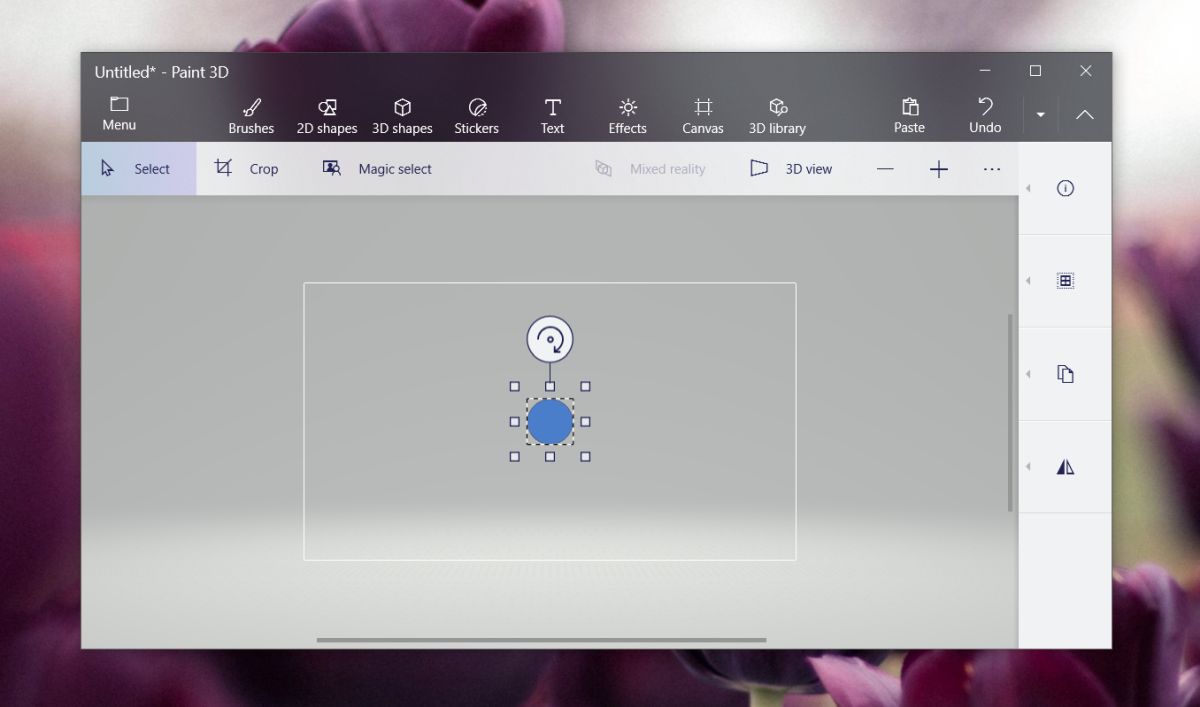 The object will be pasted on a transparent background. You can now save it as an image. When it's saving, make sure you save it as an image and in the PNG format.
Other apps
Paint and Paint 3D comes installed out-of-the-box on Windows 10. In a pinch, they're reasonably good apps to use. Paint 3D is better than Paint but, if you have a little time you can learn how to make a background transparent with Paint.net or with GIMP. It's fairly easy to do since it supports layers. GIMP is a bit more complicated to use since its UI isn't the most intuitive but you essentially have to add an alpha layer to an image.
In both cases, you have a 'magic wand' tool that allows users to make selections around an object more easily. GIMP also has a free-form selection tool that allows users to trace a fine/accurate path around an object and select it.
If you have Photoshop, you can use it to make a background transparent. The reason we don't recommend using Photoshop is that it's subscription-based and a bit complicated to learn. If you already own the app, you can use the selection or magic wand tool to select the item you want to keep and delete the background. The alpha channel is enabled by default and like Paint, Photoshop also lets you inverte the selection.