PhotoSun 14 Is A Lightweight Photo Editor With Effects, Facebook Integration & More
Every once in a while, a new photo editor tosses its hat in the ring to grab users' attention (and money too, at times), promising something unique or phenomenal. While the choices available in this department are apparently endless, only a few photo editors offer powerful editing options that instantly make them worthy of  a shot. Developed by Micranes Incorporated, PhotoSun 14 is a new Photo Editor for Windows that's jam-packed with features, doesn't hog your system's performance, and does exactly what's it advertised for without adding a plethora of other features you might not likely need.The application's light-grey interface seems to be inspired from Adobe's Photoshop. The toolbar at the top provides everything you'll need to fix or annotate your photos with a few simple clicks. It contains a few basic editing options that we tend to see in other similar apps, such as image rotation, resizing, red eye removal, adjustments and effects. You can also view a slideshow, print your photos, mail them to others or share them over Facebook.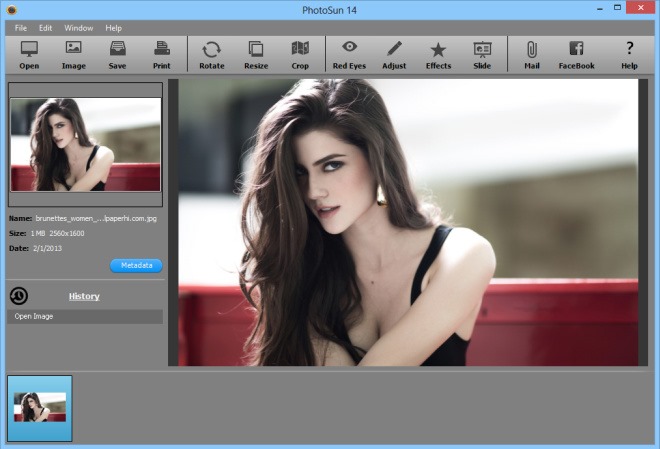 The Adjust feature lets you tinker with various color parameters of your images like temperature, tint, exposure, contrast, brightness, saturation, sharpness and so forth. Image adjustments are applied in real-time, meaning you instantly see the exact output of your image without the need to apply them first each time.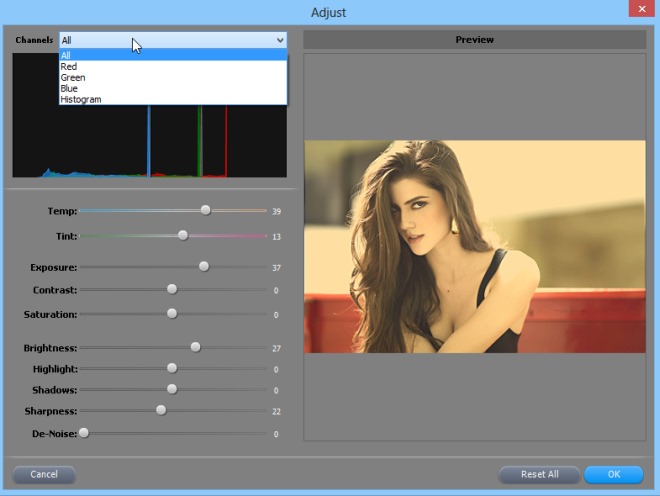 You can also spice up your photos by adding various post-processing filters to them. These come in three categories – Standard, Frames and Collage. The standard effects include black & white, matte, vignette, antique and sepia, among others. The Frames section lets you overlay a frame on your photos from the several available choices, while the Collage section offers you a bunch of collage layouts for your images.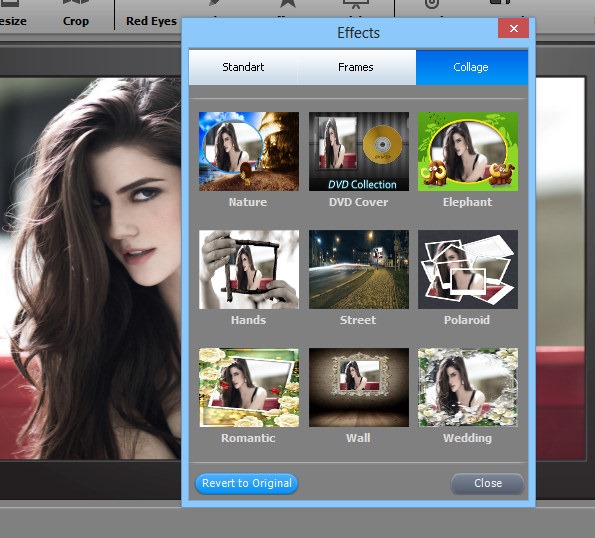 Another cool feature of PhotoSun 14 the way it lets you add slideshow effects to your favorite photos. You can choose a slideshow theme from the several options available, and also select the background music to play with the slideshow.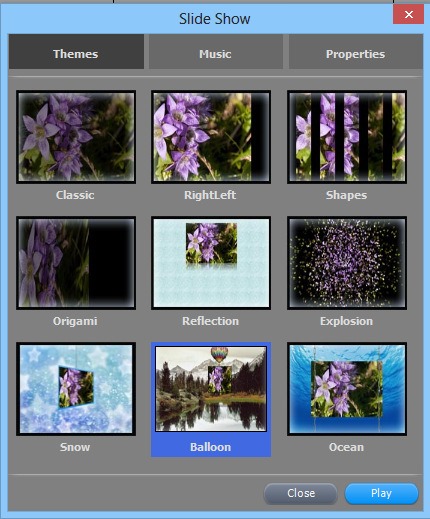 Next comes the feature that every single photo editor should have – metadata editing. The Metadata button in the left pane brings up the metadata information for the currently loaded image, complete with camera make and model, flash model, lens model, camera serial number, date, rating, tags, image dimensions, ISO Speed, f-number, focal length, exposure time, aperture size and a lot more. That's not all – you can click the 'All MetaData' button at the bottom to view even more detailed information. When it comes to the editable fields, you can simply change them according to your liking and hit the Save button to apply your changes.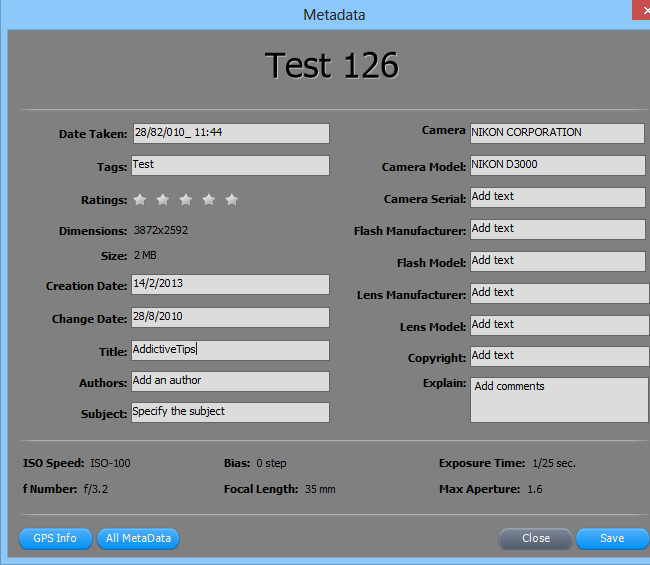 If your image also contains geotagging info, you can click the 'GPS Info' button to check for its pertaining geotag, and even navigate  to the location in an integrated Google Maps view.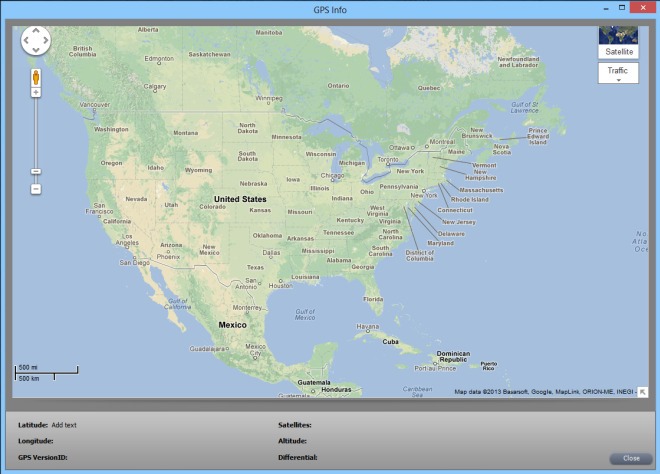 Another nifty feature that caught our attention is Facebook integration, which allows you to quickly upload and share your edited images on your Facebook timeline. You can upload the image as your profile picture, post it directly to your Wall, or add it to a new or existing Facebook album. In addition, comments left by your friends can be viewed from within PhotoSun 14.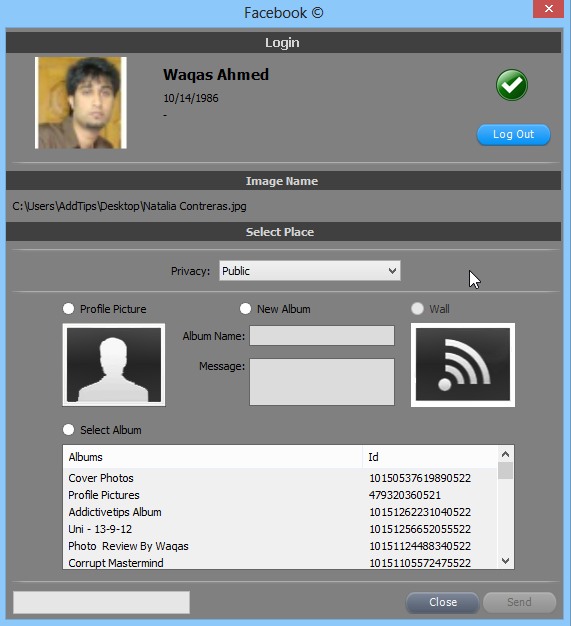 To sum it up, PhotoSun 14 is a powerful and user-friendly photo editor that doesn't aim to offer everything but the kitchen sink, but does offer enough features to make it handy in day-to-day image editing for most of us. It works on Windows XP, Windows Vista, Windows 7 and Windows 8.