Qiqqa: PDF Management & Research Tool For Better Academic Progress
Managing PDFs have become an essential in creating, reviewing and collaborating academic work. Usually, PDFs are notorious for poor metadata (title, author, publication, etc.), which makes it difficult to to deal with hundreds of documents. In such large virtual libraries, the importance of tags, keywords and annotations comes to light. Qiqqa is a powerful tool made to address the needs of academicians (students, faculty and researchers to name a few), worldwide. Equipped with powerful OCR (Optical Character Recognition) feature, it adds value to PDFs by making them susceptible to comprehensive searches as well as abstract and keyword extraction. It allows easy integration with your computer as well as popular programs like Zotero, Endnote and Mendeley via the BibTeX format for import/export. Furthermore, it syncs your libraries and documents with the Android app for access, on the go.
Most academic projects require researching tens of papers, web links and books for optimum results. Qiqqa allows you to organize this data for the long-term by creation and maintenance of libraries. The documents can then be added to each library with detailed keywords and metadata. First and foremost, you are advised to create a Qiqqa account in order to use all the supported features, otherwise a guest account will provide limited functionality.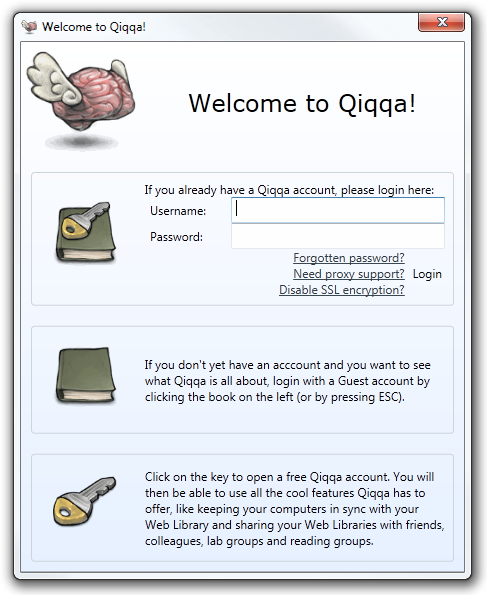 The main window is organized on the basis of activity tabs (for easy navigation), function buttons (for ease of access) and support sidebar (for help and information). The current libraries along with a basic description and details are displayed in the workspace. Just double click on any library of interest to perform the required PDF Management or research enhancement operations.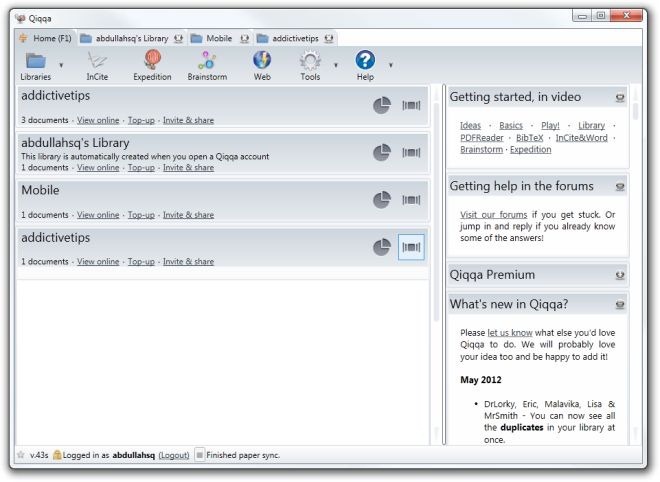 To create a new library, go to the official website and provide the relevant details followed by refreshing the desktop application. Clicking Add PDFs or References, you can update the selected library with documents in various formats. Click Sync Library to update the online account, so that they can be accessed both on the web and Android.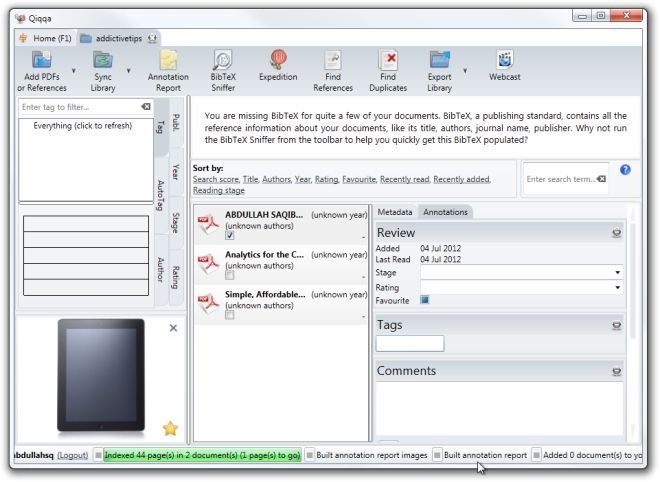 Qiqqa provides comprehensive settings and options via the Preferences window to modify the interface, methods and features as per requirement. Furthermore, database, annotation, translation and syncing configuration can also be performed from here.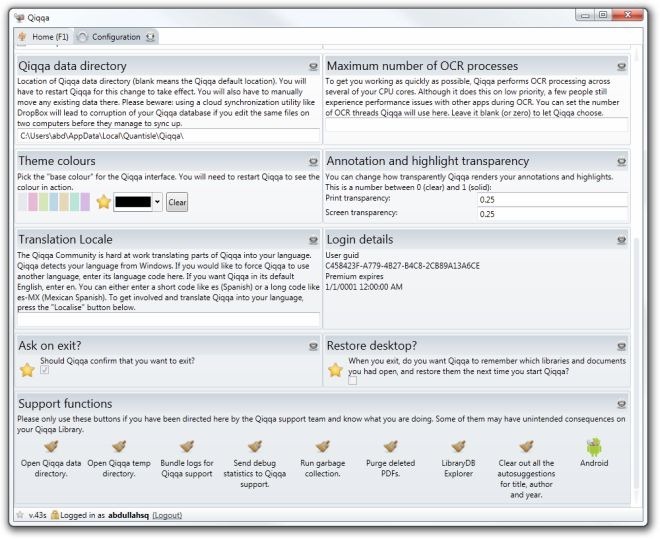 To integrate your web experience with the powerful utilities concealed within Qiqqa, its browser feature allows you to perform unique operations on the relevant websites with important referencing and standardization platforms like Google Scholar, IEEE Xplore, JSTOR, Wikipedia and the like, visible as bookmarks. Moreover, various referencing styles as well as bibliography & report generation are also some common utilities supported by the application.
With direct PDF acquisition and Drop PDF to Library functions, the Qiqqa browser is a useful feature, although a browser add-on would have made the user experience better. You can now easily logon to the Qiqqa Android App to access libraries as well as downloading files.
With unique annotation tools, cloud sync options and superior PDF Management, Qiqqa provides you with one of the best document management and syncing solution. We tested this utility on Windows 7, 64-bit edition, while it supports Windows XP, Windows Vista, Windows 7 and Windows 8.