QTranslate: Hot Key Supported Text Translator & Text-to-Speech Utility
When browsing through different websites, we often stumble upon text in a foreign language. Sometimes, the website is available in multiple languages and can be switched using a drop down menu or a button placed somewhere on the landing page, however, a lot of times, the website is only available in a single foreign language. What you can do is use a language translator for converting the complete website into a language you can understand. Almost everyone knows about Google Translator and its usefulness when viewing web pages in another language, but wouldn't it be easier if you could translate selected text without visiting Google Translator in your browser? If you are looking for an application that allows you to translate text between different languages, check out QTranslate. It is a portable application for Windows that not only lets you translate text to and from different languages, but also servers as a text-to-speech tool that also reads supported languages once they are translated. It supports multiple translation services, including Google Translate, Microsoft Translator, Promt, SDL, Yahoo! Babel Fish and Yandex Translate.
The application comes with some system wide hot key support. The hot key combinations and their functions are as follows:
Double Ctrl key tap –> To show the main window (with the translation of the selected text)
Ctrl + Q –> To translate the selected text and show it in the popup window
Ctrl + W –> To perform web search for the selected text
Ctrl + E –> To listen to the selected text
The main features of QTranslate, include text translation in any supported using any translation service, Back translation, replacing the selected text with its translation, spell checking, text-to-speech support, word suggest and autocomplete, history viewer to view previous translations and a virtual keyboard.
To translate text, simply copy the text in the top part of the interface, select the language which you want to translate the text into, and click Translate. The translated text will appear in the lower part of the interface. You can switch between different services from the bottom of the interface.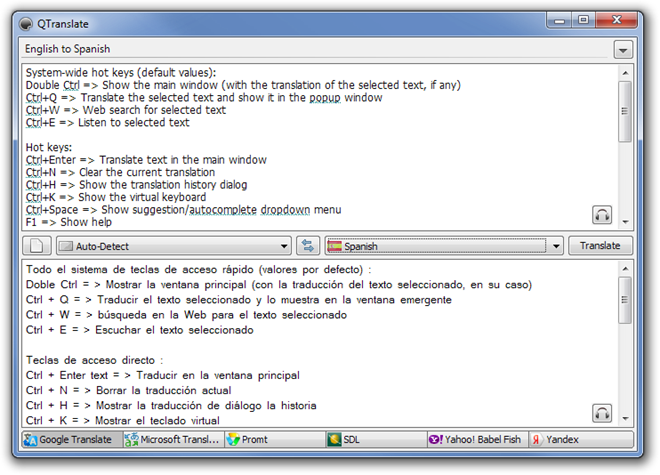 Right-click on its system tray icon and select Options to configure the Basic, Hot key, Internet, Services, Languages, Appearance and Exception settings of QTranslate.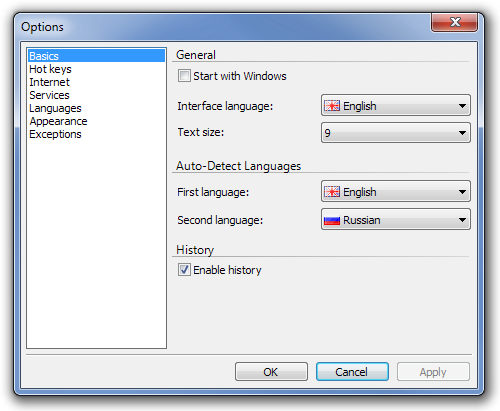 QTranslate has a memory foot print of around 9 MB, and works on both 32-bit and 64-bit versions of Windows 2003 Server, Windows 2008 Server, Windows XP, Windows Vista and Windows 7.