Quick Config – Quick Way To Change Windows Settings/Profiles
In many cases, we need to make some quick changes to our windows settings, for example, when you move between home and office and you need to change the network connection settings, default printer and such sort of other things a couple of times daily. Quick Config helps in such situations. It can create profiles, each with specific settings and then allows users to quickly change between them.
The working of this tool is very simple, first create one or more configuration profiles and set  the required settings for each profile. Whenever you need to change the settings of your system, simply activate the particular profile. I have created two profiles Home and Office, so now I can activate any one of them alternatively when ever needed.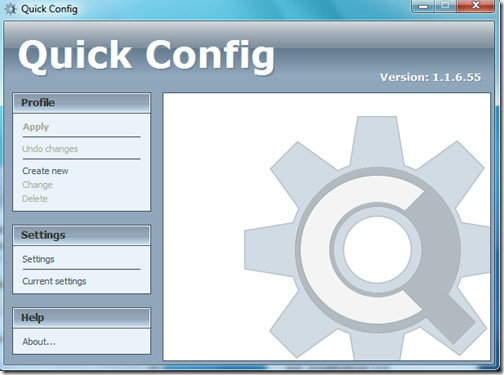 In order to create a new profile, click the Create New option located under the Profile section, name this new profile, then check and configure the required options.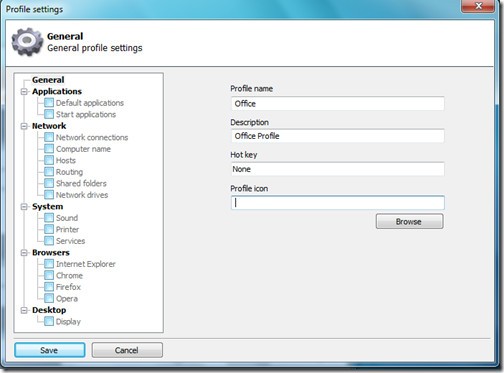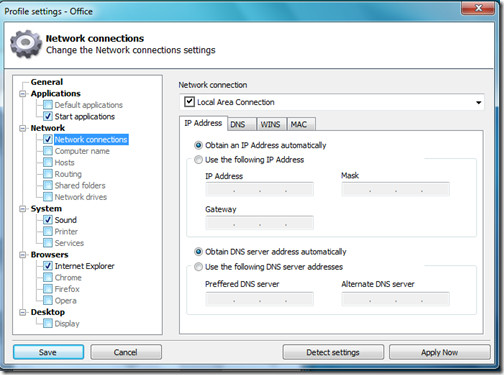 Once done, hit the Save button to complete the profile configuration. You will now find this new profile saved.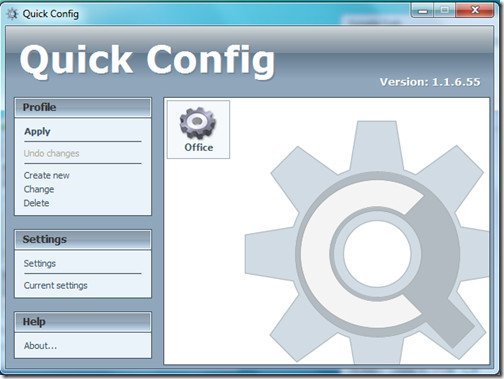 Now in order to apply the profile, simply right click the Profile and choose the Apply option.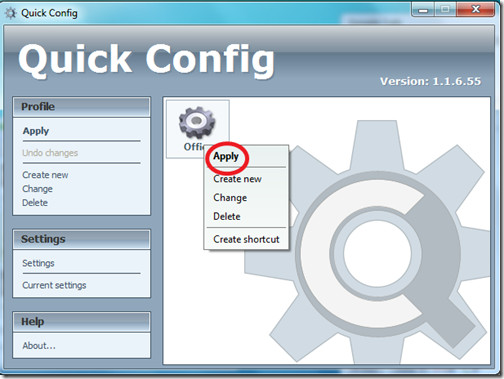 The complete list of features include, as mentioned on the developer's site:
Network
Network connections TCP/IP settings (IP address, mask, gateway, DNS server, MAC), state of network connection
Computer identification computer name, domain or workgroup membership
Mapped Network Drives map, unmap network drives
Shared resources share, unshare local resources
Hosts file
Routing table
System
Sound sound volume, sound theme
Printer set default printer
Services start, stop, restart system services
Internet Browser
Internet Explorer network connection settings, Home Page
Firefox network connection settings, Home Page
Opera network connection settings, Home Page
Desktop
Display screen dimensions, color depth
Applications
Default applications default Internet Browser, E-Mail client
Launch applications launch selected applications after applying profile
You will also find the portable version of this app, but it failed to work on my Windows 7 64-bit OS. However the installer package works perfectly on Windows XP, Windows Vista and Windows 7. Enjoy!