Quickly Merge Multiple PDF Documents Into One With Ultra PDF Merger
PDF files are supposed to present the data using the formatting exactly as intended by the author. It means that, unlike text files, any type of text, table or image will not lose its formatting no matter which program is used to open the PDF file. However, there are tools available that allow you to manipulate PDF documents. You can merge two PDF documents into one file, split a single PDF file into multiple ones, edit secured PDF documents, print locked files etc. If you are looking for an application to merge two or more than two PDF documents in a single file, today we have found a very useful tool for you. Ultra PDF Merger is a portable application for Windows that helps you in merging two or more PDF files into a single new PDF document. You can add/remove files, and move them up and down in the list to set them in order. It allows you to select and add multiple files at a time, so you don't have to add them one by one if they are in the same folder. Hit the jump to find out more.
Unlike other PDF tools, Ultra PDF Merger is focused on only one aspect of PDF file manipulation. Since it is a portable tool, you don't have to undergo any installation process. The program's interface has Add, Remove, Move Up, Move Down, Merge Files and About buttons at the top, and added PDF files appear below the buttons. To start, click Add and select the documents you want to merge. When the files are added, select a file and use Move Up and Move Down to set their order in the final document.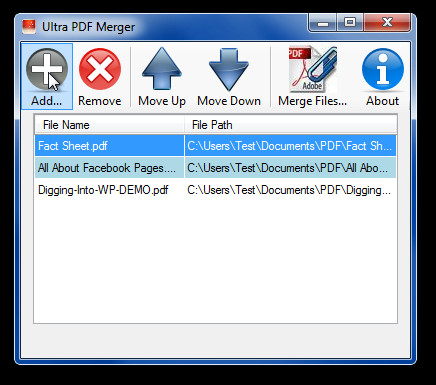 Once all the files have been added and their order has been set, click Merge Files to begin stitching them together into one new PDF file. When the stitching process is complete, enter the new file name and click Save to save the file to your hard disk.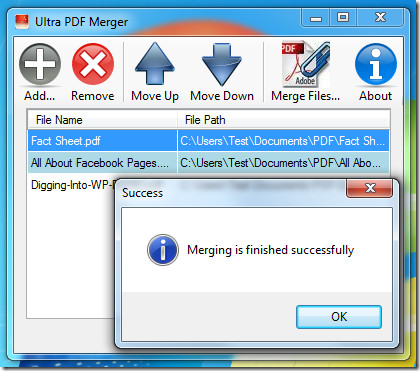 Ultra PDF Merger is similar to previously-reviewed Jeves PDF Utility, but that is a little advanced. In addition to merging multiple files together, you can also copy, as well as encrypt and decrypt the PDF files using Jeves PDF Utility. Ultra PDF Merger requires Microsoft .NET Framework 4.0 to run, and works on both 32-bit and 64-bit versions of Windows XP, Windows Vista, Windows 7 and Windows 8.