QuickPad Is Like Notepad With Google Search, Encryption & PasteBin Uploading
We've covered quite a few Notepad alternatives for Windows that offer exceptional features and something unique over the Windows' default app, in addition to an improved user interface and ease of use. For instance, Notepad2 Mod is an excellent Notepad-inspired program that comes packaged with many advanced features out of the box like code folding, word auto completion, ability to insert code snippets and so on. Similarly, Glass Notepad takes a transparent, Aero glass-like approach to Notepad. QuickPad is yet another such application that offers some really noteworthy improvements over Notepad like integrated Google search for highlighted text, ability to run VB Script, exporting documents as encrypted QPF files, customizable UI and multi-language support.
The interface and overall design of QuickPad shows some resemblance to Notepad; it's simple, clean and minimal. You can type any text and write code in the provided text area. Strictly talking about the interface, QuickPad has some handy additions like quick navigation controls for saving and opening files, creating new files, printing, cut, copy & paste operations etc.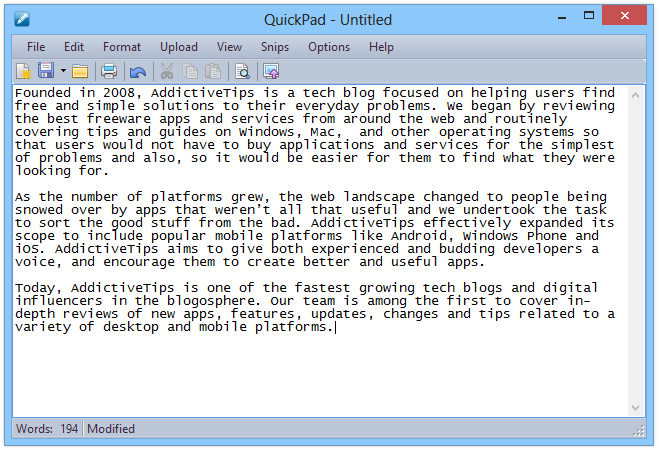 QuickPad can easily handle all types of text files including TXT, INI and QPF. In addition, it lets you upload text to PasteBin straight from within the app, which can come handy for programmers to store or share source code or troubleshoot errors by asking for help.

Akin to Notepad, you can change font size, color and type from the options provided in the Format menu for the purpose. The Google Search feature mentioned earlier can be really helpful for quickly looking up selected text on Google to find definitions, research phrases, or diagnose certain errors. QuickPad even lets you insert special characters into your files with ease; simply click Snips > Insert character, and the app will open the Character Map utility of Windows, using which you can insert any special character(s) into your document.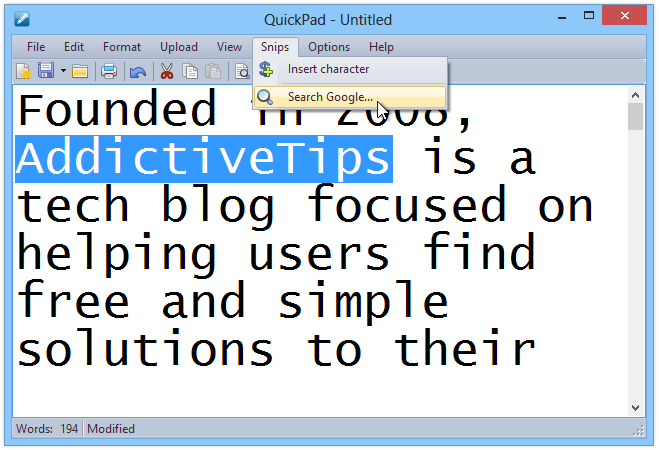 QuickPad gives you an option to open documents in Read only mode as well, to avoid any sort accidental changes to the text when you simply want to read it. You can enable this mode under View menu. Apart from that, there's a full screen mode (that can also be enabled via the standard F11 hotkey) to provide you with a distraction-free writing or coding environment.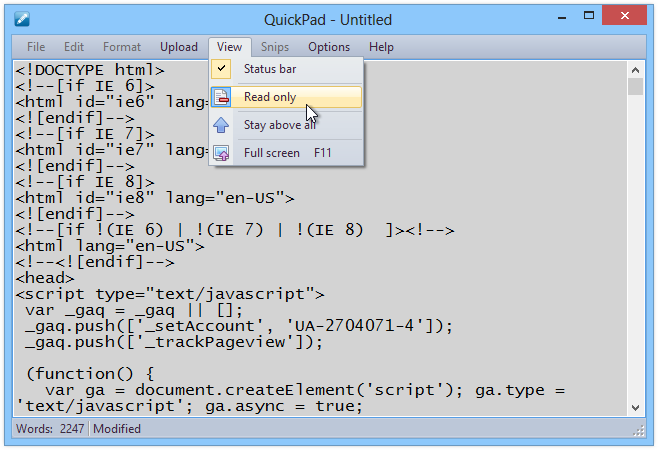 All in all, it's an excellent Notepad alternative that throws in plenty of great features, without straying too far into the feature-overload territory. QuickPad works on Windows XP, Windows Vista, Windows 7 and Windows 8.