QuiteRSS Is A Powerful, Multi-Tabbed RSS Reader For Windows & Linux
Google Reader's inevitable demise that's only a couple of months away now has sent many on a wild goose chase to seek an equally good service that matches the quality and simplicity of this leading RSS platform. Feedly, for instance, is being considered as the top contender right now that goes neck to neck with Google Reader, but that doesn't mean we don't have any other option. Just a couple of weeks ago, Fatima compiled a list of some of the best Google Reader alternatives for Windows, Mac and Web around. And today, I'm adding another one to list called QuiteRSS. Let's take a closer look.
Unlike Google Reader, which is a web based service, QuiteRSS stays closer to your desktop by being a Windows and Linux (and OS/2 as well, if anyone still uses it) app. Its open-source nature means you can mold it the way you want by grabbing the source code from the developer's page. Though that doesn't make the default version of the app is lacking in terms of looks or features; it's far from it in fact. Built with a decent UI, the app is pretty intuitive to navigate around.
Sporting a barebones design, the application displays all your RSS subscriptions in the left pane, with the feed for the selected subscription appearing on the right side just like Google Reader and many other RSS apps. You can also create folders in the subscriptions list to keep everything well organized. Furthermore, you can mark the feeds as read, important, starred, to do, later, etc. The marked items can be quickly accessed from the Categories pane. In addition, the selected feed can be viewed in full HTML, thanks to QuiteRSS's browser integration.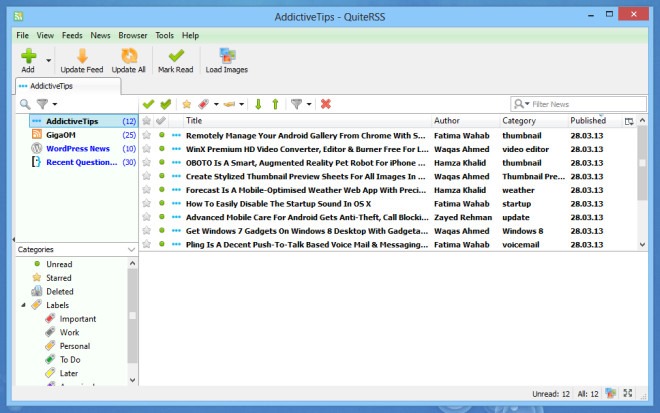 The tabbed interface of the app allows opening items such as marked feeds, categories and the HTML browser itself in separate tabs. This makes things a bit more accessible and easy to navigate between.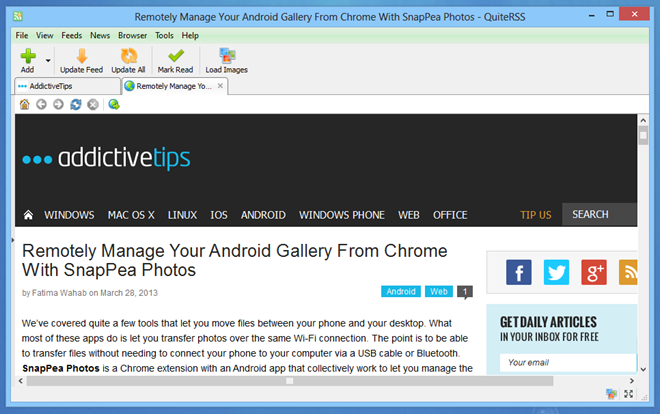 Subscribing to new feeds is pretty simple and quick. To do that, click the Add button on the main window and enter the feed URL in the input field. You can enter either the URL of the feed or the website itself. Having done that, click Next to let QuiteRSS fetch the required information and bingo! You're done. You can also put the latest feed in a separate folder during this process.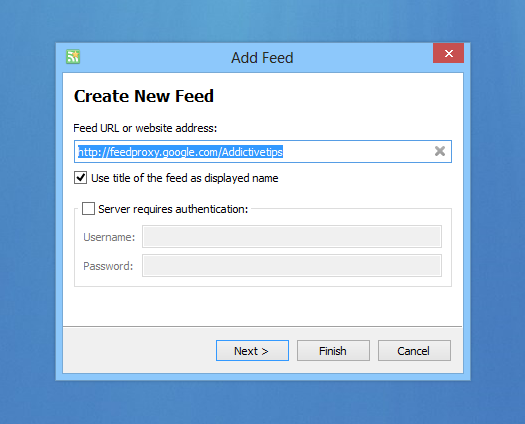 The application can also import feeds from other RSS readers. Doing so will save you a lot of time of course, as re-adding each feed separately doesn't seem to be the most convenient way, especially if you've subscribed to a truckload of feeds. To do that, you'll need to export your existing feeds to either an XML or OMPL file and then import this file into QuiteRSS.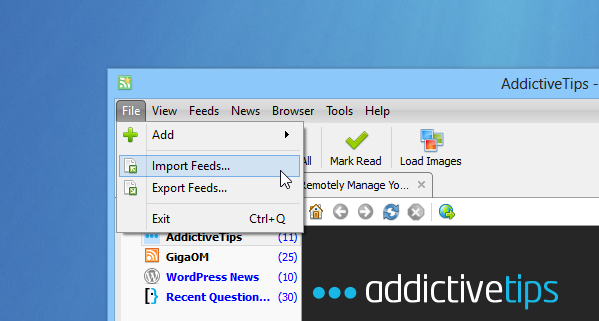 Another cool feature I found is the full screen mode, which makes browsing feeds an even more intuitive experience. To enter or exit full screen, simply press the F11 key on your keyboard.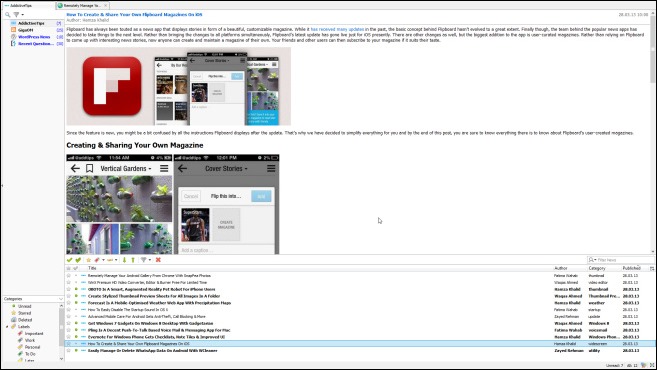 Although Google Reader apparently has no parallel when it comes to its ease-of-use and feature-rich design, if you're looking to migrate your existing feeds to another service or app before Google pulls the plug of its Reader service, QuiteRSS is worth giving a try. Testing of the app was carried out on Windows 8 Pro, 64-bit.