Recover All Types Of Deleted Files With Pandora Recovery
Whenever you delete a file from a memory storage device, only the reference to the file data in File Allocation Table is marked as deleted. Until and unless more data is written over it, the content is not erased from the disk, and it can be recovered by making it visible for file system again. Pandora Recovery lets you find and recover all types of deleted files from memory storage devices. It provides you with an easy to follow wizard, which guides you through the recovery process. The application scans your memory drives and builds an index of existing and deleted files, which can then be recovered in a user-specified location. You can use search to find a deleted file if you remember full or partial file name, file size, file creation date or last accessed date. Pandora Recovery allows you to preview image and text files before performing recovery.
The recovery process is pretty simple, since the wizard takes you through the complete process. When you start the application, it asks you to check the Recycle Bin to make sure that the deleted files are really removed. If you can not find the files in Recycle Bin, select No, I did not find my files and click Next.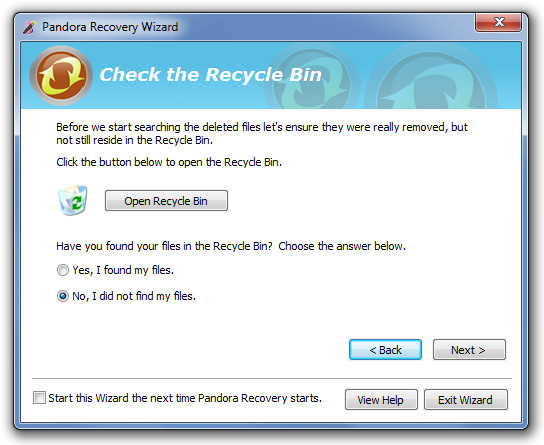 In the next step, it gives you a list of all the memory drives connected to your computer. Select the drive that you want to scan for deleted data and click Next.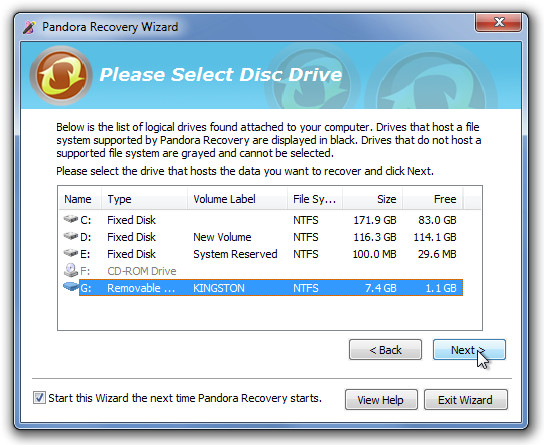 Now, select a recovery method from Browse (if you want to browse the drive and review individual folders and files), Search (if you want to search the required data by full or partial file name, file size, file creation date or file last accessed date) and Deep Scan (to scan drive surface for files of certain types). Choose the preferred method and click Next. A dialogue box will show the overall progress and remaining time of the process.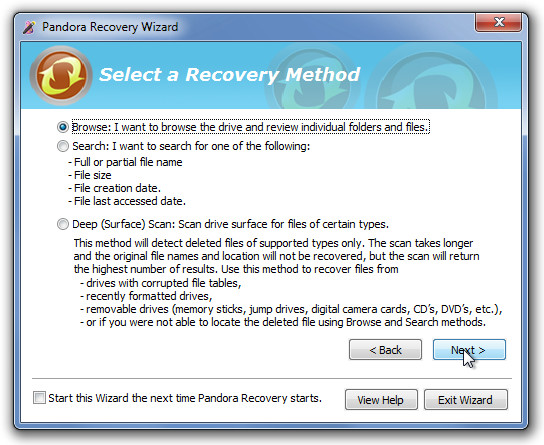 Once the scan is complete, you can browse though all the files found in your memory device. Names of files that can be recovered without any problems appear in black, while the files which are overwritten and cannot be retrieved appear in red color. Right-click the file name and select Recover-to to recover the files.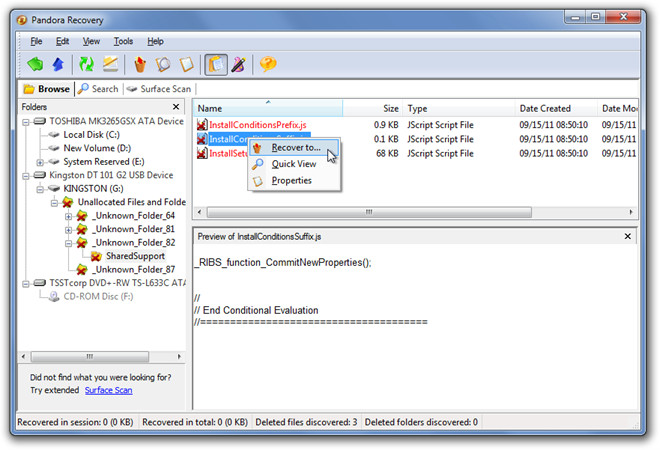 Enter the folder path where you want to recover the files or click Browse to choose an existing folder. You can also choose if you want  to recover file attributes (Archive, Hidden, System etc.) and alternative data streams with the file.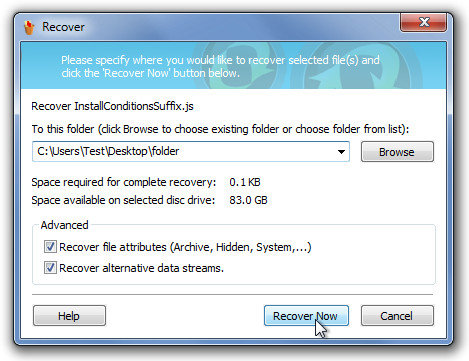 Pandora Recovery is similar to previously reviewed to Recuva, but this application offers previews for image and text files before initiating the recovery process. Pandora Recovery works with all version of Windows.