Reduce Video By File Size Or Image Size With Moo0 VideoMinimizer
Sometimes a video can end up consuming more than desired hard disk space. If you are looking for a quick way to resize the video dimensions and to reduce the size of the video file (e.g. from 1GB to 250MB), give Moo0 VideoMinimizer a shot. It is a video resizing application which provides two major functions; it lets you change the display size of the video (picture size of video), as well as, the file size. Optionally, the video quality can also be switched between Best, High and Normal modes.
Moo0 VideoMinimizer does not perform both kinds of resize changes simultaneously, so you will have to either select the Image Size or File Size option. In case you wish to change the file size, make sure you specify a maximum size limit (e.g. 250 MB).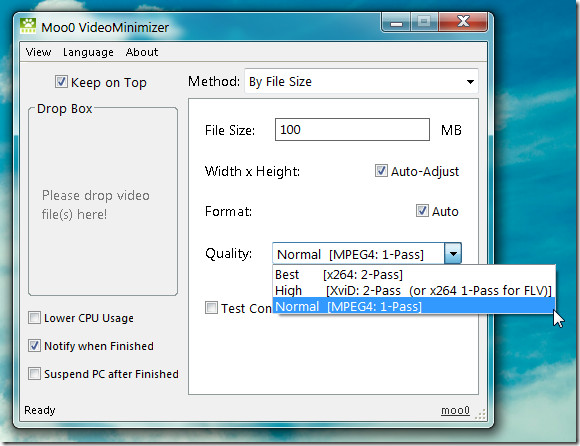 The Image Size change option offers a whole of different settings to tweak with video image size. First, select custom width and height or select preset from Width x Height drop down menu, which contains screen dimensions for numerous portable devices while supporting some standard sizes (e.g. 480×320, 624×322, 854×480, etc). You can also enable the test Convert option to convert a small part of the video for previewing the result before starting the conversion process.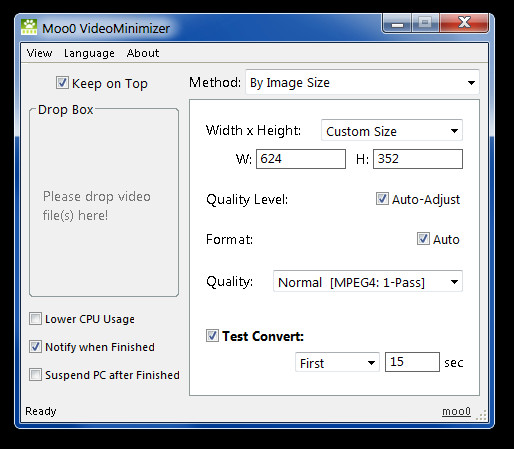 Once you have set the required parameters, drag a video to specified drop box to begin the conversion process.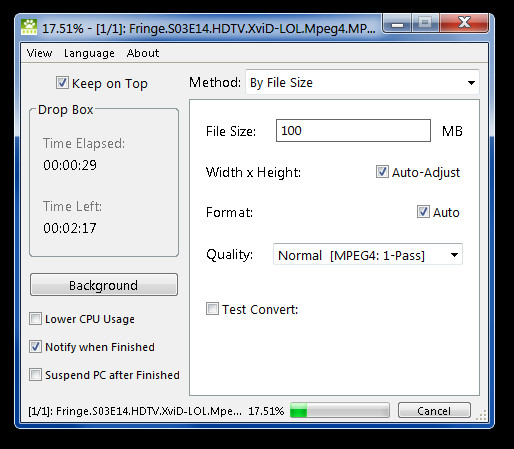 It's advisable that the size of a video mustn't be reduced too much to avoid quality degradation.  Moo0 VideoMinimizer works on Windows XP, Windows Vista and Windows 7.
Also check out other Mooo applications including; Mooo Disk Cleaner, Mooo Anti-Recovery and Mooo ConnectionWatcher.