Remove Time Limit From Trial Software With Time Stopper
So you downloaded a trial software and loved it, now what? The next step would be to use this software forever, but how would you do so? Time Stopper(Update: New version link added, now it comes without ads) is a free tool for Windows that can stop any trial software's time for you. For example you downloaded a software that comes with 15-days trial, you used for 3 days which means 12 more days are left before it expires. Just run Time Stopper, choose the program, set the date between the trial limit, and it would handle the rest by stopping the time for you.
Below is the complete guide on how to stop a time of a trial software. Make sure that you have read it thoroughly till the end before using this tool.
Note: When this tool will stop the time for a trial software, it will not change or stop your system time.
First click Browse and select the executable(.exe) file of the software whose trial limit you want to remove. Then go ahead and choose the date, this date should be within the trial period of the software. Let me elaborate, for example you installed a trial software on 1st June, used it till 3rd June and is going to expire on 15th June. Now you will select the date between 4th June and 14th June.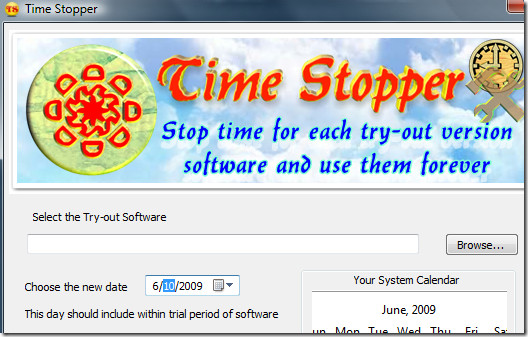 On the right side of the screen you will be shown a system calendar so that you can know what date is today. In the next step, choose the time and finally click, Open software on your date button. This will open the software on the date that you have defined.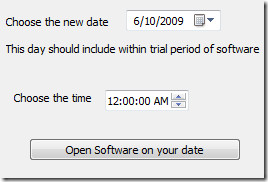 If you have to open any trial software frequently using Time Stopper, you can create it's desktop shortcut. To do so, first enter the desktop icon name and then click Create Desktop Shortcut button. Now use this newly created desktop icon to open the trial software you frequently use. 😉

Important Note: The trial limit of the trial software will come to a halt if you use Time Stopper to open that software. And once you use Time Stopper to run any trial software, make sure that you remove all desktop icons of that software. In this way you won't accidentally click the original program icon otherwise the trial period will be permanently over. I would recommend that you read the help file too that comes with Time Stopper.
It is not a new tool, but can work with most trial software currently available and is compatible with all versions of Windows. You can also learn to reinstall trial software after trial period has expired. Enjoy!