Rename, Edit Metadata & Convert Media Files With Media File Manipulator
Every media converter boasts its own set of features to make it stand apart from the pack. Today, we have one such application for you that might come in handy. Media File Manipulator is the one we are talking about. It is an open source application to edit metadata, rename files and to convert taglib-sharp supported audio and video files. It allows users to edit file name to metadata and metadata to file name, as well as to batch convert audio files from MP3, OGG, FLAC, ALAC and AAC presets. Videos files can also be converted to iPod and iPhone format. Hence, the primary features of Media File Manipulator include renaming media files, setting custom media metadata (ID3 tags etc), converting videos to iPod and iPhone format and to encode audio files. While one can achieve iPod and iPhone conversion by a number of video conversion tools such as VidCoder (uses Handbrake) and Hamster Video Converter, ID3 metadata editing is what makes Media File Manipulator a useful application.
After installation there are two shortcuts which are created on the desktop; one for the converter and the other for the metadata editor. To edit file metadata, you will have to launch the MMF meta data editing utility. Just drag and drop files to the main interface and edit file name to metadata or metadata to file name from Editor Mode menu. You can do this by selecting a file and folder mask from the respective drop down menus. This is so because, the file mask strings will generate the output file names. Click Perform Action to apply the settings.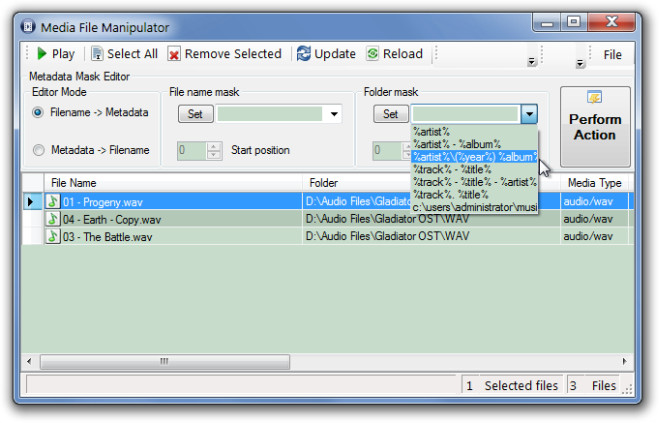 The main window of  the MMF Converter displays all available options required for file conversion. You only have to drag and drop media files to convert them to required formats and edit file conversions settings from the left hand side pane (e.g. changing the bit rate, codec, output folder, etc).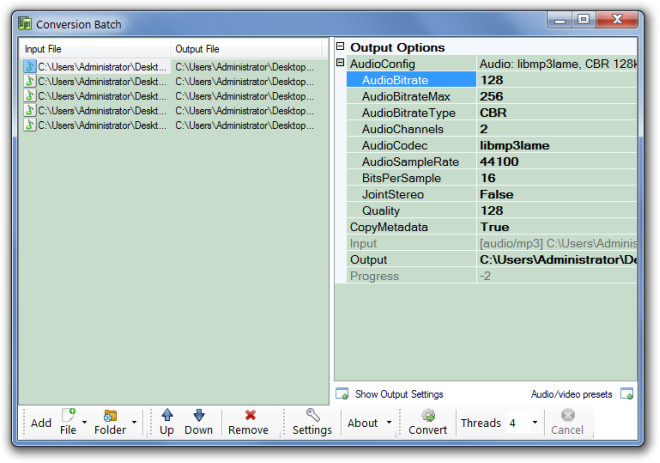 To configure presets, open Audio/Video presets option from the bottom toolbar. The available video presets include, Xvid, H-264, iPod Nano 5g and iPod touch. Whereas, the audio presets include Mp3 (192kb and quality=0.4), FLAC, OGG, Apple Lossless, AAC (Nero AAC and AAC 148kb). Once you have selected your required parameters, click Convert to batch convert files.
Note: To make sure that the input file is recognized as valid in iTunes, the video stream has to be encoded in H.264 or MPEG-4 (up to 640×480 1.5Mbps) format.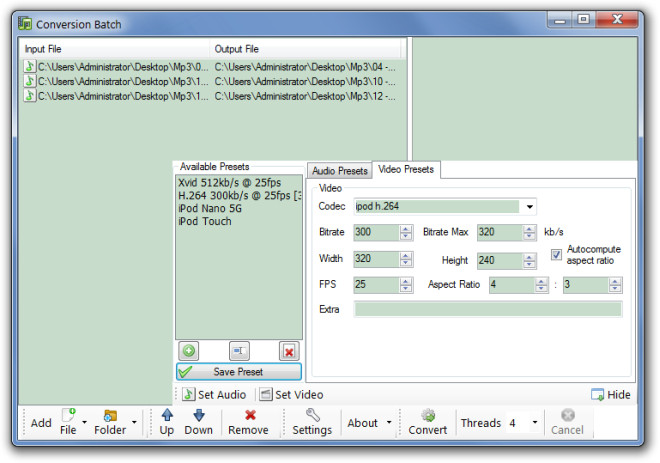 Media File Manipulator works on Windows XP, Windows Vista and Windows 7.
Download Media File Manipulator