Repair & Extract Corrupted RAR Archives With Recovery Toolbox For RAR
File compression tool does make it easier to share files among other folks, as it shrinks files size without hurting quality (well, to some extent), which an ancient person might even find somewhat magical. One of the compression archives used by most people is RAR. Even though, file compression has its own use, users often damage the RAR files amidst the compression process. We often come across corrupted RAR archives that cannot be extracted due to voids or incomplete binaries, and there is no way to open the files normally, which can be quite devastating especially if the contained files are of something important. Before losing all hope, you may try AutoUnpack as a last resort. It is a Windows application that repairs your damaged and corrupted archives, but if, for some reason, it fails to perform its required task, you can take a look at Recovery Toolbox for RAR. It is a very light-weight RAR repair tool which does not modify corrupted documents, and can easily open files which are not accessible. It does not matter which application was used to create the RAR archive; Recovery Toolbox for RAR can access it.
The application comprises off a very simple interface, and contains wizard based recovery process. To start, launch the application and click Open File button and navigate to the corrupted RAR files. When your files are selected, click Next to continue.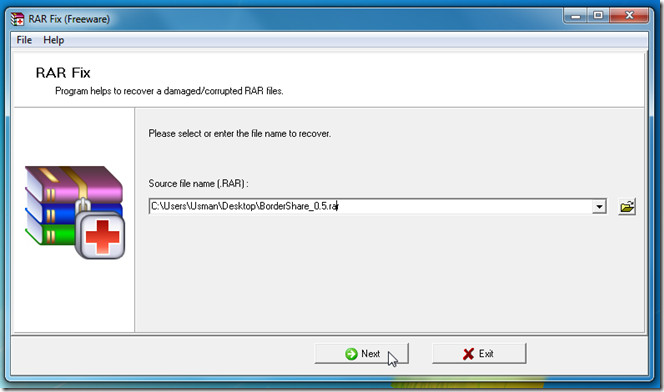 You will notice that th Recovery Toolbox for RAR will start to process the file and display all the related information. There can be two scenarios after the process; either the files are corrupted or not. If the files are corrupted, you will have a Next button between Back and Finish (the button simply won't be visible if the case is otherwise). You need to mark the corrupted files and click Next.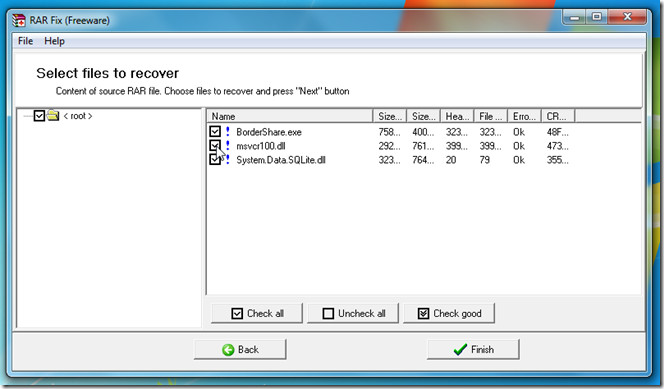 In the next step, you must define a folder to save the repaired and extracted file and click Next. Now the application will start to repair the files and extract them to the user-defined location. Along with the repair and extraction process, a summary of the recovery process will also be shown at the end. Overall, Recovery Toolbox for RAR is an excellent utility that can bring your damaged archives back to life.
Recovery Toolbox for RAR works on Windows XP, Windows Vista and Windows 7. Both 32-bit and 64-bit OS editions are supported.
Download Recovery Toolbox for RAR