Replace Command Prompt With PowerShell On Power User Menu In Windows 10
Windows PowerShell was first released for Windows XP but it wasn't until Windows 8 that it was shipped as part of the operating system. In Windows 10, PowerShell continues to ship as a part of it. If you're looking to make a habit of using it, you might want to replace the Command Prompt option on the Power User Menu with PowerShell. Windows comes with an option to make the switch and here's how to do it.
Right-click in the lower left corner (on the Start button) and in the list of actions in the Power User Menu, you will find Command Prompt. You can launch the Power User Menu with the Windows + X shortcut, and then hit the C key to open Command Prompt.
You can replace this with PowerShell though, complete with a keyboard shortcut of its own. Right-click on the taskbar and select Properties. In the Taskbar and Start Menu Properties window, go to the Navigation tab and check the 'Replace Command Prompt with Windows PowerShell…' option. Click Apply for the change to take effect.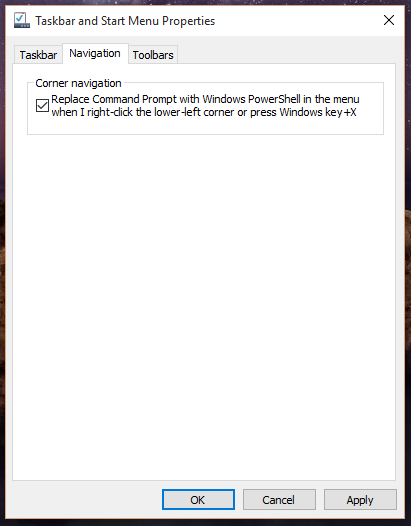 When you right-click the Start button, or hit the Windows + X keyboard shortcut, the Power User Menu will pop up as usual but the Command Prompt will be replaced with PowerShell. With the Power User Menu open, hit the A key to launch the PowerShell.
The change is easily reversible and this is exactly how it was done in Windows 8/8.1. PowerShell doesn't ship as part of Windows 7 so you will need to install it separately and look for a different way to integrate it in the Power User Menu.