How To Run Apps From The Task Manager On Windows 10
The task manager shows you all the apps and services that are currently running on your system. You can use it quit apps, and stop services. If you have an app that's stuck or unresponsive, you most likely open the Task Manager and use it to force quit the app. What end users may not know is that you can also run apps from the Task Manager . In a pinch, when your desktop is not responding or the Start Menu won't work, or Explorer has crashed, the quickest way to run a troubleshooting app or to start Explorer again is to use the Task Manager.
SPOILER ALERT: Scroll down and watch the video tutorial at the end of this article.
Run Apps From The Task Manager
In order to run apps from the task manager, you need to know what the app's EXE is called. For example, if you need to run Chrome, you should know that the EXE is called chrome.exe. If you enter something like Google Chrome.exe, it will return an error message. Likewise, if you need to run File Explorer, you should know that you need to run explorer.exe.
Open Task Manager, and go to File>Run new task. If you cannot open Task Manager for any reason, open the run box with the Win+R keyboard shortcut and enter taskmgr.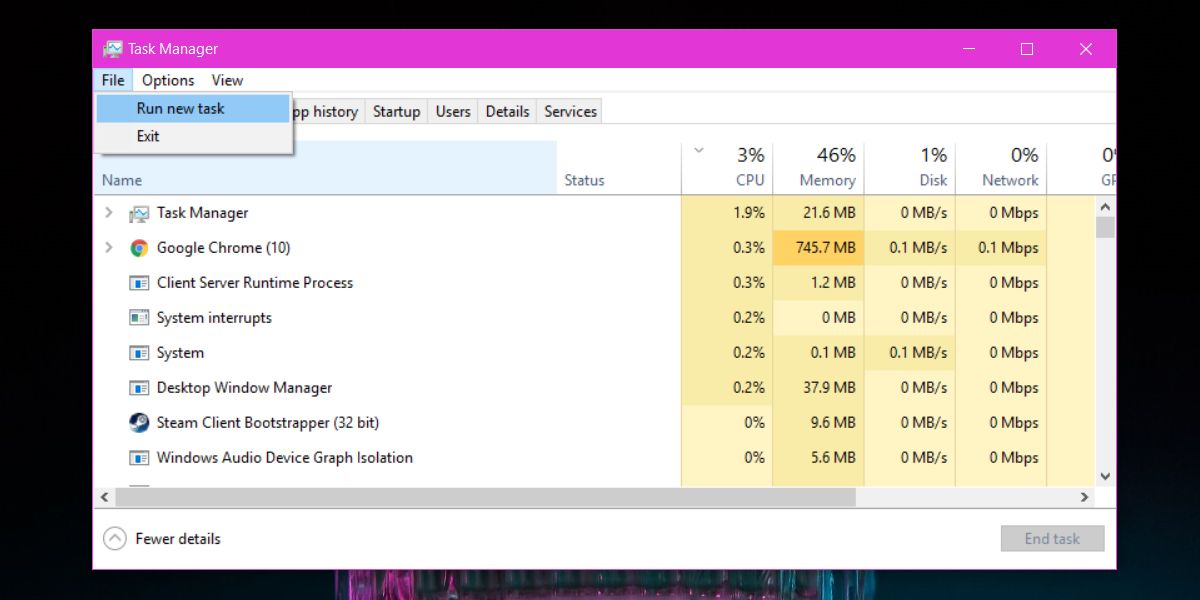 A small window called Create new task will open. Enter the name of the EXE you want to run or use the Browse button to look for it. You can select a shortcut on your desktop or you can go to your C drive and check under both the Program Files and Program Files (x86) folders for the EXE of the app you want to run. Remember that not all EXEs can be found this way nor are they limited to just these two folders. This is why it's far easier if you know what the EXE is called.
By default, the app is run with normal user privileges however if you select the 'Create this task with administrative privileges' box and then click Ok, the app will run with administrative rights.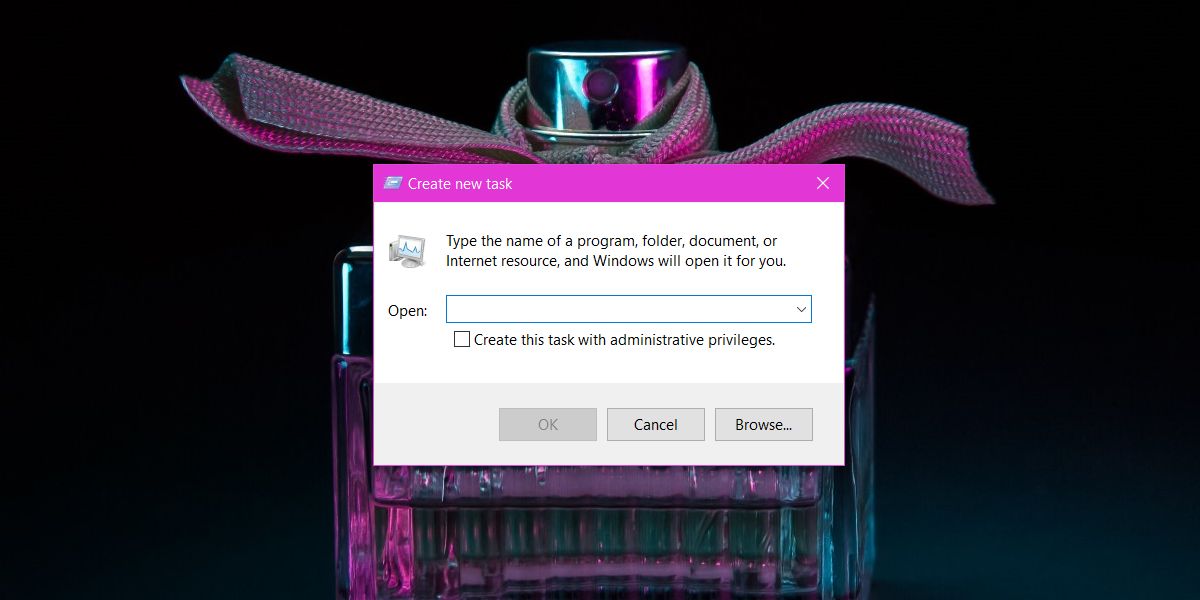 If you're using Windows as an normal user and you try to run an app with admin rights via the task manager, you will still have to enter the admin username and password. The task manager does not provide a hack for running apps with admin rights when you do not have the correct credentials.
You cannot use this method to run multiple instances of an app that doesn't allow it. For example, you can use it to open multiple windows of Chrome but you cannot use it to run multiple instances of Skype. This works in Windows 7, 8/8.1, and 10.