Run-Command Is A Windows Run Utility Replacement With Favorites
Run-Command is an extended take on the standard Run dialog in Windows. Where the native Run dialog only lets you execute apps or launch websites by inputting a shortcut or executable command, Run-Command does a lot more than that while maintaining a compact UI profile. In addition to the basic Run dialog features, this portable application lets you quickly access commonly used system tools like Command Prompt, Registry Editor and Computer Management using the integrated buttons. You can also set commands, websites, apps, and folders as favorites for instantaneous access. And best of all – it weighs in at only 44 KB for the 32-bit version and 112 KB for the 64-bit variant! More details after the jump.
It's good to see that Run-Command can do a lot more than the normal Run dialog despite its a minimalistic interface and . When launched, the application resides in the system tray area and takes over the Win + R hotkey, though you can specify a custom hotkey as well. The application allows you to launch anything you want, be it a website, an installed program, or a system utility. The five miniscule buttons at the bottom are for quickly launching Task Manager, System Properties, Registry Editor, CMD and Computer Management tools. Another noteworthy feature of Run-Command is its ability to let you launch an application as an administrator, in addition to as a normal user.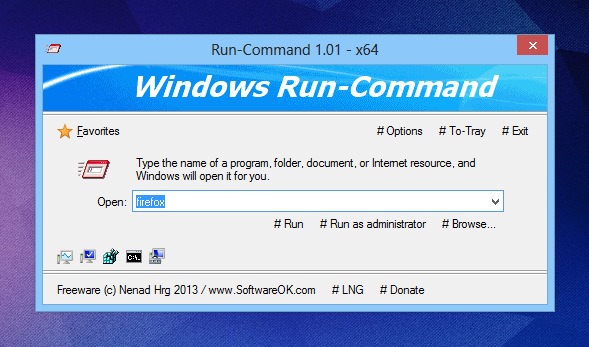 The Favorites menu at the top-left provides shortcuts to your favorite or frequently accessed programs/commands. The developer has included a set of predefined shortcuts for some commonly used applications and system tools out of the box. If you want to add custom applications or websites to the list, simply type the item name in the command field and click 'Add to Favorites' under the Favorites menu. You can also reorganize these shortcuts by clicking Manage Favorites and defining your own personalized order. The nifty Control Panel menu next to Favorites allows opening Control Panel items directly from Run-Command.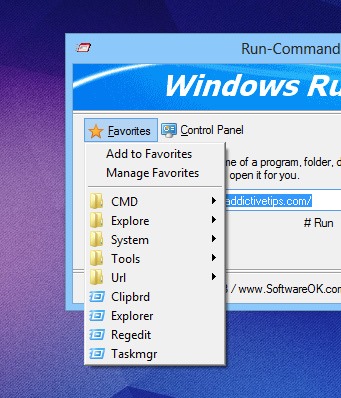 The Options menu extends the tool's functionality a few notches further. You can select among various application-specific parameters to configure the app as you wish. For instance, the Hide out option allows you to hide the app's system tray icon, while still keeping the app accessible using its keyboard shortcut. In addition, you can set the app to hide upon being closed, always start minimized, or start with windows. You can also customize the Control Panel menu, or change the hotkey for launching the app.
Run-Command is a great portable Run dialog replacement that works on Windows XP, Windows Vista, Windows 7 and Windows 8. Both 32-bit and 64-bit operating systems are supported.