How to save Snip & Sketch screenshots on Windows 10
Windows 10 has two different built-in ways for taking screenshots; Snip & Sketch (Ctrl + Shift + S shortcut), and the Win+PrntScrn tool.
The Snip & Sketch tool offers different ways to take screenshots i.g., a window, or a part of the screen, and it has an editor that you can use to annotate the screenshot you've taken. The Win+PrntScrn tool simply takes a full-screen screenshot and saves it to a file, no questions asked.
Save Snip & Sketch screenshots to file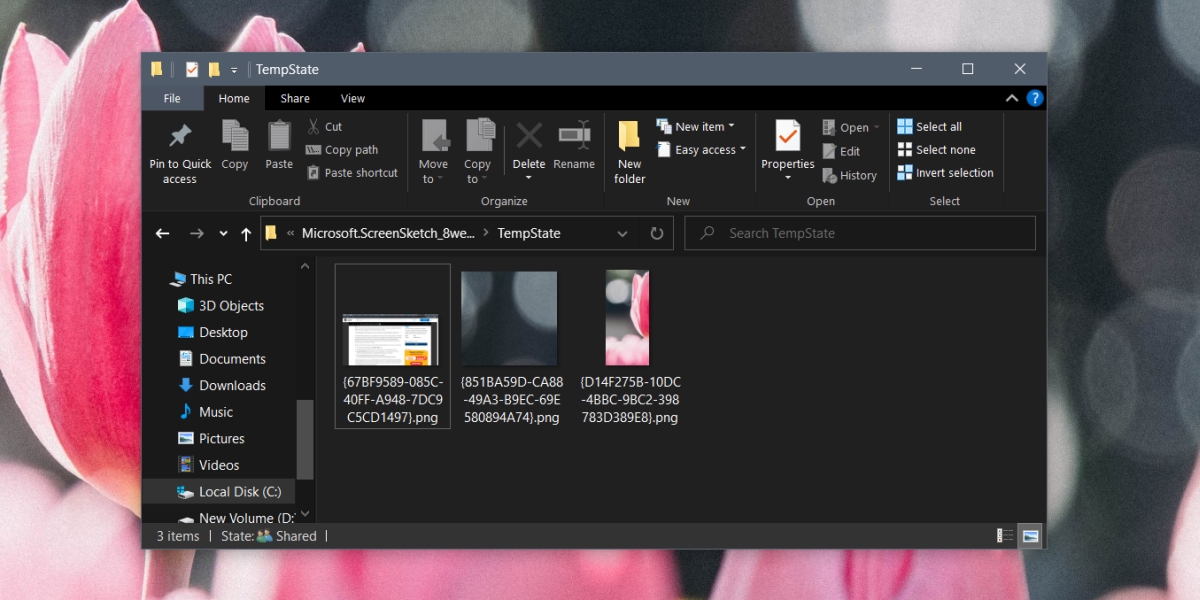 While Snip & Sketch is the more power screenshot tool on Windows 10, it does not automatically save a screenshot to a file. Instead, any screenshots that you take with this tool are simply copied to the clipboard. You can paste the screenshot in an app e.g. Word, or you can paste it in an image editor.
To automatically save Snip & Sketch screenshots though, you have to interact with it.
Tap the Win+Shift+S keyboard shortcut to open the Snip & Sketch tool.
Select the type of screenshot you want to take, and take it.
Once the screenshot has been captured, you will see a desktop notification.
Click the desktop notification and Snip & Sketch will open.
Close the Snip & Sketch window. You don't have to edit or click anything on the window.
Open File Explorer.
Navigate to the following location and the screenshot you captured will be saved here as a file.
%LOCALAPPDATA%\Packages\Microsoft.ScreenSketch_8wekyb3d8bbwe\TempState
Note: If you miss the desktop notification i.e., it disappears before you're able to click it, open the Action Center (Win+A) and the notification will be stacked there. Click it.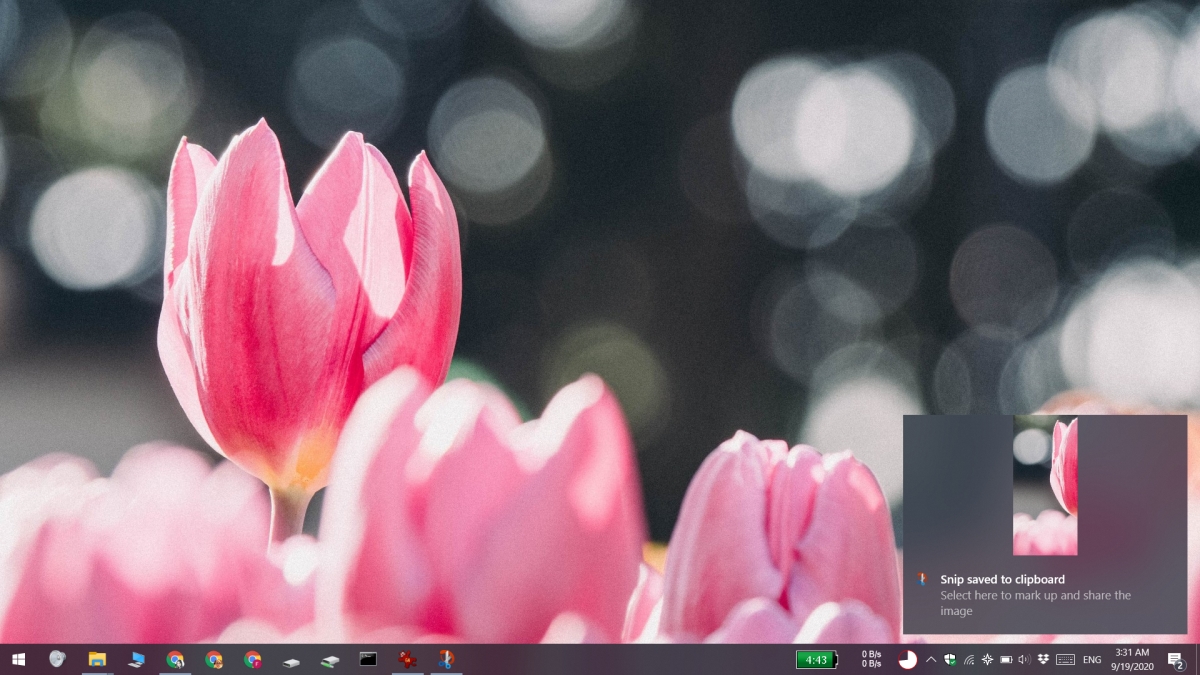 Snip & Sketch auto-save
Snip & Sketch doesn't have an auto-save feature. The only way to save a screenshot to a file is to click the notification when it appears. When the image editing window opens, you can choose to simply close it. You don't need to click the save button on it. There is no way to change this behavior so that the app will automatically start saving the screenshots as well.
You can change how Snip & Sketch is opened i.e., you can open it by tapping the PrntScrn key.
Conclusion
Out of the box, Windows 10 has two different screenshot tools. The two tools are not linked to each other in any way and each tool has its own shortcomings.
The Win+PrntScrn screenshot tool can only take one type or screenshot i.e., fullscreen and you cannot change the format the image is saved in.
The Snip & Sketch tool can take different types of screenshots but it won't auto-save them. More importantly, it doesn't offer an easy or more obvious way to save a screenshot.
Microsoft needs to learn from macOS which has had an excellent screenshot tool for years.