WinScan2PDF: Scan Documents To PDF File Without Using PDF Printer
PDF printers, such as Bullzip PDF Printer and PDF24, have become popular tools used for converting text documents into PDF files. But the process of using a PDF printer to convert a scanned image to PDF file format is rather long and tiresome. It generally requires you to first scan the document to image format, then access the image, give Print command, select PDF Printer from the list of available printers, and hit Print button. Kind of headache, isn't it? A better alternative is to use WinScan2PDF, a simple application that converts scanned documents directly into PDF format, without the need for a PDF printer.
It offers a super-simple process of converting scanned documents into PDF files. Click on Select Source and select the scanner you want to use to scan your documents. Click Scan to PDF after selecting your source. The application takes care of everything else. The scanned document will be saved as PDF file.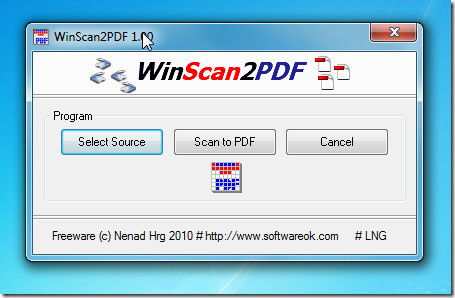 A simplified method of automatically scanning documents to PDF file; definitely worth a shot.
It supports Windows XP, Windows Vista and Windows 7; testing was carried out on Windows 7 x86 system.
For an alternative, you can also check out Scan To PDF (STP).